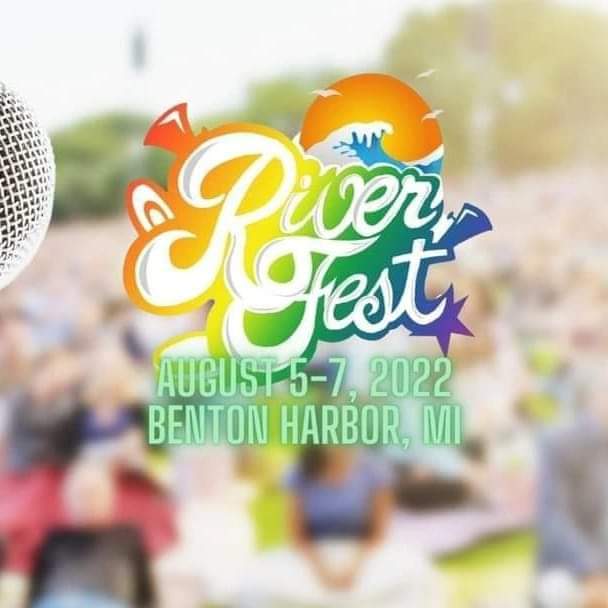 Benton Harbor Riverfest is back this year and set to kick off Friday August 5 in Charles Yarbrough Park located at 800 Riverview Dr in Benton Harbor. The festival has expanded to three days with the addition of a full day of music and vendors on Sunday afternoon. The original Riverfest ran in the 90's with the festival taking a bow at the end of the decade.
In 2021, Benton Harbor Commissioner Sharon Henderson worked with local organizers and area companies to bring the festival back. Their goal is to highlight area talent, bring national talent to Benton Harbor's riverfront, give area vendors and small businesses a space to show their work and mostly, to make positive use of the riverfront park that has gone un-utilized for too long. The city made improvements to the park for last year's Riverfest, including updating the power, so that a large stage and sound could be supported.
"We believe that embracing the talent in Benton Harbor is a wonderful thing. We have a beautiful riverfront that must be utilized. What better way than the community coming together through showcasing unity and fellowship, it is one of the most powerful things that can happen," says co-organizer Trenton Bowens.
The three-day festival will feature dozens of local vendors with art, fashion, and eleven food trucks on site. Music lineup for the weekend includes local favorites like Sankofa, Erik Fisher, Michael Brock and Benton Harbor raised rapper Elzappo Foreign.
Headlining the festival on Saturday night is Glenn Jones. Jones is best known for his song "Here I Go Again" which reached No. 1 on the Billboard R&B charts in 1992. In his career he has been signed with RCA, Atlantic and Jive records. His other hits include "We've Only Just Begun (The Romance Is Not Over)" and "Stay".
Organizers are excited to bring people together to enjoy music, food and fun on Benton Harbor's riverfront. Attendees are welcome to bring blankets and lawn chairs. The gates open up at 3pm Friday August 5, at 11am Saturday August 6, and on Sunday August 7 the shows start at 1pm with gates opening at noon. Tickets are good for each day but you must have them to get past the gate. Tickets at the gate are for sale for $35.00 or you can purchase them for $25.00 in advance by contacting Trenton Bowens at 269-861-2861 or Sharon Henderson at 269-313-1631. Watch for final line up, a full vendor list and more details at their Facebook page.
.
This year's festival is sponsored by the City of Benton Harbor, Spectrum Health Lakeland, Signature Toyota, Honor Credit Union, Horizon Bank, Sunny Spot, BLOC Dispensary, Maystreet Market and Neighbors Organizing Against Racism.
By Julee Laurent
MOTM Contributor