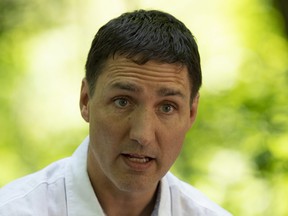 Article content
Justin Trudeau is channeling Jim Carrey's Dumb and Dumber hairdo as he heads into a hot boy summer.
Article content
The 50-year-old Canadian Prime Minister was spotted out in Quebec sporting closely-cropped locks that sparked comparisons on social media to Lloyd Christmas' goofy look in the 1994 comedy.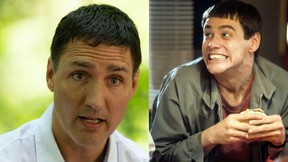 "So a man walks into a barber shop and shows them photos of Forrest Gump, Dumb and Dumber and Pee-wee Herman. This is the result," one Twitter user wrote.
"Apparently, he went to his stylist and said, 'Give me the Lloyd Christmas,'" another jabbed, sharing side-by-side photos of the leader and the Canadian-born Carrey.
A third pointed to Trudeau's sagging approval ratings, writing, "So now … either you cut your hair yourself, or literally everyone hates you — even your hairdresser."
Article content
Many of the digs appeared on Trudeau's own Twitter feed in which he trumpeted Climate Action Incentive payments some residents in Ontario, Manitoba, Saskatchewan and Alberta have received.
Several creative followers Photoshopped Trudeau's face onto Carrey's body from the film, while one person noted the Liberal leader's penchant for morphing into different celebrities over the years, including "Johnny Depp's evil twin and a '90s boy band reject."
Article content
Although he is semi-retired from acting and lives in the U.S. now, Carrey is a big supporter of Canada and in particular its health-care system.
During a 2018 stop on Real Time with Bill Maher, the funnyman sung the praises of our country's approach to treating the sick in a segment that was posted by former Democratic candidate Bernie Sanders.
"I grew up in Canada, OK. We have socialized medicine. And I'm here to tell you that this bulls— line that you get on all of the political shows from people is that the system is a failure in Canada," Carrey said. "It is not a failure and I never waited for anything in my life. I chose my own doctors, my mother never paid for a prescription, It was fantastic.
Article content
"I keep hearing, 'Canadians are so nice' … They can be nice because they have health care … because they have a government that cares about them and doesn't say sink or f—ing swim, pal, or you live in a box."
Carrey, who had turned his attention to painting political cartoons, frequently jabbed former U.S. President Donald Trump, calling the Republican a "used car salesman."
Article content
Last year, though, the Ace Ventura star retired his caricatures of Trump and his supporters.
Article content
"For the past 4 years, among other commitments, I put considerable effort into this collection of political protest cartoons. It truly feels as though you and I have crossed an ocean of outrage together," Carrey wrote on Twitter. "But something tells me it's time to rest my social media gavel."