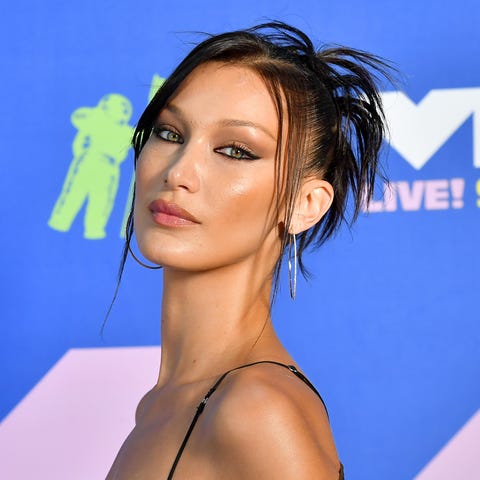 Jeff Kravitz/MTV VMAs 2020Getty Images
The autumn hair transformations continue to come thick and fast in celeb land, and the leading trend is undoubtably warm-blonde highlights.
Even Hailey Bieber (the queen of cool-blonde hair and grown-out roots) just went longer and warmer for the change of seasons. Kendall Jenner (who rarely switches up her hair) also experimented with some new lighter waves this week (we're pretty sure she was inspired by Kylie's gorgeous autumnal highlights). And let's not forget Kate Middleton's post-lockdown hair transformation (those honey highlights though…)
Bella Hadid has always been pretty experimental when it comes to her appearance, even cutting her own fringe during lockdown and bleaching her eyebrows recently for Paris Fashion Week. But her most recent hair overhaul has to be the most flattering yet… oh, and totally Y2K…
We're talking chunky caramel highlights and a chopped-into fringe that Girls Aloud circa 2002 would be proud of.
Colourist Jenna Perry posted a picture of Bella leaving her hair studio, and even the outfit she was wearing screamed S-Club Seven.
Jenna captioned the picture:
#bellahadid leaving the studio yesterday reminding us that Y2K was the best decade 💿 #jennaperryhair length and cut by @jessica_gillin @jennaperryhair_studio
This content is imported from Instagram. You may be able to find the same content in another format, or you may be able to find more information, at their web site.
Bella also posted a selfie to her stories announcing her birthday (we've all done it), and although she was wearing a cap, her choppy layers and autumnal tones could clearly be seen…
I don't know about you, but I've got a craving for a Blockbuster film night and some eyebrow plucking…
Follow Cassie on Instagram
This content is created and maintained by a third party, and imported onto this page to help users provide their email addresses. You may be able to find more information about this and similar content at piano.io