Donald Trump took aim at President Joe Biden, Hunter Biden, U.S. foreign policy and undocumented immigrants Saturday as he kicked off his bid for a return to the White House with campaign stops in New Hampshire and South Carolina.
Trump, who is attempting to become the first president elected to non-consecutive terms since Grover Cleveland, cast himself as the Republican best positioned to win the nomination and defeat Biden.
"The 2024 election is our one shot to save our country, and we need a leader who is ready to do that on day one," Trump told an audience at the South Carolina state House. "We need a president who can take on the whole system and a president who can win."
In a series of recent polls, Trump has led Florida Gov. Ron DeSantis — the clear No. 2 choice of GOP voters at this early stage — by 19 points or more. But there are signs that Trump's support is diminished in parts of the country: A University of New Hampshire survey released this week showed DeSantis leading Trump 42 percent to 30 percent. New Hampshire traditionally holds the country's first primary, following the Iowa caucuses.
In South Carolina, Trump was surrounded by Republican officials, including Gov. Henry McMaster, Sen. Lindsey Graham and Rep. Joe Wilson.
In the twin speeches Saturday, which largely mirrored each other, Trump painted a bleak picture of America under Biden and vowed to reverse inflation, secure the U.S. border with Mexico and fortify America's position as a global power.
"Through weakness and incompetence, Joe Biden has brought us to the brink of World War III," Trump said. "We're at the brink of World War III, just in case anybody doesn't know it. As president, I will bring back peace through strength."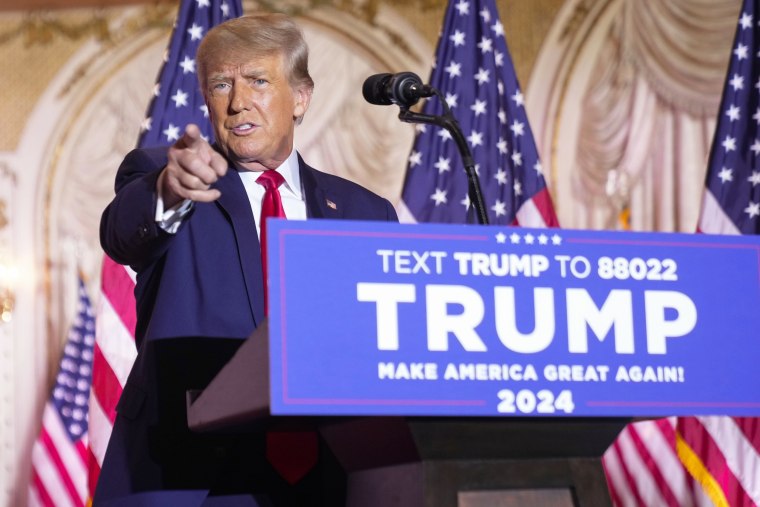 He called Biden's botched American pullout from Afghanistan in 2021 "the lowest day in the history of our country" and claimed that if he were president, there would be "a peace deal negotiated within 24 hours" to end Russia's invasion of Ukraine.
He blamed Biden for border crossings and drug deaths, repeating his 2015 assertion that Mexico is sending "killers," "murderers" and "rapists" to the U.S.
"They are sending people that are killers, murderers, they're sending rapists. And they're sending, frankly, terrorists, or terrorists are coming on their own, and we can't allow this to happen," Trump said.
And, at a time when conservative activists have been trying to rewrite school curricula, Trump promised he would end federal funding for schools that don't comport with his views on education and allow parents to directly elect public school principals.
At both stops, Trump singled out Hunter Biden, the president's son, for derision and appeared to blame the elder Biden for his adult child's problems.
"At what point does the father get angry — like this kid is not working out well for me?" Trump asked rhetorically in New Hampshire.
The campaign stops Saturday follow a lull since Trump launched his campaign at his Mar-a-Lago resort in Florida in November. He said that he will make sweeping changes to U.S. immigration, economic and energy policy if he is returned to the White House.
"We'll turn it around and we'll turn it around fast," he said.