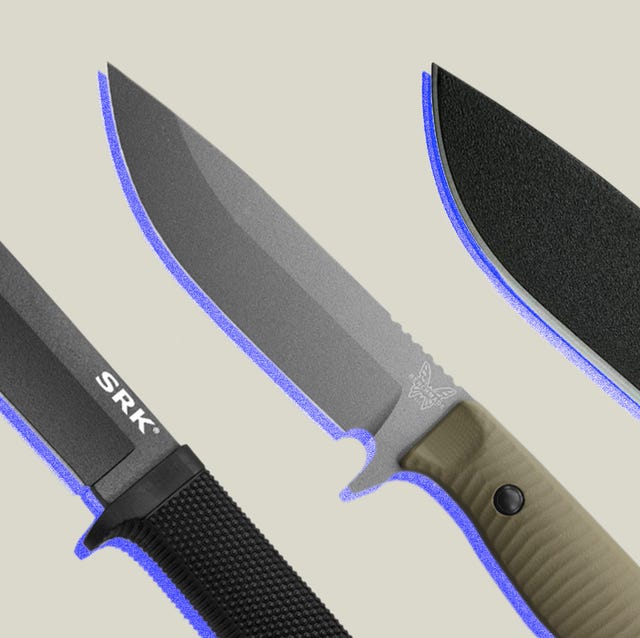 Courtesy
The premise of the hit survival-based reality TV show Alone is pretty straightforward: contestants fight to stay alive in remote and harsh environments in British Columbia, Patagonia, Mongolia and beyond — last one standing wins. But while previous shows in the genre pitted human versus nature nearly empty-handed, this one lets participants select 10 items from a gear list that includes shelter, bedding, tools, cooking equipment and even food. In Alone's eight-season run, roughly 70 percent of the contestants have chosen a knife.
It's no surprise that a knife is one of the best tools to have on hand when survival is the priority. But some blades are better at the task — which might involve building shelter, creating other tools, hunting and processing wild game, starting a fire and self-defense — than others.
"Typically, survival knives will be moderate-sized fixed blades with size, geometry and features that maximize the durability and versatility of the knife," says Vance Collver, director of product line management at Benchmade. "Ultimately, a good survival knife is a jack-of-all-trades and master of none." The sweet spot, he says, is somewhere between a bushcrafting knife and a combat or fieldcraft knife.
"Survival knives should follow the "K.I.S.S." principle: 'keep it super simple,'" Collver adds. The blade should be robust, long enough for light chopping but not unwieldy, and made of durable steel that can resist impact but is also easy to sharpen. The handle shouldn't be so smooth it's difficult to grip, nor so grippy it causes blisters. And its handle should have a guard to prevent one's hand from slipping onto the blade. "In a survival situation, an injury could be catastrophic," he points out.
Hopefully, you'll never need a survival knife. But if you frequently work or wander in remote locations, one of the following models is your best bet.
Advertisement – Continue Reading Below
Best Overall Survival Knife
ESEE-4
Best Upgrade Survival Knife
Benchmade 539GY Anonimus
Best Budget Survival Knife
Morakniv Companion Spark
Best Bushcraft Survival Knife
Cold Steel SRK
That Little Hole in Your Swiss Army Knife Has a Surprising Use
It could save your behind in the backcountry — or at least help you keep your pants up.
Best Old-School Survival Knife
KA-BAR Becker Kephart
Best Folding Knife for Survival
TOPS Knives Fieldcraft Folder
Best Multi-Tool for Survival
Leatherman Signal
Best Small Survival Knife
ESEE Izula-II
The "Knife" I Use Most Often Isn't Even a Knife at All
For most jobs, Gerber's super-affordable keychain tool is all you really need.
Advertisement – Continue Reading Below