Intelligence reports have raised further questions about the state of Vladimir Putin's health and the impact it might have on his invasion of Ukraine.
Armchair diagnoses of the Russian leader have gained traction since he started the war on February 24, 2022 as social media users and analysts try to interpret footage showing him apparently limping across Red Square, clinging to his desk and displaying a listless right arm.
Kyrylo Budanov, Ukraine's military intelligence head has added to the speculation by telling ABC News that Putin has cancer and will die very soon.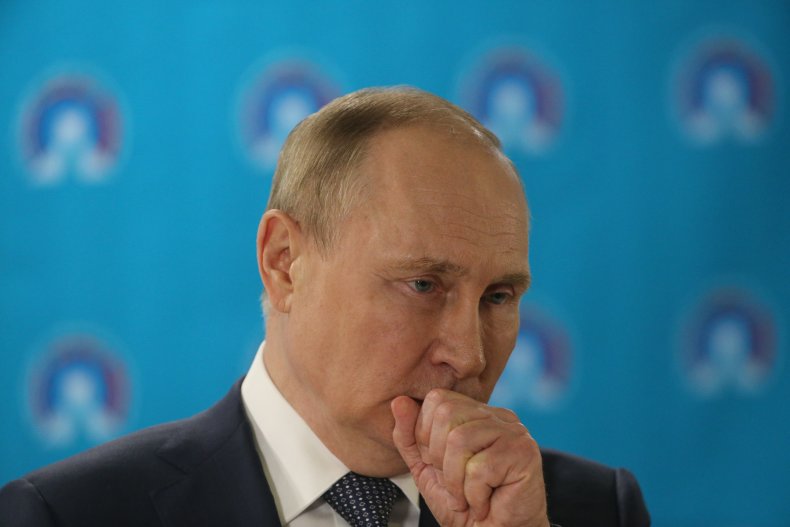 When asked if Putin was "terminally ill," Budanov replied, "of course" and that he had been ill for a "very long" period. When asked when he would die, he answered, "I think very fast, I hope," but only after Ukraine defeats his forces.
A clip of the interview was tweeted by Ukrainian internal affairs adviser Anton Gerashchenko, sparking comment online.
Cold War historian Sergey Radchenko tweeted that he took Budanov's claims "with a pinch of salt as they are likely intended a psy-op" but added that his record of predictions "isn't bad all things considered, though this is partly a function of vagueness."
It comes as the head of Russian analysis at Denmark's military intelligence service said in an interview with Copenhagen-based daily newspaper Berlingske that he did not believe Putin had a terminal illness. However he said he had likely been given hormone treatment for cancer, which explained his "moon-shaped face."
This also could also help explain his rashness in invading Ukraine because "delusions of grandeur are one of the known side-effects of the type of hormone treatment that he was on," the intelligence chief named only as Joakim said, without revealing the source for this information.
However, Joakim did believe that Putin was in chronic pain following several falls and accidents.
"That's why he tends to sit and grab things tightly. It's to ease the pain," the intelligence officer said.
Social media users noticed how Putin appeared to cough frequently during his annual New Year's Eve address in which he called the ongoing war in Ukraine a "sacred duty" for the Russian people.
Some media outlets have cited sources claiming that Putin's failing health was becoming more noticeable on camera and was one reason why his annual press conference did not take place for the first time in a decade.
Newsweek reported in June 2022 that a classified U.S. intelligence report said that Putin had undergone treatment in April for advanced cancer.
Kremlin critic Valery Solovei claimed in 2020 that Putin had cancer and Parkinson's disease and that he had undergone emergency surgery that year.
New Lines magazine reported tapes of an unnamed oligarch saying the Russian leader was "very ill with blood cancer."
The Kremlin, which Newsweek has contacted for comment, has repeatedly insisted that Putin is in good health.