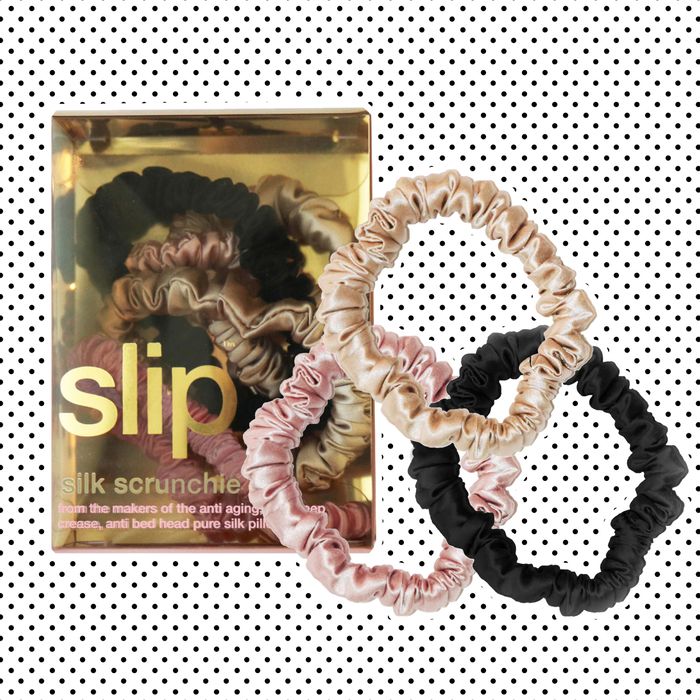 To me, heaven would be a place where I have a Strega Nona–like dish of self-replenishing silk hair ties. (I would also like to see my friends, family, and dog, Sushi.) In the mortal world, as a silly human, I lose hair ties constantly. It doesn't bother me that much, though, since 99 percent of them suck. Even the "ouchless," ones yank out precious strands of my dwindling hair or snap after only a few uses. But when I lose one of my small supply of silken hair ties, I am very upset.
I know silken hair ties sound as extravagant as Johnny Depp's private bird sanctuary, but they aren't fancy just for the sake of it. Silk is great for your face and hair. Silk pillowcases help prevent face creases and enable you to wake up with tangle-free hair. And a silken hair tie keeps your hair smooth (even better than hair ties made of regular cotton), and doesn't ever break or tug at hair, no matter how hard you pull at it.
I love the ones from Silk. Not quite a full-on scrunchie, each hair tie has a thin piece of silk wrapped around a band of elastic that is neither too tight nor too loose. Despite the sleekness of the material, it still functions properly as a good hair tie, with enough grip that it won't slide out of my "I need to get stuff done" ponytails, "My neck feels so hot right now" buns, or "I want to look presentable on a Zoom" braids. (Unfortunately, the elastics aren't tight enough for "I'm finally getting around to working out" high ponys.) Most importantly, they don't leave any creases in the hair, even when I accidentally fall asleep with them in. Admittedly, the elastic does loosen over time, like all stretchy fabrics, but they're still usable for many, many months.
Each pack contains six, in a variety of shades including nude, pink, and black. I'm down to three. And they go great with the soft luxury of Nap Dresses.
Every product is independently selected by our editors. Things you buy through our links may earn us a commission.