In an ideal world, everyone would be dressed in Prada, even those who were around long before Miuccia. Like Billie Holiday, for instance. Well, if only for a week, our dreams have come true. As Milan Fashion Week kicked off on Wednesday, we've been deeply immersed in the many aspects of the Pradasphere: Raf and Miuccia's AW21 womenswear show, our cover story with Raf, Willy Vanderperre and Olivier Rizzo on redefining the Italian house and, of course, Lee Daniels' new Billie Holiday biopic which was costumed by — you guessed it! — PRADA.
It doesn't end there though. Our other favourite fashion matriarch, Rei Kawakubo, has given us pearl necklaces (get your mind out of the gutter) courtesy of her latest collaboration with Mikimoto, as well as a brand spanking new Dover Street Market outpost on Rue du Faubourg St. Honoré in Paris. Sing it with us: "I want to wander down the Saint Honoré, do some window shopping in the Rue de la Paix!" Here's what's in fashion this week. Photography Tetsuya Nikura. Image courtesy of Comme des Garçons
Rei Kawakubo has given pearls a punk makeover  
Not since the days of Samantha Jane's pearl G-string have granny's favourites had such a radical transformation than in the hands of Rei Kawakubo. Last year, Comme des Garçons collaborated with Mikimoto, the 127-year-old jewellery house that popularised Japanese Akoya pearls, on a range of boyish pearl necklaces imbued with regimental hardware of silver chains. For its second iteration, which launches this week, Rei has juxtaposed the once-prissy symbols with more punkish ones: safety pins, studs, and fangs. "If we talk about women's jewellery, one usually thought of pearls," she explained in a statement. "Recently, I've noticed how men also look good when they wear pearls."
Pearls, of course, were once popular among gentlemen in centuries past — and Rei sought to reinvent their connotations. Rather than "the usual gratuitous logo-adding way of collaboration," as she put it, her aim was "an exercise in creation, making something that looks good, emphasising the beauty of the pearl itself. Refraining a little from design." You heard it here first: pearls are punk. OA
A Givenchy pop-up comes to Dover Street Market, and Dover Street Market comes to Paris (well, sort of)
But wait! There's more from Rei's world this week — a double whammy of Dover Street Market news. At its London location, a stunning new series of installations and pop-ups have been revealed as part of its SS21 Tachiagari, the concept store's seasonal makeover that translates from the Japanese for 'New Beginnings'. It's fitting, then, that one of the centrepieces is an exclusive pop-up concept by Givenchy, heralding the arrival of Matthew Williams' first collection to the Haymarket store. Created in collaboration with British-born artist Ewan MacFarlane, it's a celebration of the 4G emblem that Matthew made the visual baseline of his fledgling tenure. Here, it's transformed into polished chrome countertops and an embossed background, while "humanoid sculptures … crouching, climbing, reaching or leaning, evoking a natural quest for self-expression" and "disassociated limbs" populate the haute-sci-fi scene!
Obviously, on account of the sci-fi dystopia we're currently living in, you won't be able to see the installation firsthand until April 12th. If you just can't wait till then for your fix of Kawakubo's emporium of 'beautiful chaos', then that's just a hop across the channel away, where a new addition to the DSM franchise has just opened its doors. Picking up where the much-beloved Colette left off, Dover Street Little Market — a stone's throw further along the same street — will serve as a hub for the seven emerging labels that fall under DSM's development division: ERL, Honey Fucking Dijon, RASSVET, Vaquera, Weinsanto and Youths in Balaclavas. Think of it as the selection of dainty petits fours to the London location's heaving layer cake. MS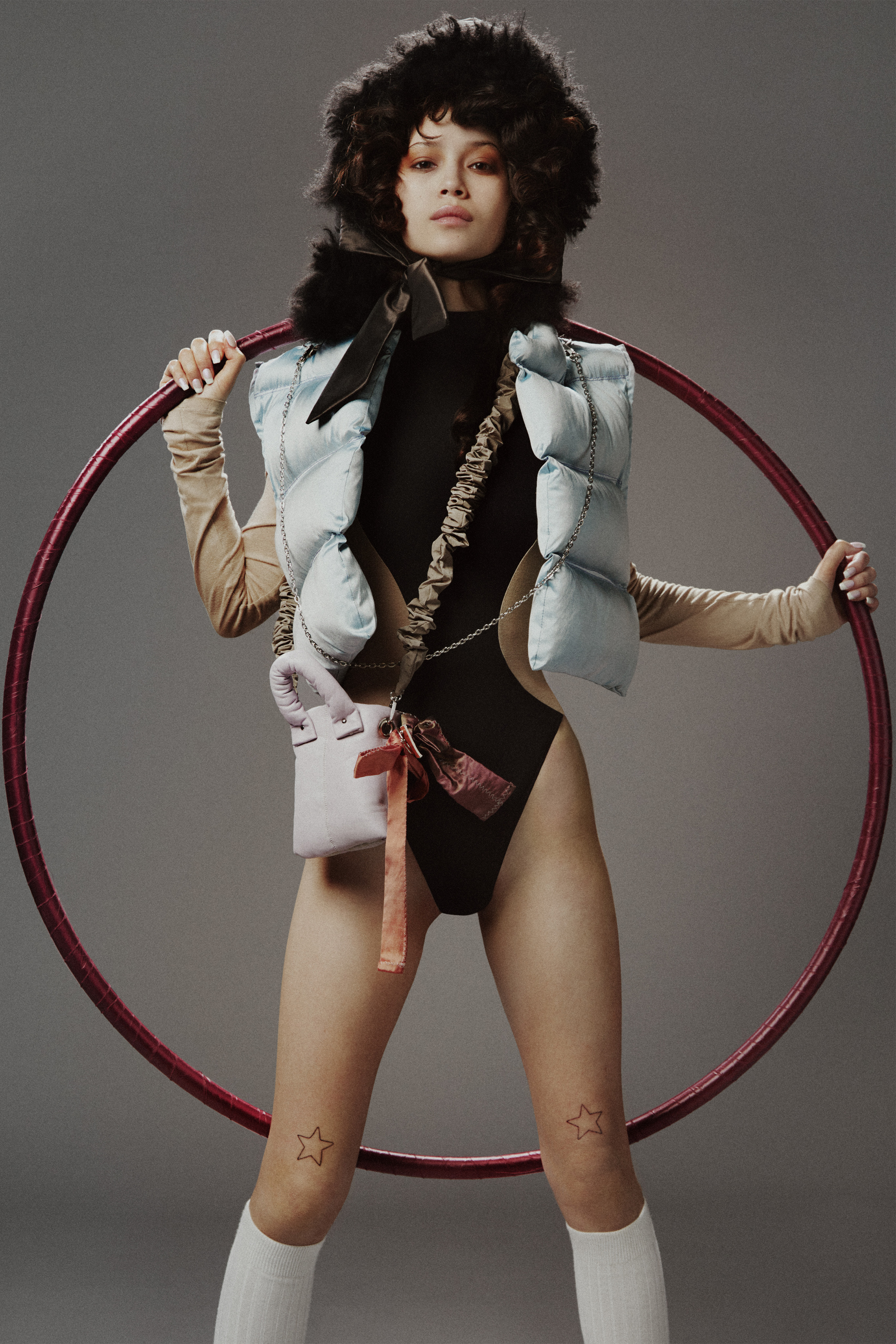 Photography Adrian González-Cohen
Feel the burn, look the part in Fashion East's newcomer 
If you, like us, have been whiling away the hours attempting home workouts, then maybe Fashion East's newcomer HRH is for you. The London-based accessories label by Hannah Hopkins (the label is named after her initials, not royalty) juxtaposes athletic gymnastic-inspired lycras with the fuzziest shearlings and lambswool, creating what she describes as "a fantasy sport, somewhere between figure skating and rhythmic gymnastics". Forget clothes, it's all about the statement accoutrements. There are brightly-coloured angora knit bonnets, fluffy shearling scarves, power-mesh gloves, puffed-up nylons (the wadding is made from recycled plastic bottles) and, of course, the XXL scrunchies that Hannah first made a name for herself with. Think Jane Fonda in her 1982 exercise video meets Lil' Kim in a furry bikini. Your virtual barre classes are about to get a lot more fun. OA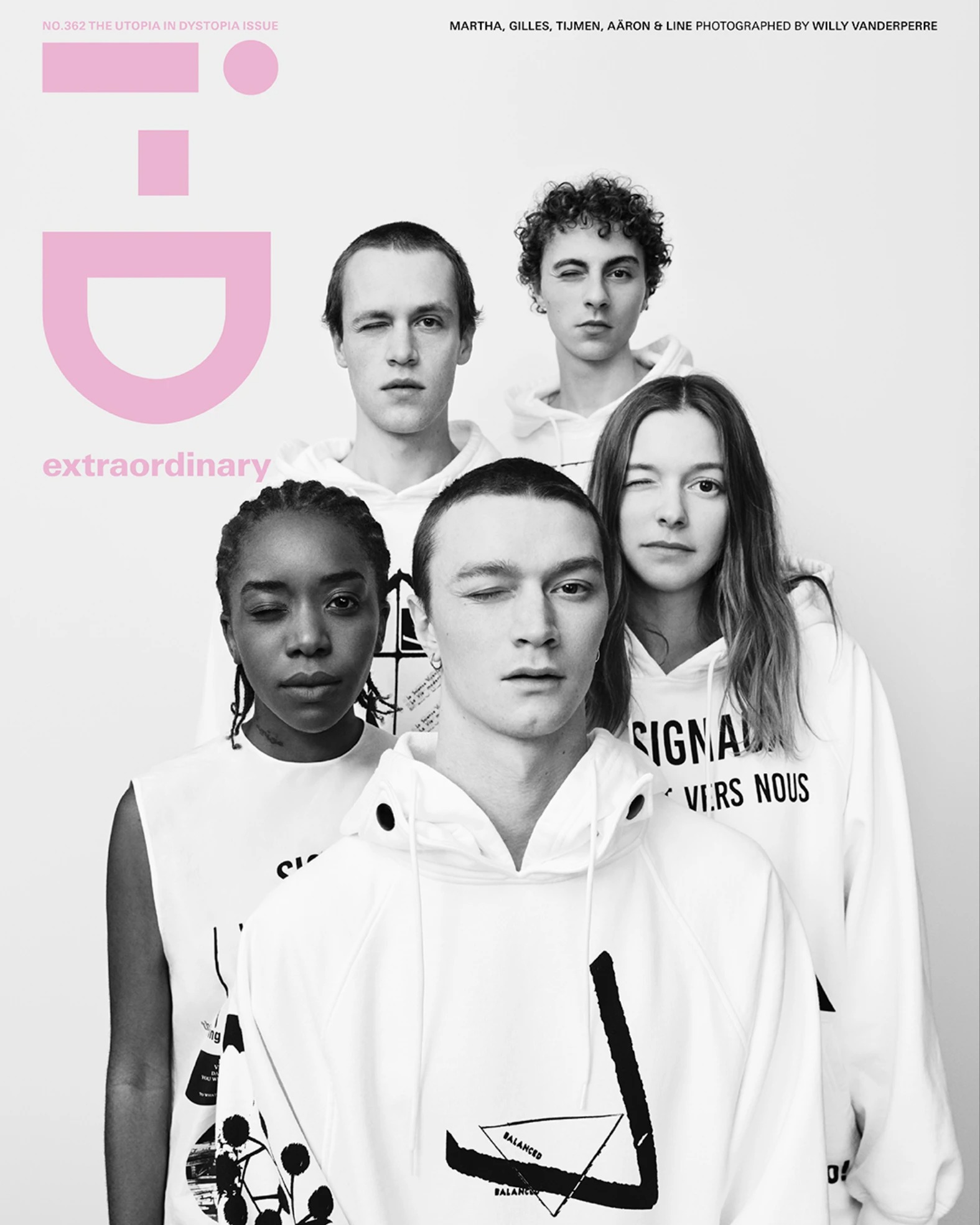 Photography Willy Vanderperre
We caught up with Prada's Three Musketeers
Raf Simons, Willy Vandeperre, and Olivier Rizzo — Miuccia Prada's favourite designer-photographer-stylist trio — go way back. The three first met in Antwerp in the late '80s, forming a brotherly bond that would stay with them as they scaled the dizzying heights of fashion together, most recently as creative forces defining a new era of Prada. In an unprecedented interview, they sat down for an epic conversation with us for our new issue, Willy and Olivier creating the minimalist images of Raf's debut as co-designer of Prada. They talk about everything from the early Antwerp days, their mutual obsessions with youth culture, the changing landscape of creativity and working with fashion's grande dame, Mrs P. But most of all, they discuss the dynamic of their relationship as friends and colleagues. You know what they say: fashions fade, friendship is eternal. Read the full interview here. OA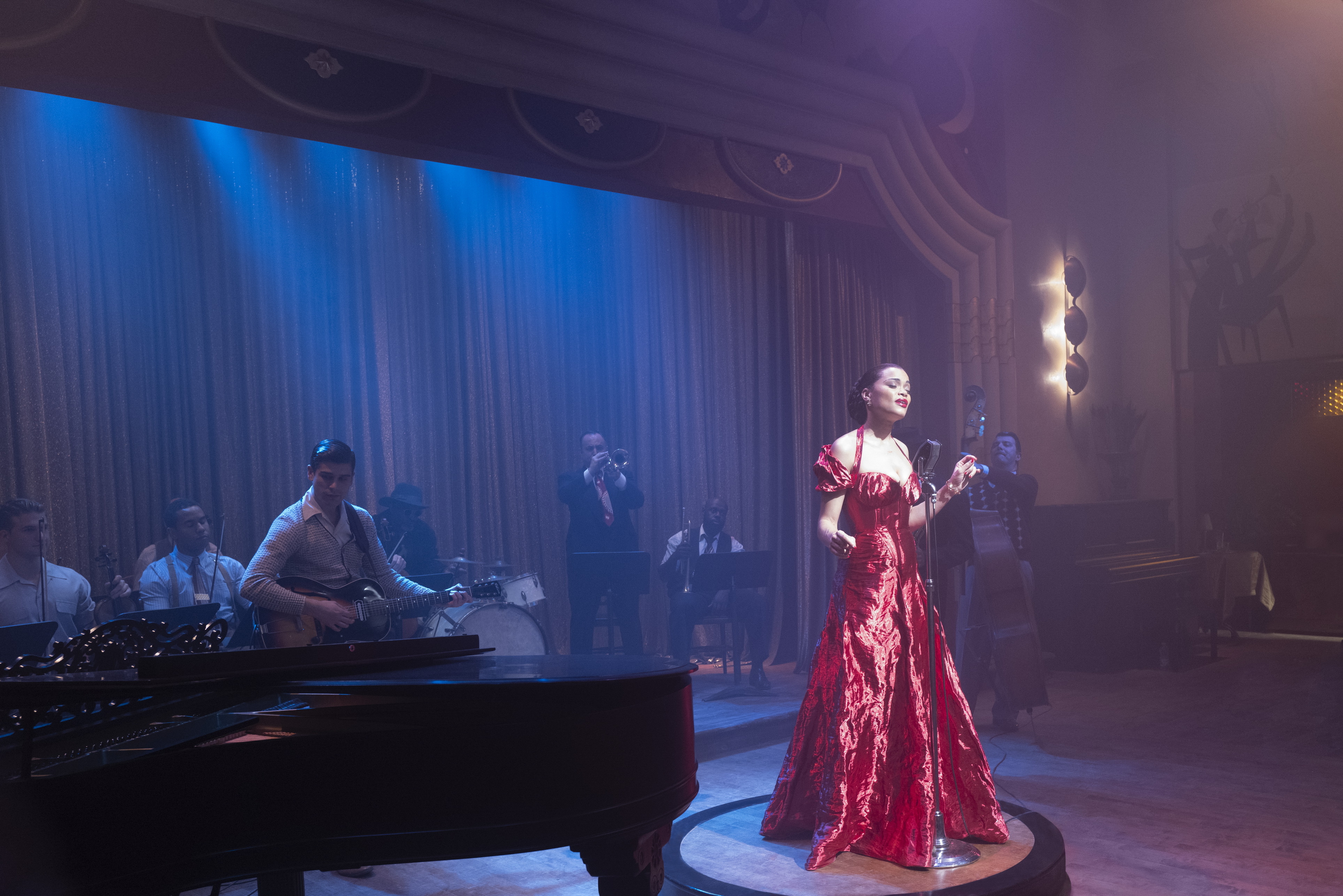 Still from The United States vs Billie Holiday. Image courtesy of Hulu
Violets in her (faux) furs! Prada designs the costumes for Lee Daniels' new movie
Miuccia and Raf's show may have been yesterday (read our review here) but this weekend Lee Daniels' much-anticipated The United States vs Billie Holiday hits our screens with even more Prada! To bring to life the legendary 1940s jazz singer's iconic wardrobe of elegant gowns, puffy sleeves and floral gardenia hair pieces, costume designer Paolo Nieddu collaborated with the Italian fashion house, delving into their archive. "[Miuccia is] a strong woman, and Billie was a strong woman," Daniels said during the AW21 post-show Q&A. "I didn't think of anyone else that could bring Billie's style to life the way Ms Prada could." 
The idea was not to re-create Billie's exact looks but rather emit her essence, combined with the styles of the era and nods to contemporaneous Harlem. Searching through reference images of Holiday and then patch-working past Prada pieces, as recent as their 2019 and 2017 collections, you can watch Andra Day as the iconic chanteuse from today on Hulu. TG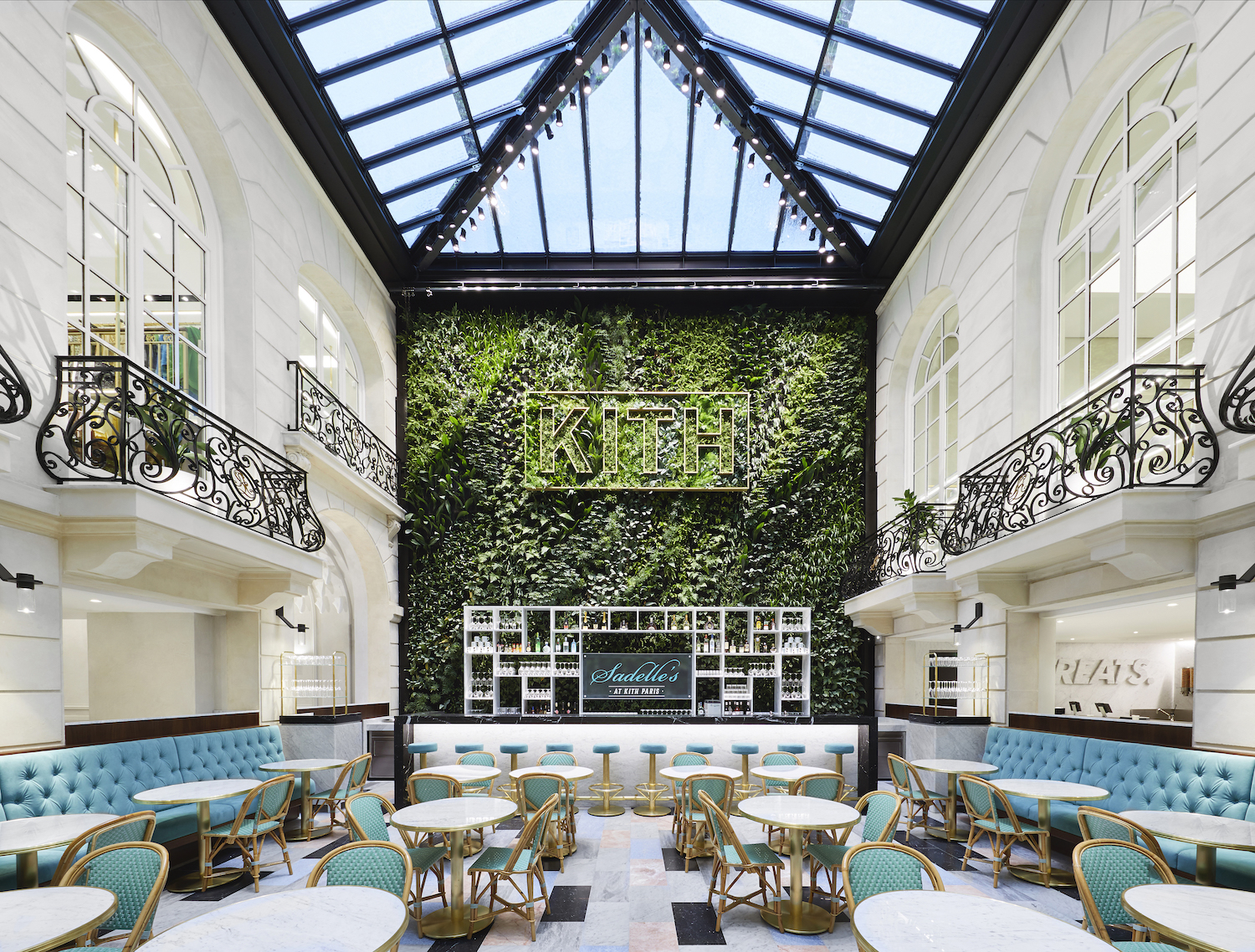 An American in Paris! Paris welcomes Kith's largest-ever store
White Air Max 1s suspended from the arched ceiling, walls of dense shrubbery, cereal and ice cream bars, twisting marble staircases and walnut wood benches… Kith's new Paris outpost is its largest ever store, bringing a distinctly American XXL scale to the French capital, where it will no doubt be pronounced 'Keith'. The stunning interiors are of course down to the brand's long-time collaborators, New York design studio Snarkitecture. Taking up an astounding 16,000 square feet and three floors, Kith's first European store opens its doors today (currently only via appointment due to lockdown) in Paris' fashionable 8th Arrondissement on the Rue Pierre Charron. Bienvenue à Paris, Kith! TG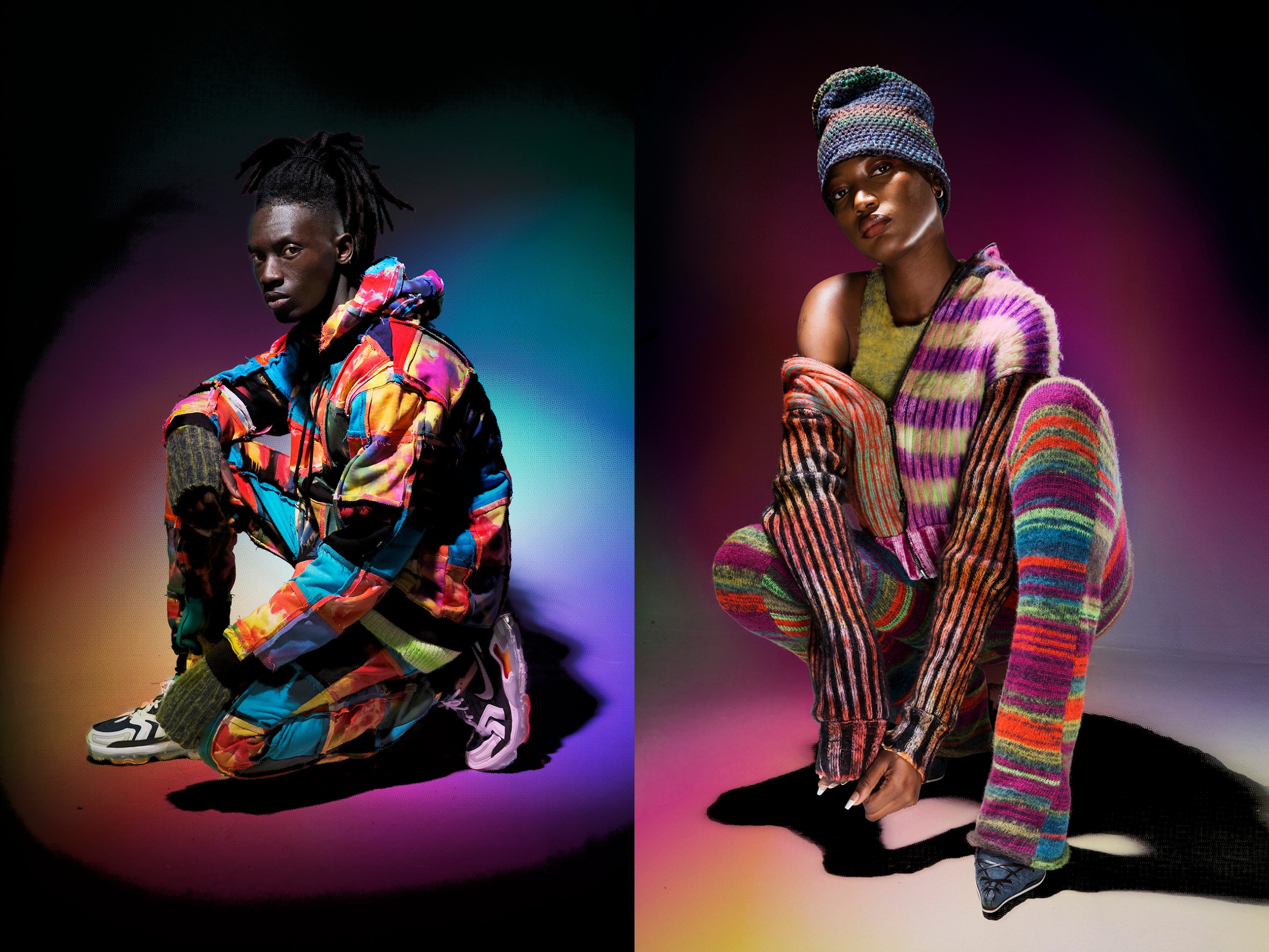 Trippy knits for post-lockdown parties
We've been rooting for London's community of independent and emerging designers since Day One, but the AW21 season has truly made our hearts swell with pride. Even against the backdrop of you know what, we've seen the designers that give the city its creative identity put out some of their most accomplished work to date, and adamantly make a case for London's place on the global scene. Doing that especially loudly is AGR, whose AW21 collection is perhaps best described as a series of acid-trip riffs on Joseph's technicolour dream coat. Kaleidoscopic colour treatments are applied to the fuzziest brushed-mohair and cable knit jumpers, as well as slinky dégradé lace dresses. Vibrant patchwork vests, rainbow puffer jackets, and Stabilo-striped denims build out the rest of the label's first full collection, released via an appropriately neon-bathed lookbook. Need something to make you stand out from the crowd at the first post-lockdown parties? Look no further. MS
Bored of Netflix? Tune in to Coach TV
Omitting the runway all together this season, Coach debuted its latest offering through fashion films and a lookbook, both created under the signature eye of Juergen Teller. The short films are campy and clever, riffing on daytime television while showcasing creative director Stuart Vevers' new designs made from upcycled elements of previous collections — something that has become a bit of a trademark in recent Coach presentations. "I have always loved exploring the intersection of fashion and pop culture at Coach," said Stuart in a statement. "I wanted both the collection and the presentation to make sense and resonate in these unique times, and I am excited to share both in a way that I hope will entertain and inspire." Adorning the clothes are regular faces of the Coach family — Michael B. Jordan, Paloma Elsesser and J Lo — alongside Kaia Gerber, Megan Thee Stallion, and Riverdale's Cole Sprouse and KJ Apa. You can read i-D's full review of the collection here. TG