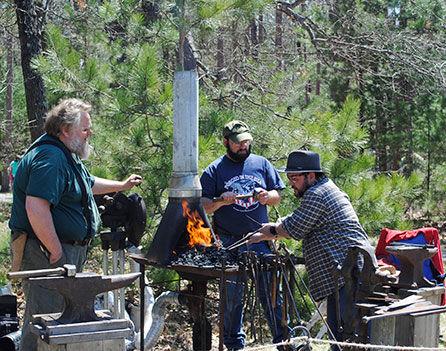 OSCODA – Following nearly a week of gray skies and rain, there was a break in the weather just in time for the numerous outdoor activities held this weekend at Lumberman's Monument in Oscoda.
The second annual Michigan Bushcraft Spring Gathering began with a community bonfire and meet-and-greet on Friday, May 3, with a series of presentations and other events taking place during the remainder of the weekend.
"What a great bunch," expressed event coordinator Charles Oncina, on day two of the festivities.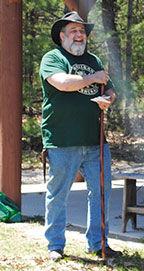 He had nothing but praises for the Bushcraft sponsors, presenters and attendees, adding that he was approached by multiple people who are already interested in getting involved in the next gathering.
Oncina said the turnout this year surpassed that of the inaugural event in 2018, and that he expects an even bigger and better spring gathering next year.
The rapidly growing popularity of the event was clear this past weekend, as organizers expanded the presentations to two days instead of one.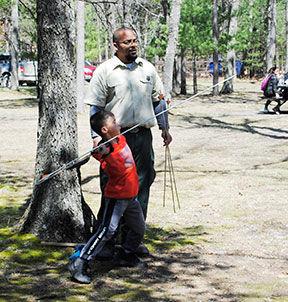 Additionally, there were some familiar faces from the premiere gathering, including Dominic Grace, 8, Grosse Ile. He was joined by several family members, and the group spent the whole weekend camping in Oscoda.
As reported, they came to the area last year just for the Bushcraft activities, and they decided to make a weekend out of it by camping, fishing and exploring the other outdoor offerings in Oscoda.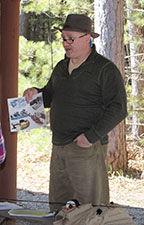 "We've made it a family thing," shared Dominic's dad, Jason Grace, of the gathering.
When arriving at Lumberman's Monument on Saturday, the venue was flooded with the blended sounds of blacksmith hammers, birds chirping, axes swinging and event goers chatting about the programs at hand.
Lessons and demonstrations on a host of topics were shared with attendees – with the headline presenters being Brooke and Dave Whipple, from the History Channel television program, "Alone."
They shared stories of their experiences on the show, for which competitors may take 10 items with them to a remote location as they attempt to survive for as long as possible, without tapping out.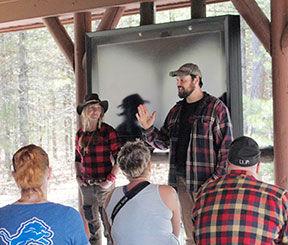 The Whipples appeared together on season four, which was filmed on Vancouver Island, British Columbia, and Brooke later returned to appear on season five in Mongolia.
While they didn't win the $500,000 prize during the challenges, Brooke made it through nearly a month in Mongolia, and she and Dave survived for seven weeks together on Vancouver Island.
With their food supply dwindling and both of them losing a significant amount of weight, they say "Alone" representatives told the couple they would have pulled Brooke from the contest at that time anyway, due to her weight loss.
One point the husband and wife team stressed to the Bushcrafters was that anyone attempting to live off the land or survive outdoors for a period of time must be able to adapt, be inventive and prepare for things to not always go as envisioned.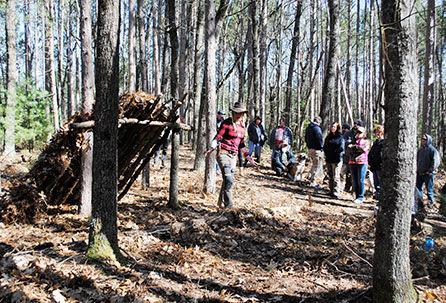 As Dave noted, until someone is actually in such a situation, they never really know what to expect.
This is why he and Brooke also said that the best way to prepare oneself for a journey into the wilderness is through real-life practice. They encouraged the adventurous at heart to try some solo camping in the woods, even for just a few days.
"It changes the way you look at everything after that," Dave said, adding that it is a life-altering experience.
Brooke said that not everything can be learned from books or television shows, so it is crucial that people actually go out and challenge themselves, in order to gain true experience.
In addition to her talks about "Alone," Brooke also provided Bushcraft visitors with a lesson on shelter building.
Participants joined her for a quick hike into the woods to learn about creating a shelter from forest debris. Brooke said these make for a warm place to bunk down, while also providing a sense of security to help with the mental boost that many people require when they are alone in the outdoors.
"Let's be honest – they're like grown-up forts," she said, generating laughs from the crowd. "They're so much fun to build."
According to Brooke, essentially no tools are needed to construct a debris shelter, there is no wrong way to build one and they can be made by those of all ages.
She shared tips on how to make such structures warmer – as well as what materials people should particularly be on the lookout for – prior to inviting the audience to get hands-on and help her complete the shelter she had started earlier that day.
Brooke was among a number of various presenters who took part in the spring gathering over the course of the weekend. Other activities included tours of Lumberman's Monument from U.S. Forest Service (USFS) personnel; a talk on foraging for wild edibles; blacksmithing demonstrations; discussions on ax safety; a plant walk; campsite/shelter tours of the primitive areas in the Huron National Forest; lessons on cold weather gear; an interactive atlatl/spear-thrower exhibit, courtesy of the USFS; and a presentation on trapping, by John Chagnon of Michigan Woods-N-Water News.
An introduction to fly fishing was also offered on Saturday by Paul Becigneul. The sport was elaborated on further the following day, by Wayne Castor, with his talk on fly fishing ecology.
"The initial hit is just amazing," described Avoca resident Becigneul, of the feeling when a fish takes the bait.
He gave a number of pointers to the audience, including information on fly fishing gear, as well as a few hot spots where anglers can reel in a big catch.
Also sharing their expertise with event goers were Jeffy Geer and Ben Piersma, who held a fire skills demonstration.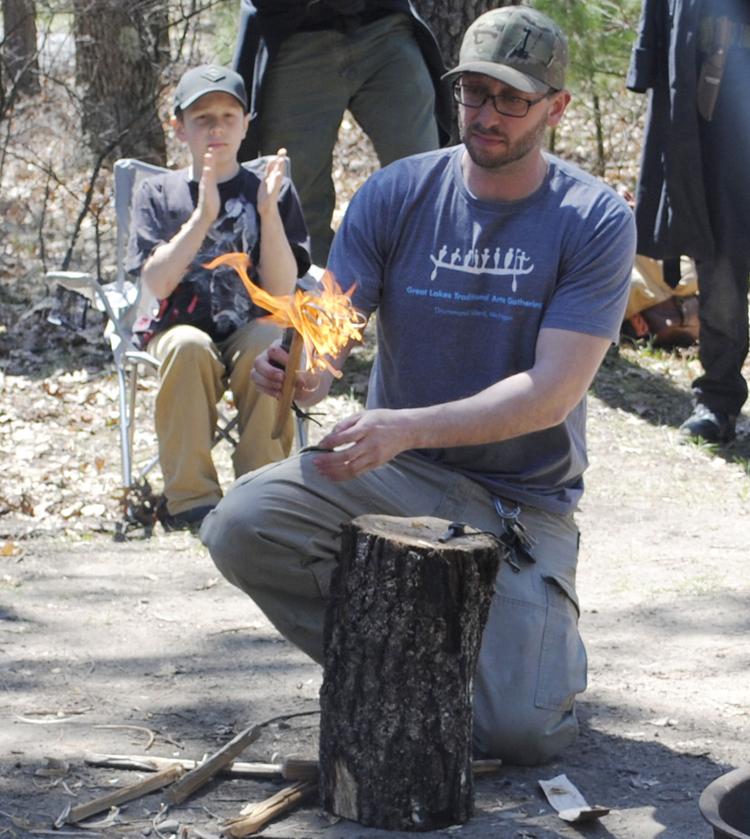 They explained methods for generating a flame, even from icy, wet trees; gave suggestions on the type of bark that should be sought out; explained ways to obtain resin from pine trees to bolster one's fire building efforts; and talked about how to carve feather sticks, which Piersma said are great for starting a fire.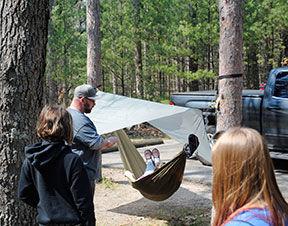 Everyone who attended this activity had a chance to put their newly learned skills to use and see if they could spark a flame with the materials at hand.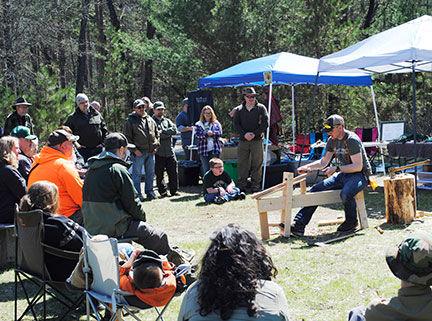 Another exhibit which drew in a large crowd was the ax handle carving demonstration by Tim Parsell, who owns Parsell Artisan Works with his wife, Kayla.
From the very beginning steps – starting with just a log – to the finished product, Parsell walked the audience through each task of carving one's own handle. Further, he shared tips on maintaining these tools, replacing ax heads on broken handles and more.
Aside from the presentations, loads of free prizes were handed out to some lucky winners during the gathering, at the top of every hour. These ranged from magazines, DVDs, T-shirts and coffee mugs, to knives, hatchets, trail cameras, compasses and other goods, which were donated by some of the event sponsors – more than 20 total.
Additionally, while the Bushcraft fun was completely free to guests, there were also vendors and craftsmen stationed at the event site for those who wanted to make purchases from a wide range of outdoor tools, gear and other essentials. Those offering merchandise included Ben's Backwoods, MI-TAC, Parsell Artisan Works, Devils River Adventure Gear and Wilder Forge.
The activities on Friday and Saturday each wrapped up with some socializing around a community bonfire.
As further evidence of the growth of the Bushcraft Spring Gathering, Oncina said there were less than 10 people at the bonfire in 2018. However, on this past Friday alone, more than 40 attendees participated.
"It's a great way to spend the day," he remarked of the Bushcraft event.