In a word, Maggie Cheung is elegance, embodied. After early-career turns in hit action-crime films and frequent collaborations with auteur director Wong Kar-wai, Maggie has become not only one of Hong Kong's most beloved actresses, but one of its most revered. From In the Mood for Love's star-crossed romance and French film industry drama Irma Vep to myriad wuxia films, Maggie brings an inimitable grace — not to mention masterful acting skills — to all her roles. And her style is just as refined, taking in streamlined denim, leather jackets and sleek red carpet fare. Not to mention that, in addition to her personal wardrobe, Maggie is also the actress behind some of cinema's most iconic fashion moments. Think In the Mood for Love's 20 qipaos and Irma Vep's latex catsuit. Here, we chart Maggie's illustrious career through a selection of her most iconic outfits.
During a promotional photoshoot, circa 1980s
"I was a model. I was in a beauty pageant in Hong Kong, somehow, by accident again, and then I was cast in a film. And from then on, it just went on and on and on," says actress Maggie Cheung, on the beginnings of her career. Born in Hong Kong and raised in England, Maggie dabbled in modelling before making her cinematic breakthrough opposite Jackie Chan in 1985 action-drama Police Story. During the late 80s, she also collaborated with Wong Kar-wai on crime-drama films As Tears Go By and Days of Being Wild. Posing on the back of a motorcycle, Maggie embodies the youthful abandon of her earlier roles in a leather jacket, stovepipe jeans and leather Chelsea boots.
With Anita Mui, circa 1990s
Back with the amazing jeans, this time in a bootcut with fellow Hong Kong actress and Queen of Cantopop, Anita Mui. Here, we're seeing the beginnings of Maggie's sophisticated late 90s style showing through. The low-key layers — a turtleneck worn under a shirt — whisper to Martin Margiela's designs for Hermès. Perhaps not-so-coincidentally, the actress would walk the label's AW98 runway only a few years later.
At Venice Film Festival, 1995
1994's martial arts epic Ashes of Time marked Maggie's third film with Wong Kar-wai. With its atypical take on the traditional wuxia genre, the film received mixed reviews, but bolstered Wong's reputation as one of Hong Kong cinema's most influential directors. Here, attending the Venice Film Festival with her Ashes of Time co-star (and fellow frequent Wong Kar-wai collaborator), Tony Leung, Maggie wears an outfit that's so 90s it hurts. A lettuce-edged baby tee and mini skirt accessorized with the era's turnlock Coach bag, silver choker and (not pictured) knee-high socks with Mary Jane shoes. Note, also, the era's ubiquitous zig-zag part.
In Olivier Assayas' Irma Vep, 1996
In Olivier Assayas' 1996 drama movie, Irma Vep, Maggie plays herself, an actress named "Maggie Cheung" who's tasked with playing the lead role in a French film production gone awry. Throughout the production, the film-within-a-film's protagonist (and the IRL film's namesake) wears an iconic black latex catsuit, complete with matching headband and goth-y makeup. While this outfit isn't technically worn by Maggie, herself — although considering the film's ultra-meta structure, who's really to say? — it's become one of the looks most associated with the actress within the Western psyche.
In Wong Kar Wai's In the Mood for Love, 2000
With her turns in wuxia film Hero and Olivier Assayas' Irma Vep as runners-up, Maggie's most memorable cinematic role — at least to Western audiences — belongs to Wong Kar-wai's In the Mood for Love. Acting opposite Tony Leung, once again, Maggie plays Mrs. Chan, one half of a pair of star-crossed lovers living in 60s Hong Kong. Throughout the smoky, romantic drama, Maggie wears 20 different qipaos. With their colourful patterns and immaculate tailoring, those 20 dresses have become synonymous with the film, itself, emblematic of its lush visuals and heady atmosphere.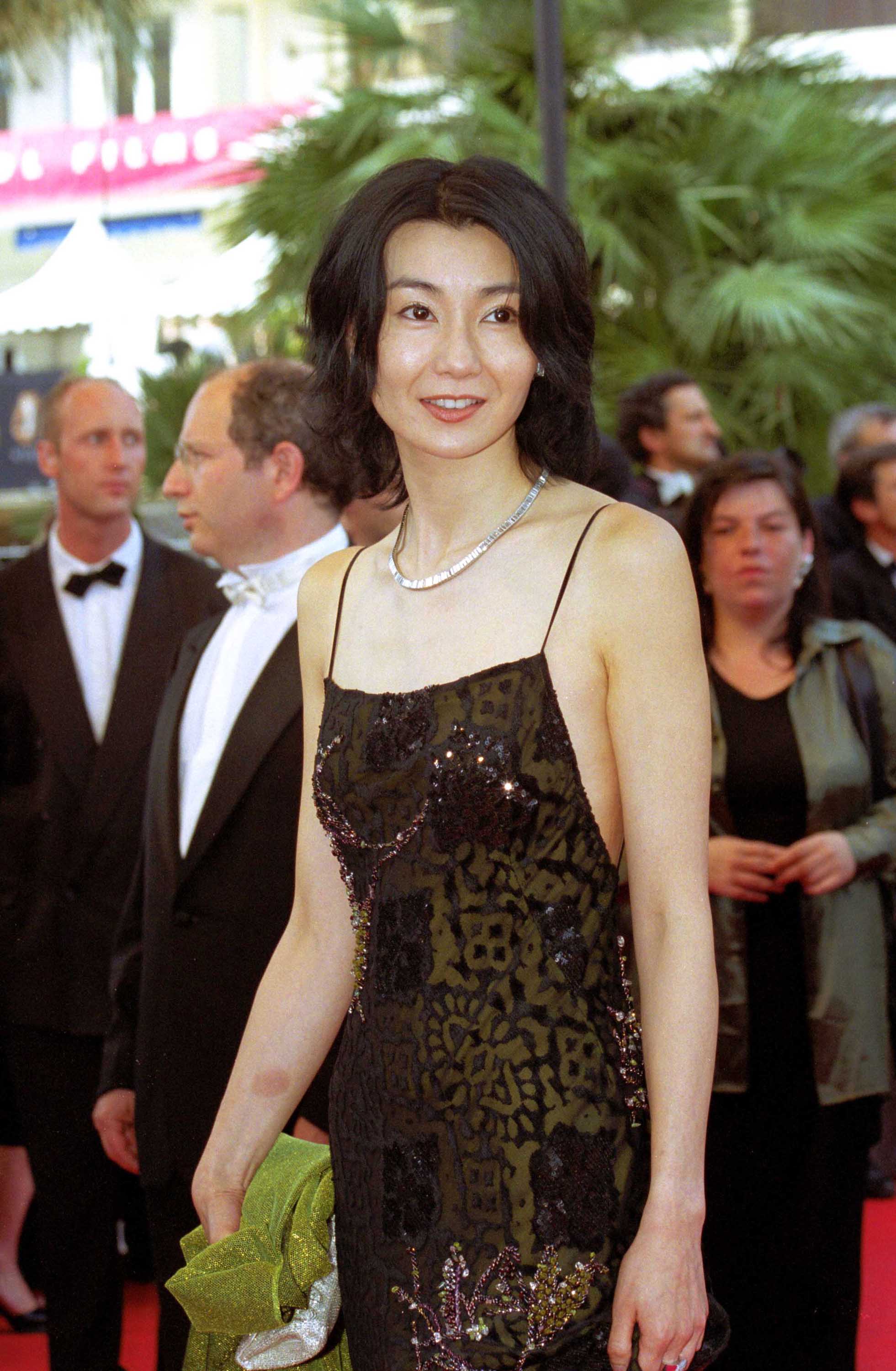 Photo by Toni Anne Barson/WireImage
At Cannes Film Festival, 2000
Three words: Maggie at Cannes. Throughout the aughts, the actress became a regular invitee to the annual French film festival. To its many premieres and awards ceremonies, the actress showcased a refined red carpet style that took in achromatic palettes, simple silhouettes and some subtle sparkle. To the 2004 premiere of Olivier Assayas' Clean, she wore head-to-toe black tailoring. To collect her Best Actress Award that same year, she wore a lace-y bustier-ed number. On the Cannes carpet, she's worn leather jackets, chartreuse organza, and, yes, even an incredibly elegant iteration of the naked dress. Here, at the premiere of In the Mood for Love, she combines her penchant for sequins and the colour green in a very Y2K velvet burnout slip.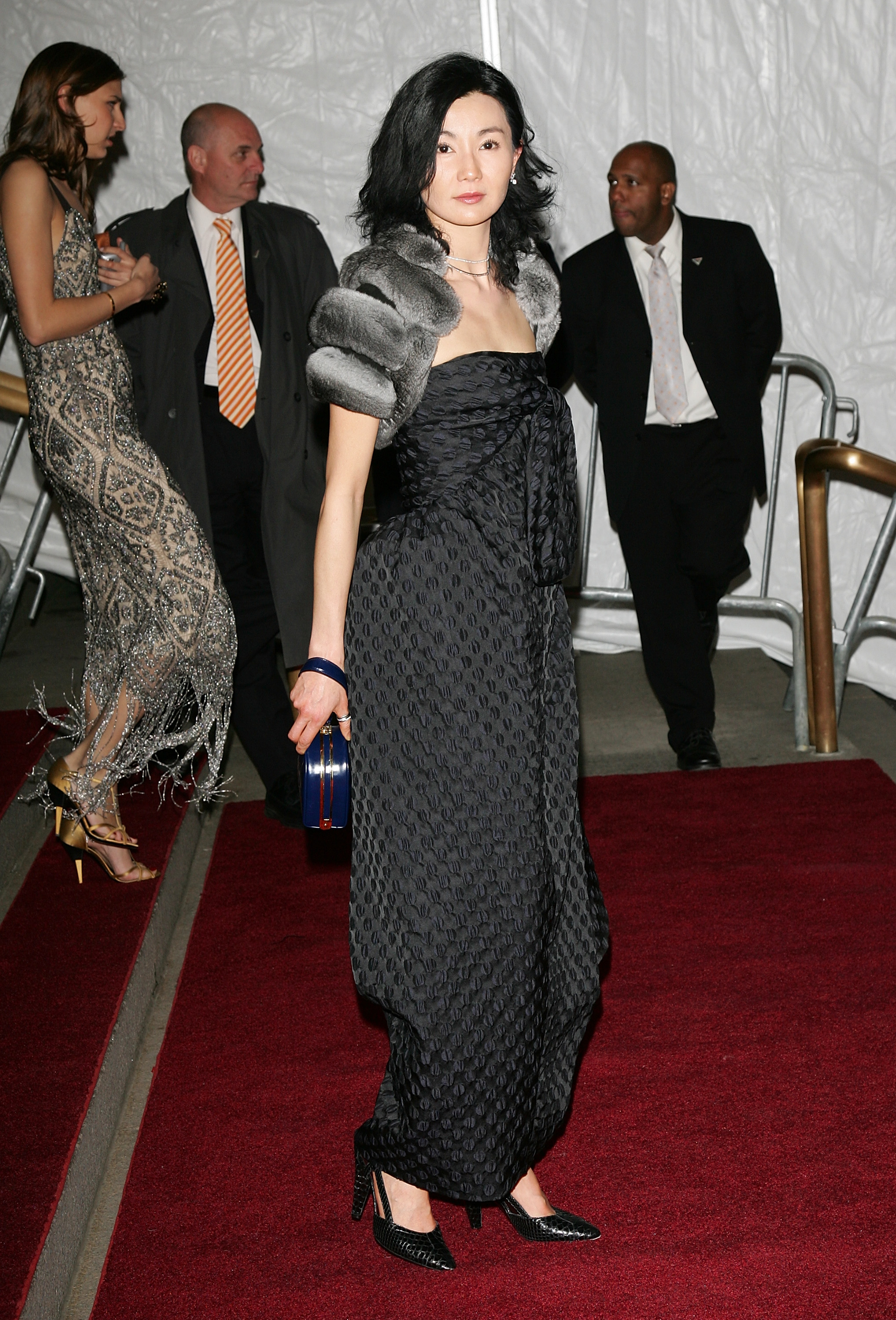 Photo by Evan Agostini/Getty Images
At the Met Gala, 2007
Upping the elegance she's known for at Cannes, Maggie stepped out on the Met Gala red carpet wearing this textural gown and cute fur bolero. Off the famed carpet, the dress was also commemorated in a candid shot of the actress sharing a cigarette with Charlotte Gainsbourg in the Met's bathroom. An incredibly chic moment for an eternally elegant star.