American rapper Lil' Kim looked ageless and all shades gorgeous in new pictures she shared on her Instagram page showing moments from her 47th birthday celebration. 
Lil' Kim has been in the music scene since the 90's when she was discovered by the late rapper Notorious B.I.G., who invited her to join his music group Junior M.A.F.I.A. 
After her discovery, Lil' Kim went on to become a major name in the female rap industry and released multiple hit albums and chart-topping songs.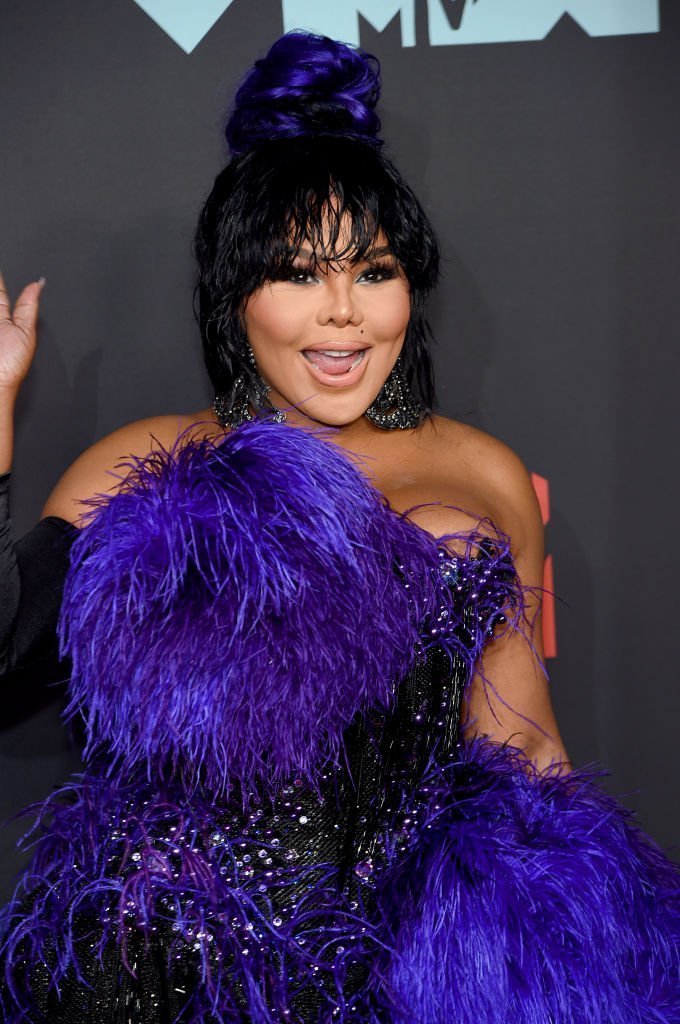 Besides her incredible musical talent, the rapper is also known for her risk-taking and luxurious approach to fashion and is regarded as a fashion icon in many circles. 
Lil' Kim recently celebrated her 47th birthday. On Saturday, she shared pictures of a special birthday dinner her friends hosted. The first picture in Lil' Kim's post showed her posing with her friends, Emily Bustamante, rapper Fabulous, French Montana, and TT Torrez. 
Lil' Kim looked every inch the birthday celebrant as she dazzled in a black floral kimono dress that featured a thigh-high slit. She looked ageless and wore a silver necklace and heels to complete her gorgeous look. 
The second picture showed Lil' Kim and her dinner guests, including the iconic singer Mary J. Blige and Misa Hylton, sitting around a dinner table and raising their glasses. 
The third snap in the post showed Lil' Kim soaking up the moment as her friends celebrated her, while the last photo showed her gushing over their gesture as she flaunted the silver wristwatch and bangles on her left hand. She captioned the post: 
"So my bestie @myfabolouslife called me and said you gotta come outside. I said what's the plan he said just get beautified, I'm kidnapping you respectfully ??." 
Lil' Kim further revealed that Fabulous surprised her at Jue Lan Kitchen, one of her favorite restaurants. She described the dinner as one of the best birthday dinners ever. 
Lil' Kim paid more gratitude to Fabulous and described him as a truly awesome best friend. She thanked him for always thinking about her. The female rapper also thanked French Montana for turning up and appreciated TT Torrez for helping them to celebrate. 
It remains to be seen if both women will duel themselves on the rap stage in the future.
In the concluding part of her caption, Lil' Kim remarked that a birthday dinner for her would not be right with her two fabulous sisters, Mary J. Blige and Hylton, who she described as her heart. 
She also appreciated Soulgee, Bustamante, and Mimisbella for being there to celebrate with her. Many more Lil' Kim's friends, including Busta Rhymes, Fat Joe, and Naomi Campbell, celebrated her in the post's comment section. 
Before posting her birthday pictures on her Instagram page, Lil' Kim stole hearts away by serving up hot looks during her appearance at the Ahead Week Miami, where she was a panelist. 
For the event, she stunned in a white Celine logo T-shirt, white jeans, and a Celine vertical mini tote. She also rocked long sleek hair, styled by hairstylist Jonathan Wright. The dazzling all-white look added to the rapper's long list of trendsetting looks. 
Although Lil' Kim is known for her bold fashion statements, she has received criticism for her looks. In June, the 47-year-old attended the BET Awards and gave an enjoyable performance that thrilled fans. 
However, rapper and music producer 50 Cent did not fancy Lil' Kim's outfit for the day and compared her award show appearance to an owl in a since-deleted post. 
Lil' Kim spotted the post before 50 Cent deleted it and clapped back at his troll, saying she was not bothered about his comments. She also claimed 50 Cent was still in his feelings after she turned down his request that they go on a dinner date. 
She advised him to let it go as he has a beautiful girlfriend while she is happily married to a loving husband. She also took the opportunity to promote her upcoming memoir "The Queen Bee," revealing she will address her and 50 Cent's situation in the book. 
Despite the plethora of female rappers on the musical scene today, Lil' Kim still sees herself as the queen. She showed this when she sounded the trumpets of warfare against popular female rapper Nicki Minaj by challenging her to a Verzuz Battle. 
While chatting with Power 105.1's DJ Envy, Lil' Kim admitted she would like to see herself and Nicki Minaj duke it out on Verzuz after DJ Envy suggested that the female rap icons should do so. 
It remains to be seen if both women will duel themselves on the rap stage in the future, but it is a tantalizing prospect that fans will be eager to see. Lil' Kim is the mother of an adorable six-year-old daughter Royal Reign Jones Neil, who she shares with her husband, Mr. Papers. 
Lil' Kim shares a close bond with her daughter, who wowed the crowd at the Florida AIDS Walk event in April by busting some impressive moves during an epic performance with her mom. 
It remains to be seen if Reign will go on to become a superstar like her mom, but her incredible performance shows she has what it takes to do just that.