Physical Education
In his new role, former Muhlenberg point guard Toomey Anderson '03 is expanding access to athletics for the 17,000 students in the Allentown School District.
By: Meghan Kita Monday, November 14, 2022 08:37 AM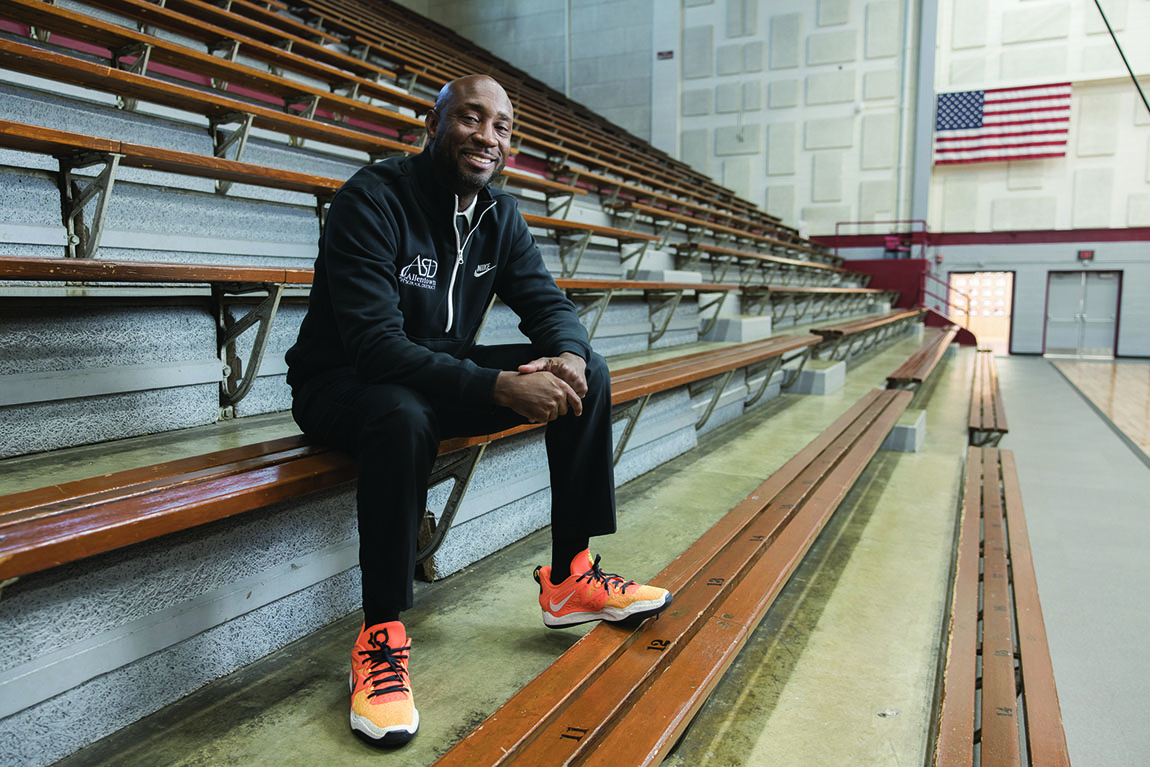 Toomey Anderson '03. Photos by Marco Calderon
For the first time this fall, the youngest students in the Allentown School District will be able to participate in after-school sports without having to leave their schools. Half of the 14 elementary schools in the district are offering tennis and soccer, the other half, flag football and … mixed martial arts (MMA).
"They're not going to be in contact with each other," says Toomey Anderson '03, the district's first coordinator of athletics and activities K-12. "The technique, the training, the fundamentals of learning how to box and kickbox — those kinds of things will be implemented."
One of the reasons Allentown is adding sports for young students is to feed the middle and high school athletic programs, and wrestling, which is part of MMA, is a sport the district wants to develop. Another reason is to make the district's elementary and middle schools into community hubs that offer after-school enrichment activities (sports, arts, tutoring) in a safe, supervised environment until parents can pick up their children. Another is to improve attendance by giving kids something to look forward to after a day in the classroom. But the main reason is because trying out a variety of activities is just good for kids.
"When you're young, your body is still developing and your mind's still growing and developing. Until you're exposed to as many different things as possible, you don't know what your true talent is," says Anderson, who was a student-athlete and political science major at Muhlenberg. "I played a variety of sports at that age. Whatever sport was on TV that day, [my friends and I] were outside trying to play it."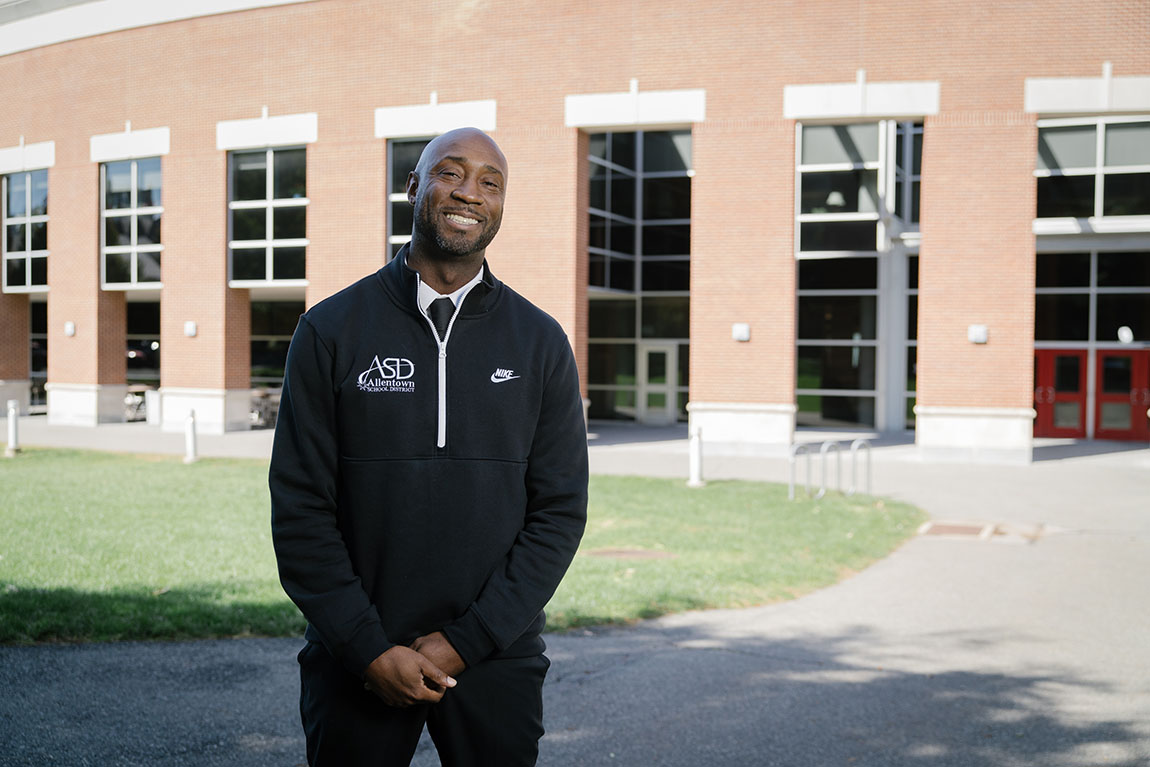 Anderson ultimately specialized in basketball, which he played at nearby Parkland High School. His first visit to campus was with his high school coach, to watch the Scotty Wood Tournament. Muhlenberg's head basketball coach at the time, Dave Madeira, recruited Anderson to play for the Mules. He was on the team from 1999 to 2003, helping the Mules to three straight Centennial Conference playoff berths. A point guard, he scored nearly 800 career points and earned All-Centennial honorable mention as a senior. (Anderson also played a single season of football at Muhlenberg that year: "I scored a touchdown, so it counts," he jokes.)
After graduating, he taught algebra to Philadelphia students who'd been removed from the public school system for a few years before taking a job with the Carbon-Lehigh Intermediate Unit as an emotional support interventionist. Throughout that time, he also coached basketball: in Quakertown, at Allentown Central Catholic and on the Amateur Athletic Union (AAU) circuit. In 2010, he began running the major regional basketball tournament, the A-Town Throwdown, that was part of Lehigh Valley SportsFest in Allentown's Cedar Beach Park.
In 2017, Anderson was recruited to join Allentown's Executive Education Charter School — the CEO there had worked with Anderson in Philadelphia. Anderson served as Executive's career and college advisor, as well as its assistant athletic director. He built up the school's athletics teams, and its boys' basketball team would win three District 11 championships while he was there.
Also in 2017, the founder of Lehigh Valley SportsFest decided to retire. It wasn't clear whether the event would continue. Anderson stepped in: "I had visions of doing something more than just sports," he says. "I have a theme: Everything I do is called 'awesome.'"
In the past, he's run a "Camp Awesome" to expose K-5 students from the Lehigh Valley's cities and suburbs to a variety of activities and to one another. He wanted to turn Lehigh Valley SportsFest into Lehigh Valley AWESOME! Fest, which debuted in 2018. This year's event had the A-Town Throwdown as its centerpiece but also included art shows, music and comedy performances and a variety of food vendors serving cuisines from around the world.
"It's a celebration of arts, athletics, culture and entertainment," Anderson says. "Allentown's a melting pot. I wanted to find a way to celebrate all the different aspects we have, drawing people and teams from all over the region."
Anderson began his role with the Allentown School District this February, and he's doing much more than expanding athletics and activities. This summer, he helped orchestrate the district's Summer Scholars program, which was launched to combat COVID-related learning loss. Participating students spent their mornings working on academics and the afternoons trying out different activities, including sports (like soccer, flag football, volleyball, basketball and track), yoga and mindfulness, art and music. He's helping the district launch six-week learn-to-swim programs for students, which will address a major safety issue and hopefully have the bonus effect of creating a more reliable summer lifeguard pipeline for the city. Anderson is also surveying parents to guide an expansion of adaptive sports for students with disabilities in the district.
While the district received state and federal funding to launch new programming, additional funds are needed to remove participation barriers (such as good gear and proper attire) for some students. The ultimate goal, Anderson says, is for Allentown students to have equitable experiences to students from wealthier suburban districts. Another challenge is finding adequate staff to run these programs, but the support so far has already been immense.
"The beauty of our district is there are so many people who genuinely care about these students," Anderson says. "We have great support throughout the district and throughout our community, people who want to get involved and help out the students."