FEAR FACTORY Aggression Continuum

By


Francisco Zamudio

,
Metal X Candy 2.0

Thursday, July 1, 2021 @ 1:30 PM












FEAR FACTORY
Aggression Continuum

Nuclear Blast
The 90's were a tumultuous decade full of uncertainty for Metal as a whole. You had Grudge and Nu-Metal that many considered would be the end of Metal only to find that both genres would implode into themselves. Still though, you had many great bands born in that era that came out ahead of the times. One name that came from the 90's was East Los Angeles' own FEAR FACTORY headed by Guitarist Dino Cazares. Their early Grind and Death Metal days consisted of the grounding break debut album Soul Of A New Machine and the EP featuring cutting-edge Industrial style remixes, Fear Is The Mindkiller – both released through one of the best labels at the time, RoadRunner Records. Fast Forward 30 years later and Dino returns with an amazing book-end style album that reflects FEAR FACTORY's repertoire in that of Aggression Continuum (Nuclear Blast).


This being their 10th album to date, 6 years since the last, Genexus – it features the return of Mike Heller on drums for his 2nd go around and what is likely his final vocal appearance, Burton C. Bell, who had been the only other original member since the band's inception. This is only a couple of highlights that make Aggression Continuum a remarkable effort by Dino and company. Another landmark album for FF was 1995''s Demanufacture that displayed less of the Death Metal sound but a focused edge on their Industrial style they developed which entails the guitar and drums syncopation (a style by the way that too many bands have become reliant on) that only FF can pull off in expert fashion. Aggression Continuum seems to be the sequel to Demanufacture if not a great follow-up to 1998's Obsolete, which only propelled FF to higher ground. The sound on the new record falls into place with those previous releases with its songwriting and sound that FF has developed and perfected in its 30 years.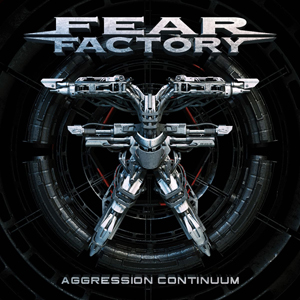 Produced by Damien Rainuad and mastered by JUDAS PRIEST's current guitarist Andy Sneap, the focused and clear sound on the record couldn't have been more perfect. Going back to the syncopation of the guitar and drums which is textbook FF, they collectively did an outstanding job in capturing the aggression without making the record sound to over-polished like many today. Providing the atmosphere on this record, atmosphere that surrounded FF in their sound all these years is Max Karon and Giuseppe Bassi to name a few, along with YES keyboardist Igor Khoroshev as well as longtime "fifth member" Rhys Fulber who has contributed greatly in the bands legacy. That symphonic wall of sound is highly apparent on this record while Burton C. Bell's vocal approach (again, a style copied by TOO many bands) is outstanding as ever as only he can accomplish.


So many elements make up FEAR FACTORY's mechanized DNA. Their Industrial sound is 2nd to none and falls in a category with greats like MINISTRY and NINE INCH NAILS. Part of that identity is their futuristic, sci-fi laced approach with a conscious attitude that seems it'd fit any of the Terminator or "man vs machine", post-apocalyptic films and the title track is a great reflection of that. "Fuel Injected Suicide Machine", for which they released a video for, is one of my favorite tracks as well as the other single "Disruptor". "You got Manufactured Hope" which is a clever title to bookend this chapter for FF. Many mainstream core fans will gravitate to "Collapse", "Purity", and "Monolith" which are more along the slow groove style which they have been familiar with before but "End of The Line" is an excellent closer at over 7 minutes long. Aggression Continuum is an amazing definition of what FEAR FACTORY was, is and what will likely be so as long as Dino maintains that fire.


4.5 Out Of 5.0





Please log in to view RANTS
If you don't have a username, click here to create an account!