In the spring of 2000, Willie Brown, the mayor of San Francisco sat stewing in his office, infuriated. A few months before the US release of Jet Set Radio, the game's publisher Sega was planning to host a promotional graffiti competition in the Golden City — coincidentally at the same time Brown's administration was launching a crack-down on vandalism.
Despite municipal pushback, the event went ahead. Artists were flown out and put up in hotels, painting grand graffiti murals at a party in anticipation of the game's release. The aim of the competition was to persuade an American audience to interact with a Japanese title, but also showcase that graffiti is an art form — something that Sega believed wholeheartedly. But the lawmakers and politicians of San Francisco wanted to ignore this, sparking an unconventional clash between the government and gaming, and offering a prime example of how Jet Set Radio was designed to facilitate a rebellious counter-culture.
The game is a vibrant single-player 3D action platformer that found its home on the Dreamcast at the start of the new millennium. Not unlike our current climate, tensions are running high between the police and the public in the world of Jet Set Radio. You can play as any member of The GGs, a spraypainting, music-blasting, roller-skating youth gang. Your goal is to express yourself, namely through graffiti — tagging your group's insignia wherever you can around the fictionalised, cel-shaded city of Tokyo-to, all while avoiding the brutal, overly-aggressive forces deployed by the government.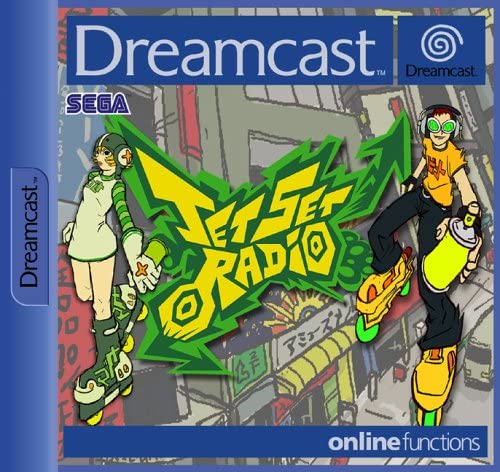 The game fostered a cult following around the time of its release: beloved for its congruent character design choices — boasting some of the best dressed characters in gaming history — as well as its banging soundtrack. Whether it's Beat's bug-like goggles and headphones combo, or Piranha's groovy cream star-branded suit, every member of your skater crew is dripped out to the max, with a distinct Y2K style. Art director Ryuta Ueda credits a lot of his design influence to the youth culture in Tokyo during the late 90s. He used an abundance of colour, a choice pushing back against the murky, dark visual standard of that gaming age.
In an interview for the Jet Set Radio documentary, Ryuta said, "I wanted to make [each of the characters] more like an icon… Not like a human, but a character — more like a symbol." And he succeeded. The game still feels as fresh and engaging 20 years later, and a huge part of that is due to its playable characters feeling like blank, fashionable slates that you can project onto.
Before Jet Set Radio, making graffiti a gameplay mechanic was unheard of. The development team Smilebit broke fresh ground in the gaming world and wanted to do it right. For the in-game tagging elements, they invited renowned graffiti artist Eric Haze to join the project as a consultant. A lot of the game's spray painted art is made up of his older designs, digitally repurposed for gamers. Players can choose what 'spray' fits with their personality, and if none of them do, you can design your heart out by using the in-game custom graffiti creator. It offers a safe virtual environment for self-expression and culture jamming; a place where you can just spray, skate, and have a good time.
The entire ethos of Jet Set Radio is set in opposition to 'the man'. The soundtrack plays off of an illegal pirate radio station inside the game: an eclectic mix of hip-hop, J-pop, acid jazz, and more. Hideki Naganuma, the main composer, used a lot of sample splicing when producing tracks for the game, cutting in clips from random British sitcoms and emcees to form a perfectly imperfect mix of beats to shred to. One of the tracks, titled "Rock it On", cuts samples from Public Enemy and prominent psychedelics advocate Dr. Timothy Leary, and a recurring riff of: "Viva, Viva, La Revolución."
There are simply very few games that have the same shine as Jet Set Radio. If you like wacky, political, radical fun; there's nothing not to like. The message behind it hits just as hard now as it did back in the day: use your creativity, fight back, and be yourself, no matter how hard it gets out there.