Julia Fox is back at it again with a leather, low-waisted get up for another date night with Kanye West. With those abs, can we blame her? 
The Uncut Gems actress stepped out with West on January 12th in Los Angeles. The two went on a double date with Madonna and Floyd Mayweather. We can't look away from her ultra low-rise trousers and super short crop top (or accept the fact that this early aughts style is back and more popular than ever).
For this particular star-studded double date, Fox donned a skin-tight, Margiela long sleeved crop top and (extremely!) low-waisted moto pants designed by Diesel.
She added shiny high-heeled boots and black gloves to complete the look. She also sported her mini Balenciaga Hourglass bag that we've seen her wear on previous dates with West as well as earrings from the luxury brand. He matched her with an all-black outfit of his own, notably wearing his signature Red Wing Shoes.
Ye's new girlfriend seems to have an affinity for the Y2K trend. Just two weeks ago on January 4th, Fox wore the early 2000s-inspired thong pant trend while grabbing dinner in New York City.
Fox told Interview Magazine that she and Madonna planned to dine at Delilah, a roaring '20s-inspired restaurant, and she invited her new boyfriend and other famous friends to join them.
"I had a date with Madonna, but obviously I invited Ye because they know each other, they work together, and they respect each other as artists," said Fox. "Then Floyd Mayweather, Antonio Brown, and a bunch of other people showed up. So obviously we had to do a photo shoot."
Win $1,900 worth of luxury handbags!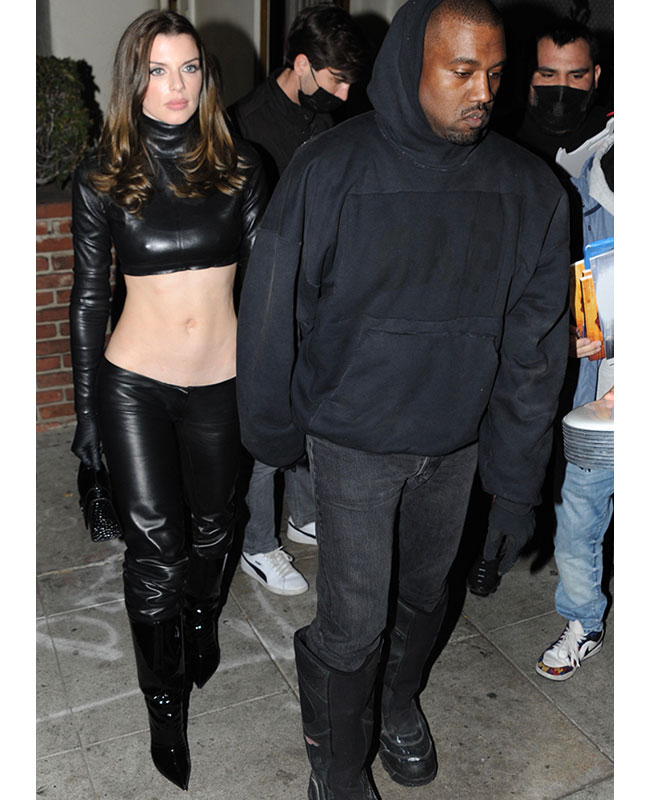 Splash News
When asked about her relationship with the iconic rapper, Fox said she felt an "instant, natural organic attraction and connection" to him. She added that she feels "really safe" with him. As this year's first major 'it' couple, Fox and West continue to make headlines with their instantly iconic date night outfits and photo shoots.
It's so hard to believe they only met just a few weeks ago on New Year's Eve!