Let's pay an ode to the humble braid and its many forms.
I
'll never forget the morning sessions with my
mother, who would secure my dishevelled, loose
strands of hair in a tightly oiled braid. It started
with two plaits and moved to one single long braid
as I got older. With her swift hand movements,
the sections of my hair would criss-cross, and my
mother would wander off in her storytelling –
talking about how braiding hair has been a tradition
that signifies strength and how it's been passed
down from our holy books and ancestors. Little did
I know that she was right. The history of braided
hair dates back to 3500 BC and has maintained a
historical legacy – this staple style has been symbolic
of societal status, ethnicity, religion, and so much
more. Here, we pay an ode to the humble braid and 
its many forms as it reinvents itself each year.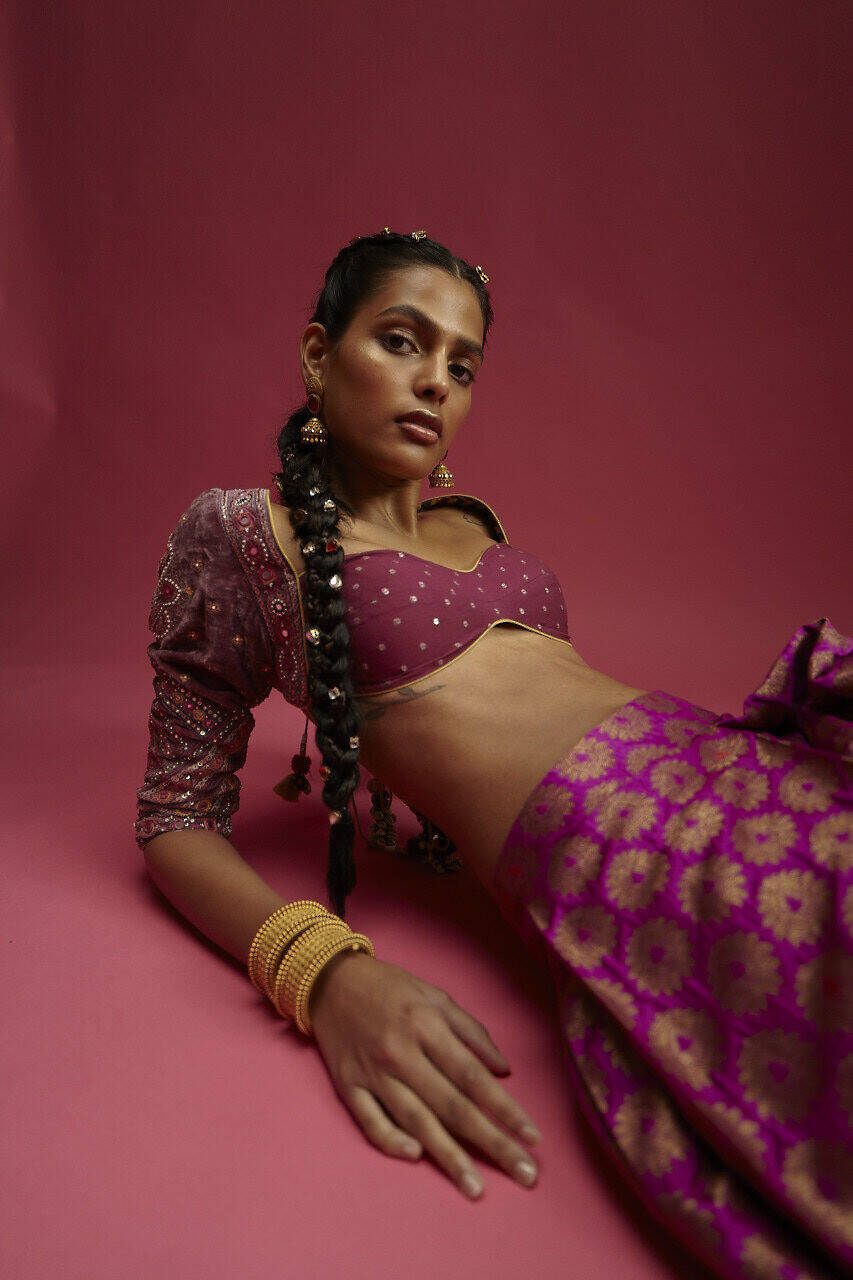 (Velvet and chanderi blouse, Torani; silk trousers, Payal Khandwala; 22K gold bangles, both Anmol Jewellers; 22K gold antique polish earrings with red kundan stones, Mahesh Notandass Fine Jewellery) 

Look 1: Elevate your traditional braid and add a touch of royalty by playing with hair accessories. Part your hair in the center and opt for a sleek, long braid. Make it your own by adding beaded accessories or embellished accents.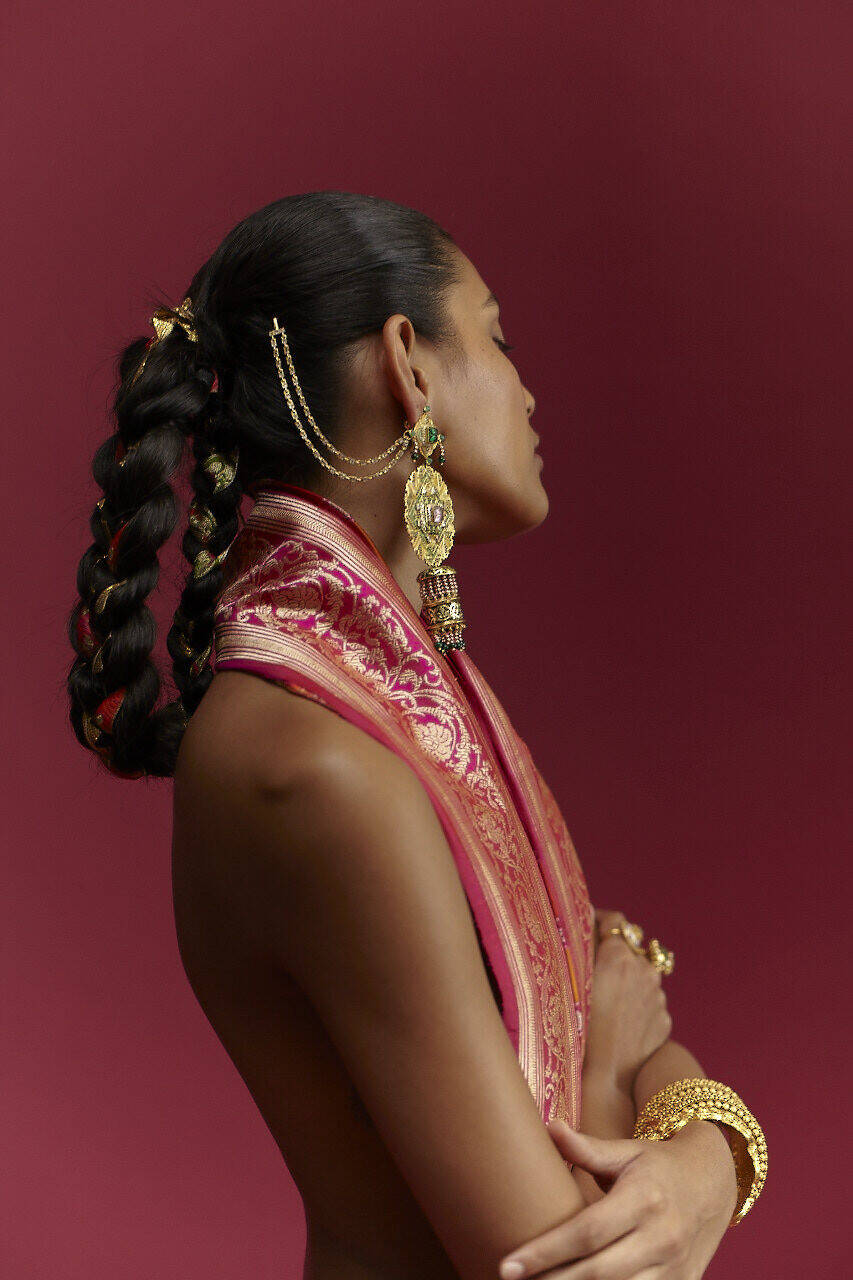 (Silk sari, Ekaya; gold Bangles, all Gehna Jewellers; 22K gold ring with meenakari work, Anmol Jewellers; antique gold finish chandelier earrings and gold plated ring, both Aulerth)
Look 2: Swap our satin ribbons for a silk fabric (that matches your outfit) and braid it all together. Once the braid is secure, roll it into a half ponytail.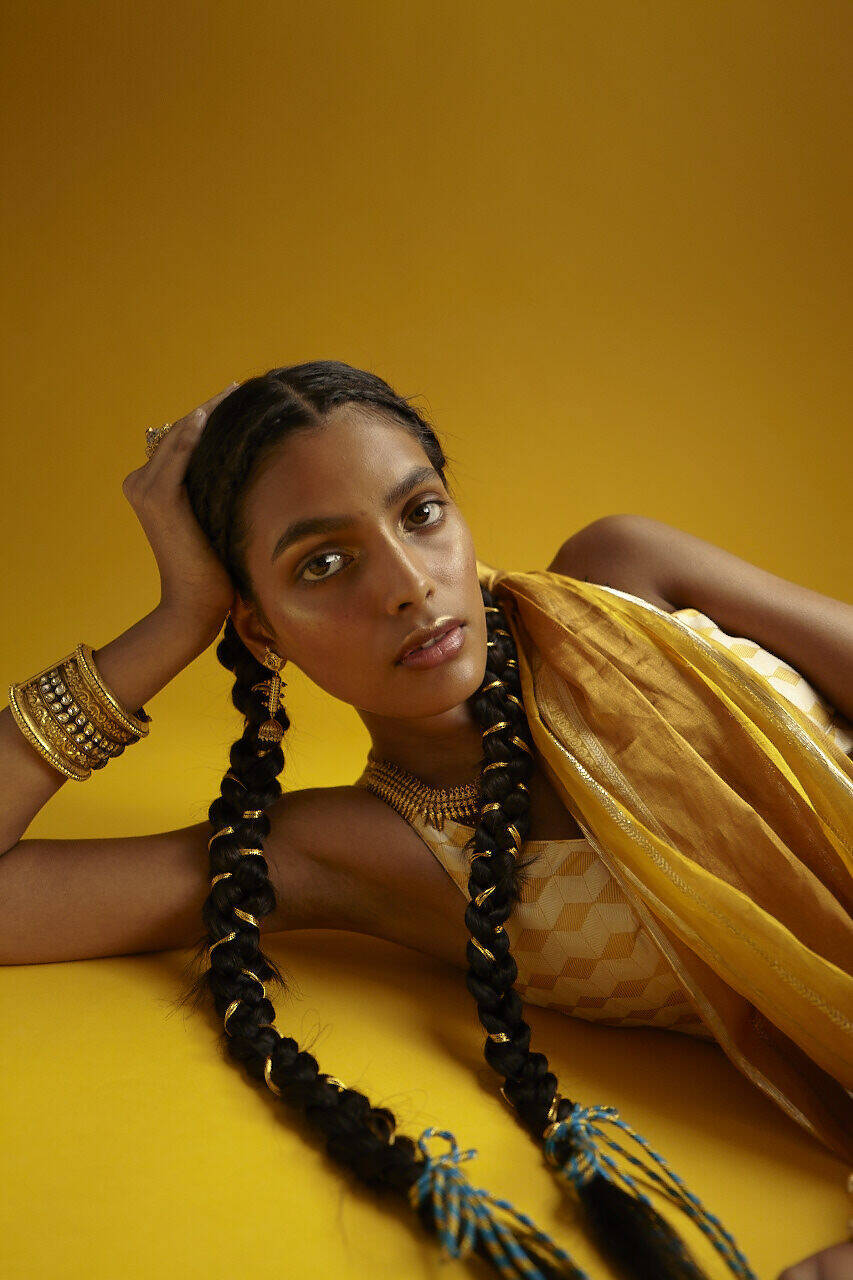 (Silk blouse, Tilfi Banaras; silk sari Raw Mango; gold plated necklace, Paksha; gold bangle, Gehna Jewellers; 22 gold plated earrings, Tribe Amrapali; 22K gold ring with meenakari work, Anmol Jewellers)
Look 3: Let's go back in time – or to Bollywood of the 90's – and revisit the two braid hairstyle. Add a few frills (like golden ribbons) along the braid and at the bottom. Make sure you don't miss the mini braids at the bottom.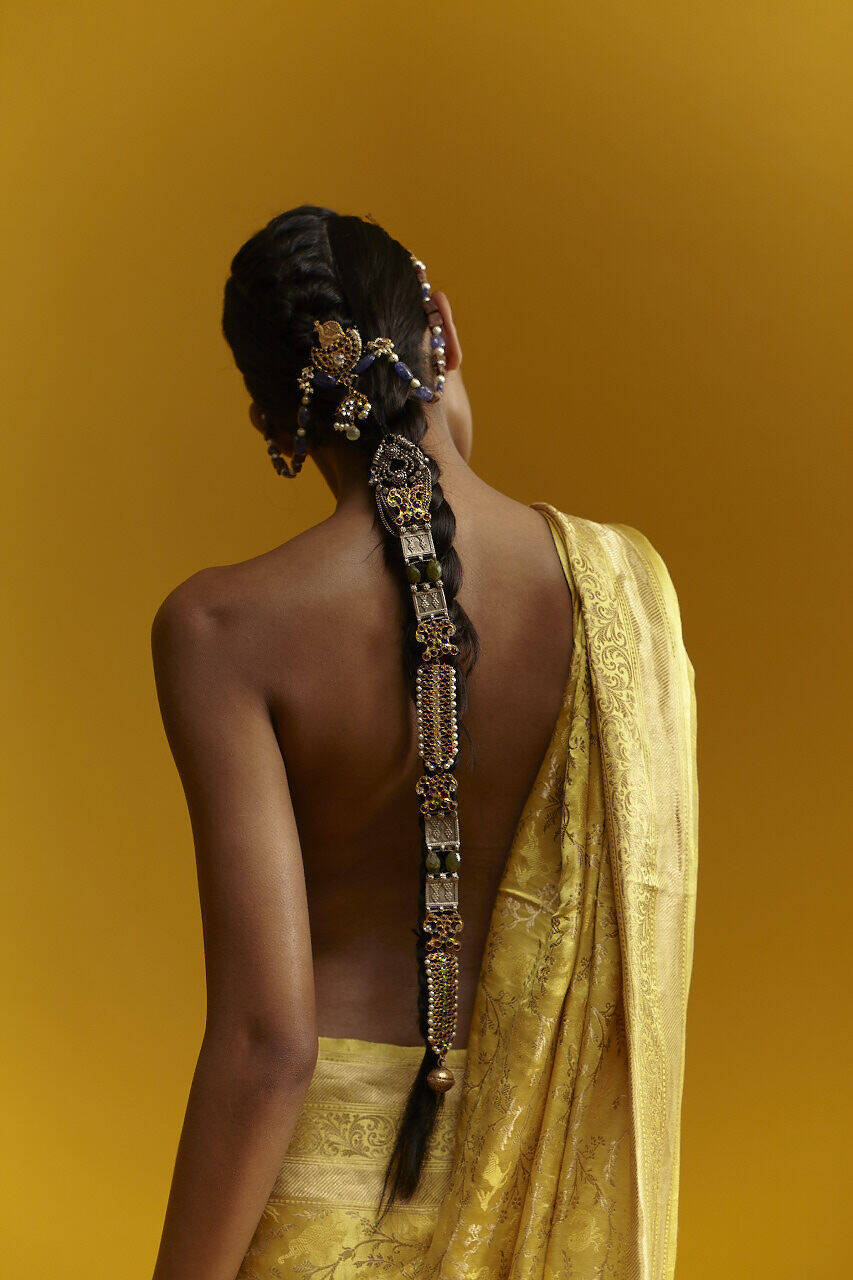 (Silk sari, Weaver Story; silver and hairpiece and gold plated necklace (worn in the hair), both Aaharya)

Look 4: There's nothing like a long, jeweled braid that takes us back to our roots. To create this look, start with one braid at the crown and weave it with another braid. You can use a traditional braid accessory or play with your existing jewellery to dress up your hair.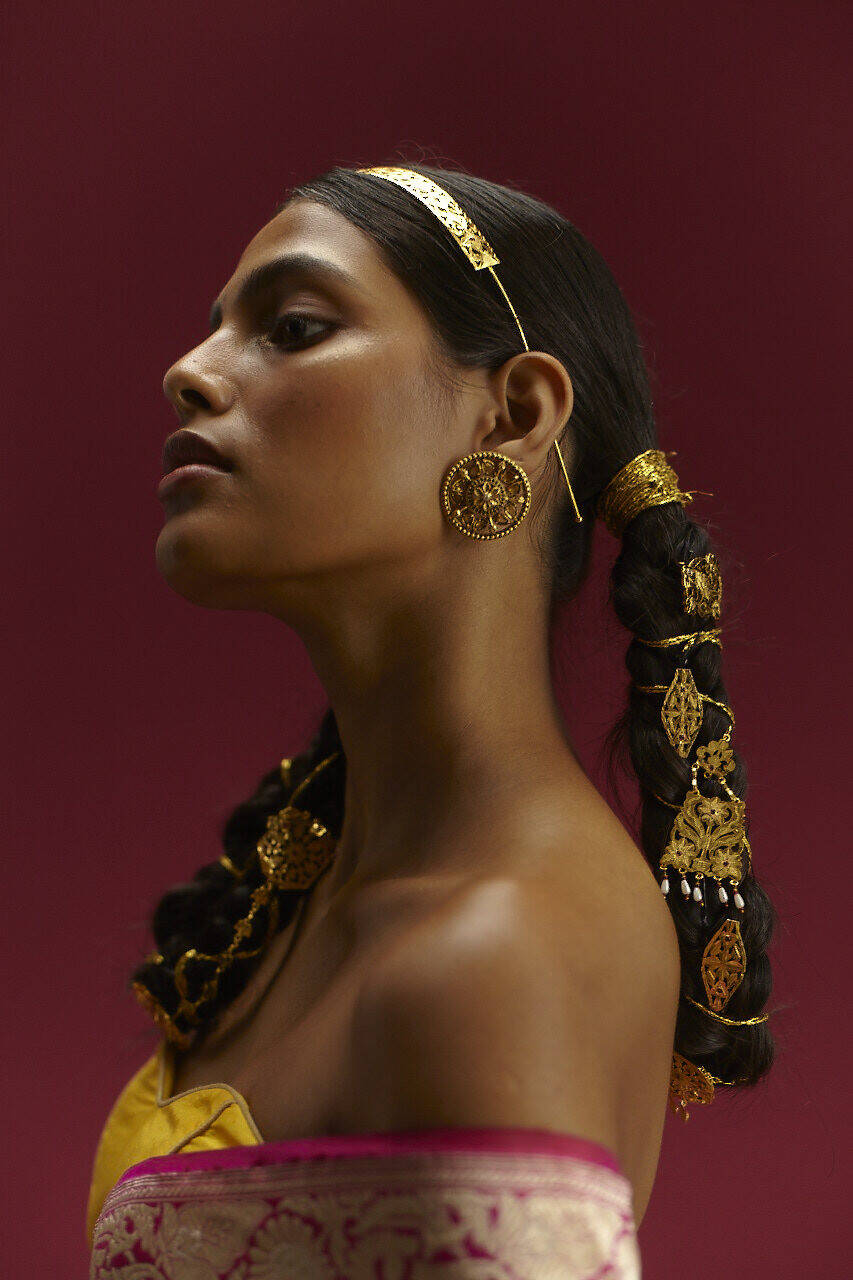 (S
ilk blouse, Weaver Story; silk sari, Tilfi Banaras; gold plated earrings, Tribe Amrapali; gold polished hair pins, hairband, earrings (worn in the hair) all Diaries Of Nomad )

Look 5: The school girl pony tail gets an upgrade. Use a gold headband on the crown and add your favourite jewels along the braid. You can also take this look out for a spin this festive season.
PHOTOGRAPHER : Dhruvin / A Little Fly
FASHION DIRECTOR : Pasham Alwani
WORDS : Sanjana Salunkhe