Craft your way through sweater season with a delightful and colorful wreath you can hang on your front door! This adorable wreath is a craft project that will upcycle some of those beloved books you've either found or thrifted to create something beautiful! Try making one of these upcycled books and leaf wreaths for Autumn!
If you've spent any amount of time on Pinterest you've definitely stumbled across some crafts using book pages by now! They're great for fall since they can easily be altered, and provide really interesting detail that can make any craft project eye-catching!
Cheerful Autumn Leaf Wreath Made From Upcycled Book Pages
I love to showcase these easy to make craft project ideas since they're a great way to really get into the spirit of the season! This craft in particular only utilizes a few simple supplies you can find at hobby and craft stores. If you're lucky, you might even have most of them on hand already!
Burlap, false leaves, and book pages come together to make a really boho looking fall craft you'll be proud to display! Completing this project doesn't take very long, but it's a splendid way to pass the time. You can really get into the season by creating something with vibrant and lively fall colors that bring your project to life!
What Else Can I Use for the Center of the Wreath?
This wreath is made very simply thanks to its flat design. However, if you're looking for something with a little more shape, you can reach for alternatives as well! Foam and wire wreath forms, for example, can make a good substitution.
Using one of these, you could make a more '3D' wreath that has some more shape to it. However, it will require a bit more materials since you've got to cover more surface area with your craft leaves and cut-outs! Get creative, and have a decorative project like this!
Can I use Real Leaves for This Wreath?
The answer is quite simply 'no', you cannot. The reason being is because Autumn leaves tend to quickly shrivel and become brittle. On top of that, they even lose their lush signature color. Instead of becoming yellow and brownish, before crumbling in the sunlight. They're strictly not ideal for a craft project that has any kind of display purpose. For our project, we'll be using fake craft leaves, but there are alternatives out there!
However, there are methods for preserving fall leaves for crafting purposes if you're dead set on using the ones in your backyard! Some clever crafters use glycerin baths to seal and preserve their leaves, while others employ a wax paper seal. The latter is done by placing the leaves between two pieces of wax paper, placing a wet towel on top, and gently ironing on top of the towel. After this the leaves are cut from the wax paper, leaving a small outline to maintain their seal, effectively making it airtight.
Where Can I Find Old Books to Use?
Look, nobody in the world wants to pull a book off their shelf and start cutting shapes out of the pages. Neither do I! Thankfully, secondhand books are everywhere! Check your local library's schedule to see when their next book sale is coming up, they pitch their old books that are falling apart for next to nothing, or free! Garage sales, free-cycles, and even thrift stores are a great way to find books of all shapes and sizes to make these leaves from!
What Are Some Ways I Can Personalize This Wreath?
This gorgeous wreath speaks volumes on its own! But really, there are a few ways you could spruce it up and add some more personality to it if you'd like! From adding light, color, and texture to a number of other decorations, it all depends on what you've got on hand and your own creativity. Here are a few ideas to get you inspired in creating a wreath that's all your own:
String a set of small LED's such as fairy lights in and amongst your cut out leaves
Add more natural decorations like pinecones, nutshells, or even branches
Bring in some small craft pumpkins to give it some October vibes
Dress it up with burlap bows for a rustic and pretty look
Materials needed
How to Make an Autumn Leaf Wreath Made From Upcycled Book Pages
https://www.youtube.com/watch?v=kGNzhye479
First, start by tracing the outside of one of your silk leaves. This will give you a template to trace leaves out of the old book pages and cut them out.
Carefully cut the leaf shapes from the book pages. You should repeat these steps until you have at least several dozen of these book page leaves.
Now, take your cardboard or cardstock and use a dinner plate to trace a circle. After you've done this, trace another circle on the inside of the larger one. Cut out the space that's left in the middle using an x-acto, or box cutting knife.
After you've got your leaves and your ring ready to go, you can start gluing! Glue a silk leaf, and then a paper leaf one after the other in sets of two along with the whole piece of cardboard. Make sure they're all pointing in the same direction, and overlap most of the sets behind one another.
Once all of the leaves are glued on you should have a marvelous-looking display of color, and texture! Simply wrap a piece of burlap around the top to make it easier to hang, and you've got yourself a completed wreath!
Put an old book to good use with this stunning fall wreath that captures all of the colors of our favorite season!
Active Time
30 minutes
Total Time
30 minutes
Difficulty
Medium
Estimated Cost
$5
Recommended Products
As an Amazon Associate and member of other affiliate programs, I earn from qualifying purchases.
Finished Product Gallery
Place this wreath indoors or outside for a farmhouse-style piece of décor with gorgeous colors. If you are using it outdoors, consider a sealing spray to protect the book pages from unsightly wilting.
This wreath has a lot of natural charm! If you want to dress it up some more, consider decorating it with other natural elements that fit the fall theme. Branches, pinecones, and acorns all make great accents.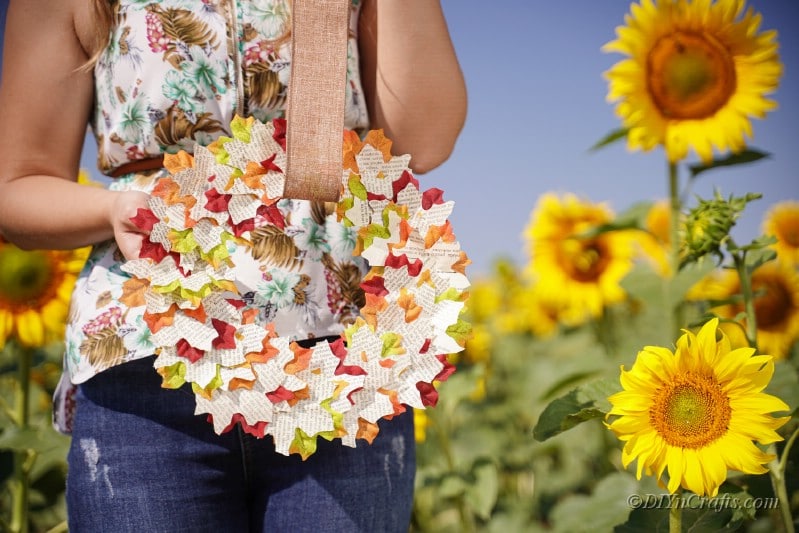 There's plenty of places to display this wreath, but I love it for entranceways! It's perfect for greeting guests, friends, and family when they stop by for Thanksgiving dinner. Otherwise, you could set it on a dining room table as a part of an elegant centerpiece.