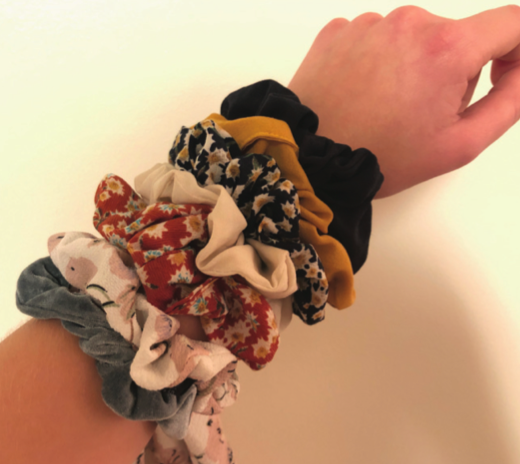 For the past couple years, a cute childhood trend famously worn by the character Michelle in the sitcom "Full House" is coming back into fashion. Except this time, it's impacting the fashion choices of college-aged students as well.
On WVU's campus, it is almost guaranteed that wherever you go, you can find someone wearing a bright and colorful scrunchie either in their hair or on their wrist.
Sophia Aston, a sophomore music therapy student, has personally noticed the scrunchie trend.
"There have been many times I notice a scrunchie that really pops in someone's hair or perfectly goes with their outfit, and I have mentioned it to my friends when I see it," Aston said.
Along with the fashion factor, scrunchies are also a convenient way to express personality, which Julia Manley, a sophomore journalism student, believes in.
"Scrunchies are popular because they are a chic trend that is a cheap and easy way for college students," Manley said. "I do wear scrunchies every so often and they come in handy when they are on my wrist because they are a fashionable bracelet, and they can go in your hair."
Even though the trend is very popular with many, there are some students who do not understand the popularity.
"My main issue with scrunchies is that they get all gross and soggy when you wash your hands, and they do not dry quickly," Madie Khoury, a sophomore interdisciplinary studies student, said.
Khoury also believes that other than people who have been wearing scrunchies since childhood, the trend is mainly popular due the "VSCO girl" meme circulating on social media.
Overall, scrunchies seem to be a unifying trend among many students, with Manley and Aston both expressing the positive impact the trend has had on them.
"Actually, my co-worker started to make and sell scrunchies to us. They had different colors and patterns to match themes and holidays, and it was so fun to pick out the scrunchies," Manley said.
Aston's positive impact, however, wasn't even directly to her, it was by someone else.
"My favorite one [scrunchie] I have seen was a worker at Target dressed in a red Christmas shirt with a green sequin scrunchie."
What may seem like a frivolous and unimportant trend has proven to be popular, even with the non-scrunchie wearers.
Khoury said that even though she personally doesn't use scrunchies, they are ultimately better for a person's hair than regular hair bands.
These fabric-covered elastics have been an important part of student's wardrobes and conversations. From wild cheetah prints to bright satin materials, scrunchies are sure to make an impression anywhere on campus.