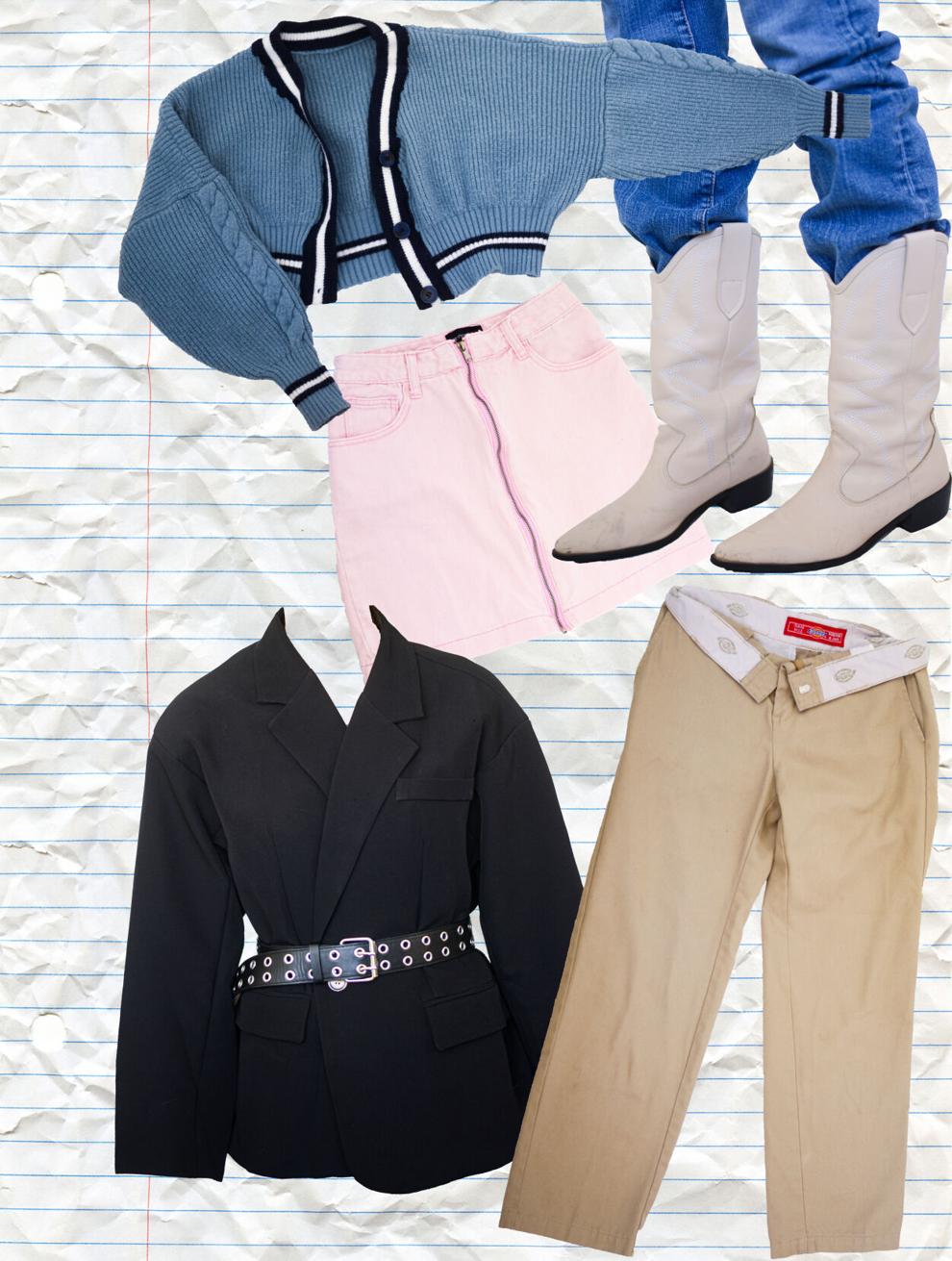 The era of attending Zoom meetings dressed in pajamas is finally coming to an end. Students will be transitioning away from digital classes and returning in person for this fall semester, and that means fashion trends on campus are also making a comeback. 
Whether it's an hour-long lecture or a social event, these are some of the back-to-school fashion trends that anyone can wear for every occasion.
Cowboy boots/Western wear
A modern spin on the classic Western style has paved the way for a wearable statement piece: cowboy boots. The iconic shaped boot has made itself on-trend after some minor contemporary tweaks. Neutral colors and sleek and simple designs meshed together make the new cowboy boots fun to wear, while still being easy to pair with any other clothing item. 
Although the boots have been at the forefront of this new Western aesthetic, cowboy hats, cow print, vests and fringe have also made their way into the limelight. 
Stomping into class with some cowboy boots will definitely radiate the confidence you have for your return to the real world.
Knitwear
Make way for cottagecore: the cozy, dainty and rural aesthetic that's recently budded its way into the fashion scene. Chunky knit sweaters and pastel knit cardigans are the sweetest way to add a unique twist to any look.
If you're looking for a sweeter vibe to strut, fluffy textures and soft tones are a great substitute for a regular jacket. A knit cardigan can be paired with a grungier outfit to cut through the edge, a simple pair of jeans and a T-shirt to elevate the simplicity, or a delicate feminine outfit to complete the overall theme.
A knitted piece can bring you a little extra sense of comfort while dealing with the anxieties of having social interactions at school again.
Business x Streetwear
Blazers, slacks and button-ups are the business basics. However, these professional pieces are taking a trendier turn with the incorporation of streetwear aesthetics. 
Take any of the fundamental business pieces and make it oversized to automatically give a trendier vibe to the overall look. Add statement accessories like bold necklaces and fresh sneakers to tie everything together for the perfect business-friendly streetwear outfit.
Rocking this cool, professional look is perfect for any meeting, interview or class to show off that fearlessness.
Y2K
"The year 2000." This abbreviation originated from a digital bug that affected all the dates after 1999 on computer softwares. However, Y2K also became associated with the fashion trends of the early 2000s. Low-rise jeans, flashy jewelry, cropped tees and miniskirts are some of the most iconic styles that are resurfacing. 
Tiny shoulder bag was also a 2000s staple that has been making a huge comeback in 2021. These bags make a big statement that the wearer has everything they need in such a compact accessory.
Skater style
Skateboard culture has cultivated its own unique style of dressing ever since its emergence in the '60s. This latest skater-inspired aesthetic takes classic elements from original skateboarding culture such as workwear — Dickies and Vans — and mixes them with contemporary components to create a new overall style. 
Supreme, Thrasher, Converse and Carhartt are some of the trending brands for the new wave skater fashion. 
Keep it cool and effortless with both new and old components of the skater style.