Sweater weather is here and so are the latest fall fashion trends.
As the weather cools down, we begin to break out what we know and love about fall: layering our clothing for the best look or bringing out our animal prints and camel coats.
Fall fashion is one of the most anticipated seasons for style. Cute fall outfits and the overall aesthetic are incredibly cozy and homey, making everyone feel good about the clothes they wear.
From sweaters to booties to the cutest trench coats in town, your street style will be on point this season.
With the help of Missguided, a forward-thinking fashion brand inspired by real-life, treat yourself to an extra 10% stackable discount on everything on their site when you use promo code RUNDONTWALK!
12 Cute Fall Outfit Essentials For Women
Coats, Jackets and Blazers
1. Trench Coat
Is it really fall if you don't wear a trench coat at least once? No, it isn't!
The trench coat is a staple fall fashion item that trends every year. And since the fit of a trench coat is supposed to be roomy, you can style it with a chunky fall sweater or wear it over your work suit.
The best thing about trench coats is that you can adjust the coat's fit with a belt, so you could even wear a t-shirt underneath it if you're feeling hip.
Missguided has a great selection of trench coats to pick from. Take this oversized sandstone trench coat, for instance, for a more traditional look while still being trendy.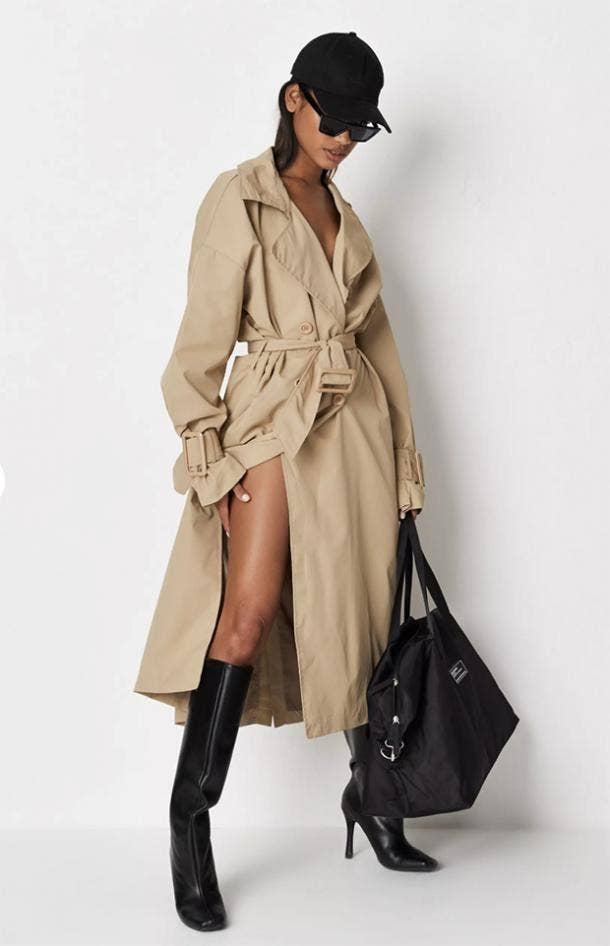 Buy now and receive 10% off when you use promo code RUNDONTWALK: Tall Sand Oversized Trench Coat: $74
Missguided also offers the same trench coat in black if you're looking for a more sleek look. And another popular item is a faux leather trench coat, since faux leather is the next big thing.
If these aren't for you, they have long trenches, short trenches, and trenches in any color you desire.
2. Faux Leather Jacket
Faux leather is the animal-friendly trend this season.
Faux leather jackets can come in several shades of black, brown, and white, with a few selective colors in between. So, the item could naturally go with anything depending on your mood for the day, which is why this jacket is imperative to have in your wardrobe this fall.
Missguided has super cool faux leather options like this black faux leather oversized blazer.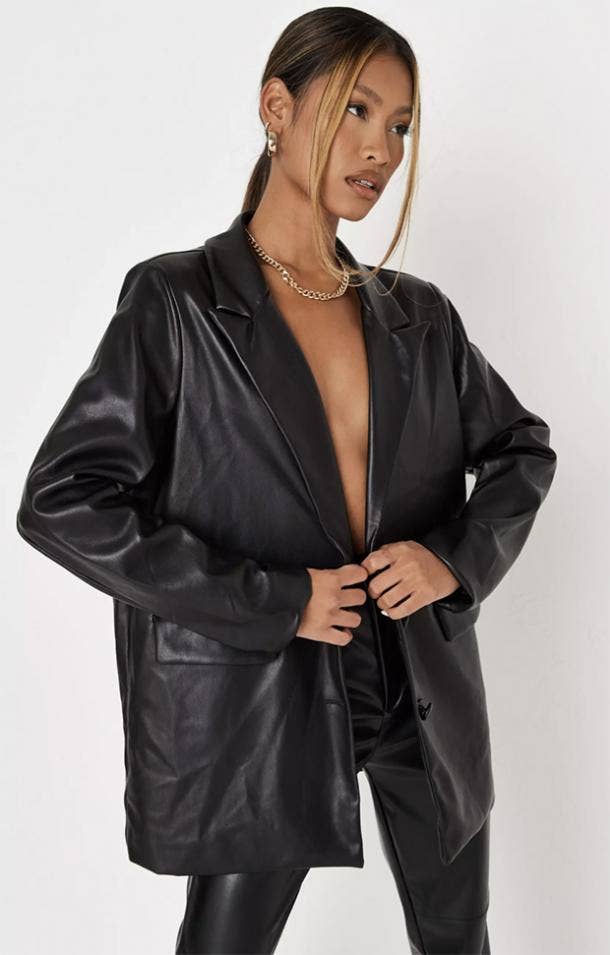 Buy now and receive 10% off when you use promo code RUNDONTWALK: Black Faux Leather Oversized Blazer: $85
They also have a boxy faux leather biker jacket for a hip vintage look this fall, or if you want to be a little more très chic, this mauve faux leather longline tailored blazer is what you need to add to your closet.
You can wear any of these jackets with a nice pair of jeans and the cutest knee-high boots. Or if you're looking for an edgier look, throw on black shades, a band T-shirt, and red lipstick with this jacket and you've got yourself a biker chick look for the fall.
You could even pair a nice faux leather jacket with a patterned scarf for a fun outing on the town.
Tops
3. Oversized Shirt
An oversized button-up is iconic for the fall, especially if it's flannel. You see these everywhere, from Instagram to Pinterest. And now, you can add one to your closet, too.
This fall-colored chocolate gingham plaid oversized shirt is just begging to be worn while playing in the leaves!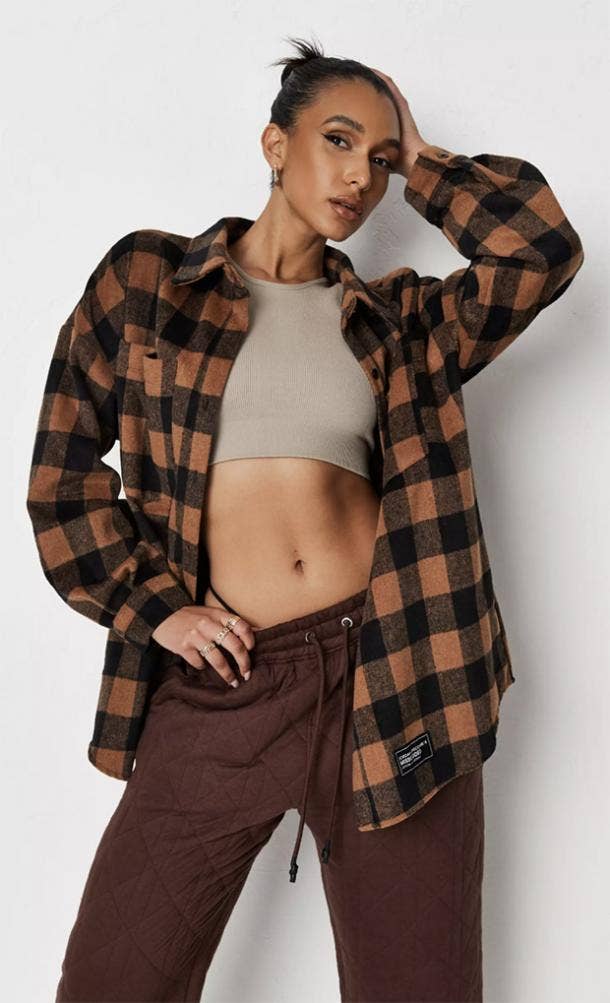 Buy now and receive 10% off when you use promo code RUNDONTWALK: Chocolate Gingham Plaid Oversized Shirt: $27
You can tie these in the front or tuck them into high-rise mom jeans. It's a boho look that screams fall, especially if you add a wide brim fedora.
If you want a solid color, Missguided also has you covered — try this sage faux leather extreme oversized shirt that you could absolutely convert to a dress if you're short enough.
The oversized shirt is not only comfy but super-stylish, and everyone wants more than one for this season. Don't be caught without one of these in your closet!
4. Animal Print or Patterned Blouse
Say goodbye to tie-dye because fall is all about the flora and fauna prints, and both have their merits. These tops give personality to your outfits and draw attention.
Some popular patterns for the season are small dark florals and leopard print.
Try one (or more) of these favorite Missguided printed tops: cream animal print frill neck shirred blouse, brown leopard mesh ruched milkmaid top, or their black ruched puff sleeve peplum blouse. All three are beautiful pieces that will level up your style.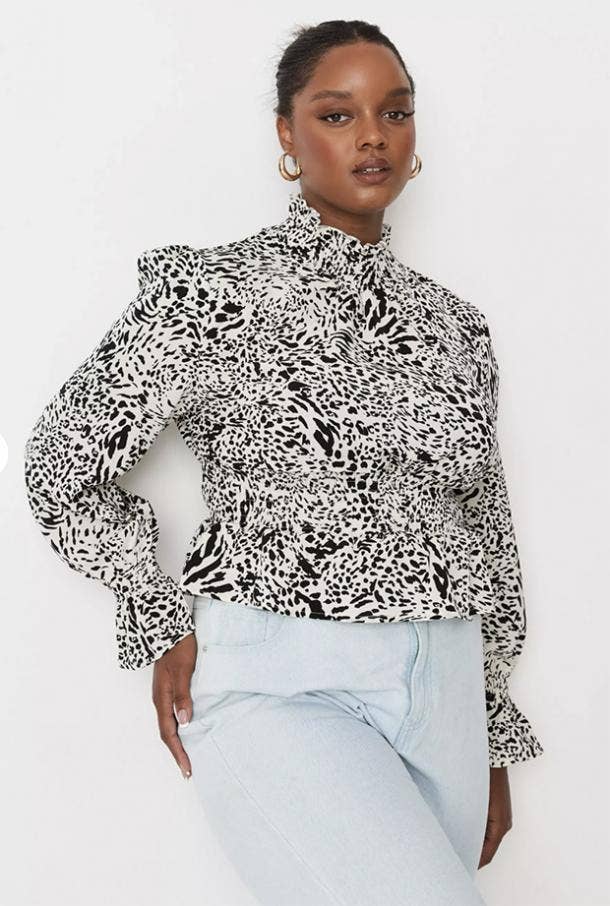 Buy now and receive 10% off when you use promo code RUNDONTWALK: Cream Animal Print Frill Neck Shirred Blouse: $24
A nice patterned blouse with skinny jeans and boots is a must for the fall fashion scene this year. And we don't have to tell you — just ask Angelina Jolie, Selena Gomez, and all the Kardashians.
Sweaters/Cardigans
5. Cropped Sweater
Some of us don't want to let go of summer just yet, thus birthing the trend of cropped sweaters.
Missguided's white super cropped knitted sweater is great for days that don't have a single cloud in the sky, but the breeze is a bit crisp.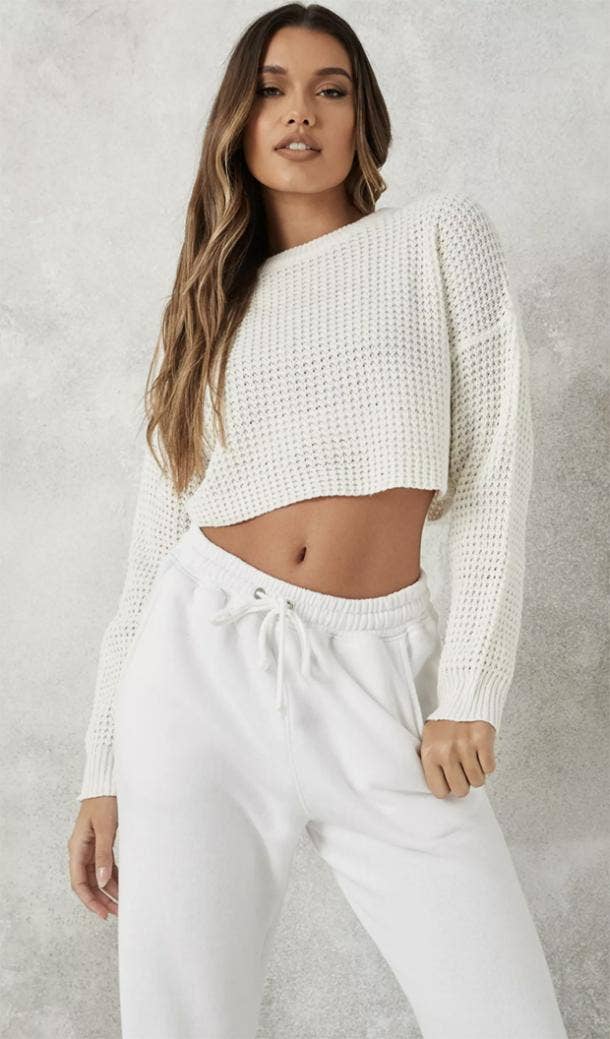 Buy now and receive 10% off when you use promo code RUNDONTWALK: Petite White Super Cropped Knitted Sweater: $8
Another great option is the camel cable knit cropped sweater, for when you want to sport a rust color that's perfect for fall. Wear this with high-waisted jeans or a cute skirt for a transitional fall outfit.
6. Knit Cardigan
If you don't have a cardigan in your wardrobe, you might be in trouble this fall.
The latest cardigan trend is knitted button-up cardigans. These are great because you can wear them loose, and if you ever get cold you can easily button them up for an extra layer of protection.
You can French tuck this recycled stone cropped hand knit cardigan into almost anything: your favorite jeans, a midi skirt, athleisure wear, and more!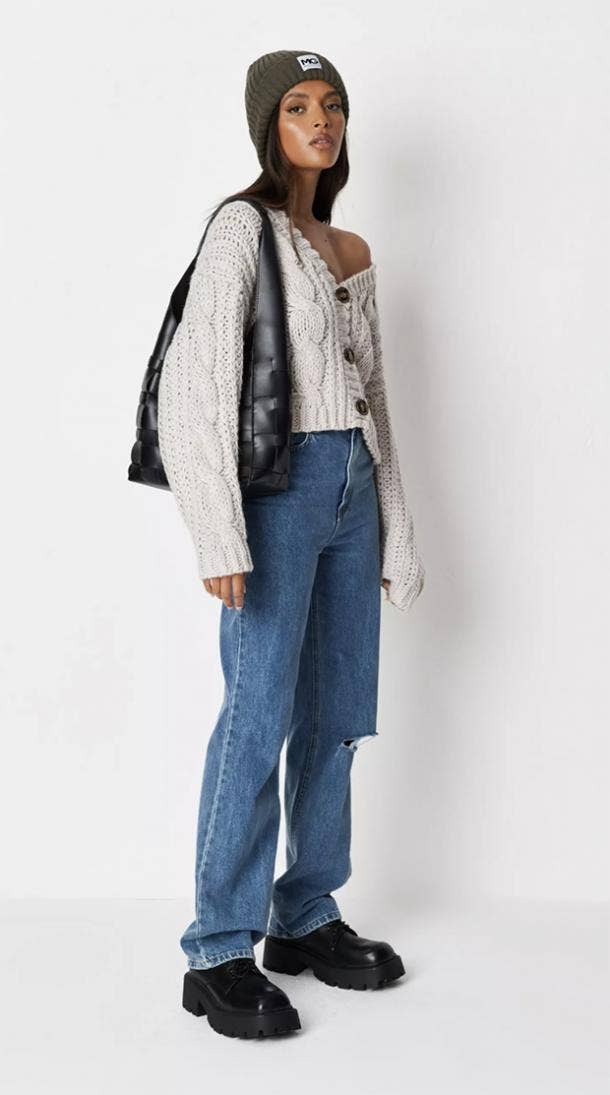 Buy now and receive 10% off when you use promo code RUNDONTWALK: Recycled Stone Cropped Hand Knit Cardigan: $69
You should always have a good cardigan at the ready during fall. Check out this soft green knitted cardigan that is super-trendy right now.
Pants and Skirts
7. Two-Toned Pants
Two-toned pants have been on the rise for a while, and now they are at their peak as one of the best statement pieces to have.
You'll see these all over social media, especially TikTok. Usually reserved for winter outfits, these are popular even earlier in the season this year.
The best part is that not only are they just in black and white, but they can also be found in shades of fall colors like wine, soft green, and brown.
Missguided has two-toned pants on their site, like these brown contrast gingham masculine pants that have a matching shirt.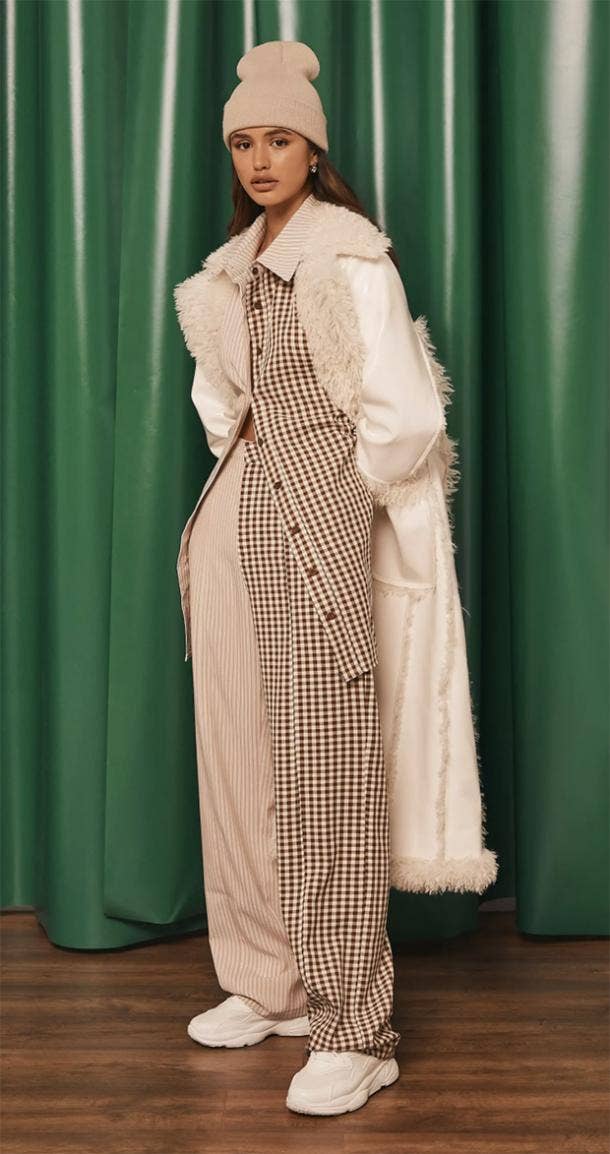 Buy now and receive 10% off when you use promo code RUNDONTWALK: Brown Contrast Gingham Masculine Pants: $38
Or, try these orange color block rib contrast stitch pants that will look great with a stylish top. You can even wear the pants with a faux leather jacket and matching boots for a fun date night outfit.
8. Midi Skirt
The midi skirt thrives during fall!
Missguided's cream satin tie-side midi skirt is flowy and bohemian, which is incredibly popular this year.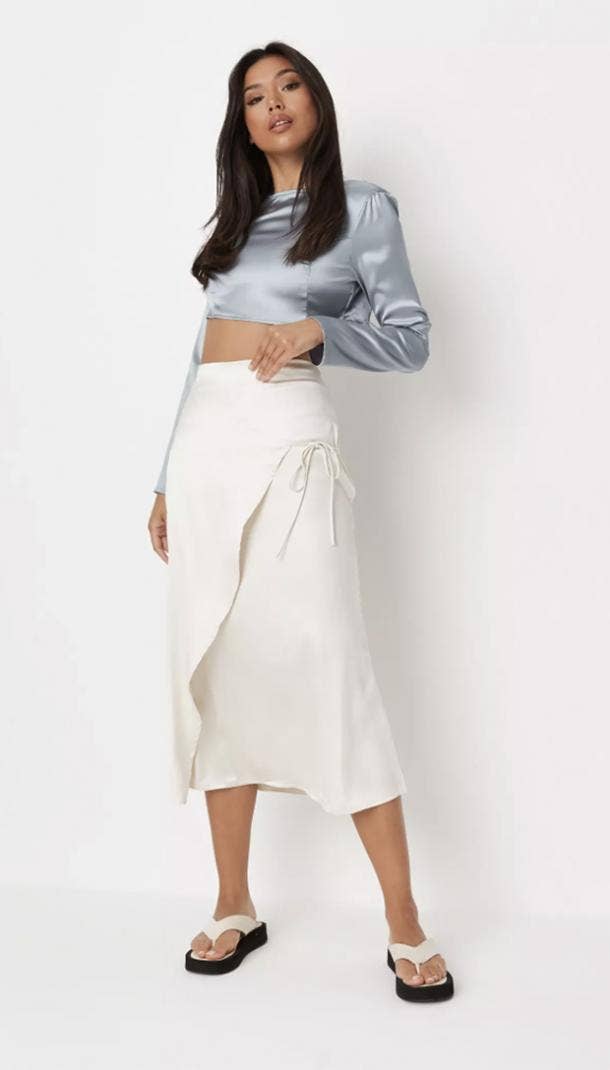 Buy now and receive 10% off when you use promo code RUNDONTWALK: Cream Satin Tie-Side Midi Skirt: $28
If you're looking for something more high-fashion, look no further than the black print midaxi skirt. It's the perfect length to give your legs shelter from the chill, but also allows you to show off the cute boots you'll wear with it.
You'll be so happy having a midi skirt in your closet — it gives you a nice break from wearing pants all the time.
Boots
9. Thigh-High Boots
Knee-highs are great, but thigh-highs are even better. Whether it's suede, faux leather, or even rubber, a thigh-high will be a great addition to your fall wardrobe.
Grab a pair of these basic chocolate faux leather pointed toe tubular heeled boots that will literally go with anything this fall.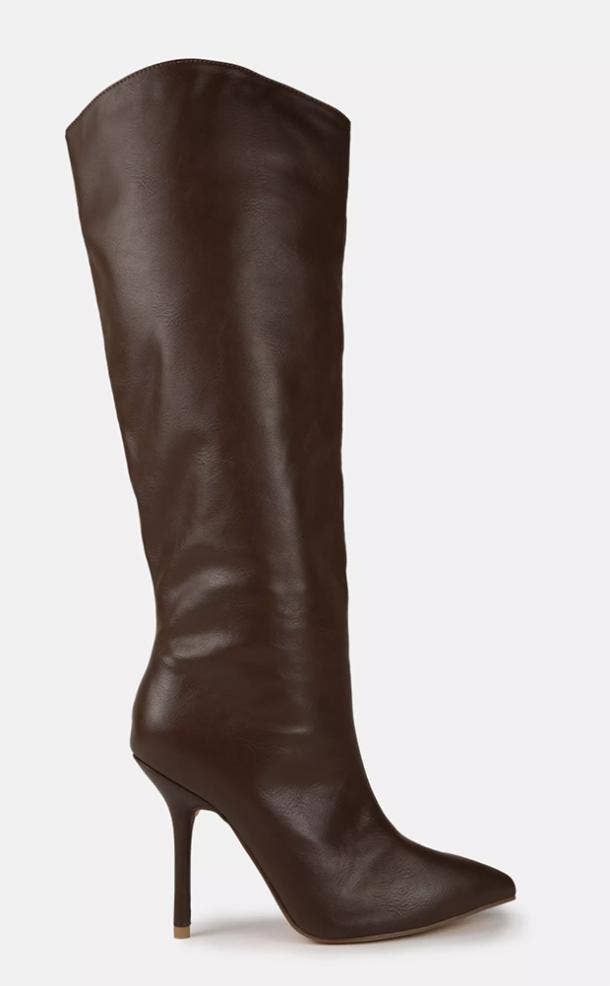 Buy now and receive 10% off when you use promo code RUNDONTWALK: Chocolate Faux Leather Pointed Toe Tubular Heeled Boots: $93
Or, try on these trendy snake knee-high mid-heel boots that come in pink or blue for a bold look on your feet. They are the statement boot of the season.
And don't forget that Missguided is offering an extra 10% stackable discount on their site when you use code RUNDONTWALK!
10. Ankle Boots
Ankle boots are great for fall because they come in so many styles to choose from. They have heeled booties, elf boots, flat, block heel, stiletto heel, lace-up, slip-on, and so on.
Misguided has mid-heel ankle boots for that girl's night out or a stylish date night.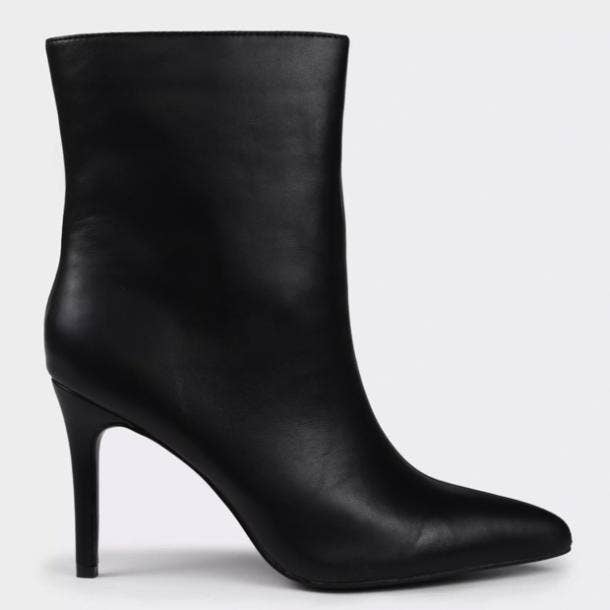 Buy now and receive 10% off when you use promo code RUNDONTWALK: Mid-Heel Ankle Boots: $43
There are also cleated sole biker ankle boots for an edgy look, or croc cleated sole lace-up ankle boots for those combat boot lovers.
Ankle boots have every style for every outfit, so they can never disappoint and add a level of wow to your fall wardrobe.
Dresses
11. Long-Sleeve Maxi Dress
Long-sleeve maxi dresses are chic, fun, and flowy — the three things that are popular this fall. Wear these dresses out to a fancy restaurant on date night, layering it with a trench coat and a pair of heels.
Keep your look long, flowy and boho chic with the sage tie neck smock maxi dress.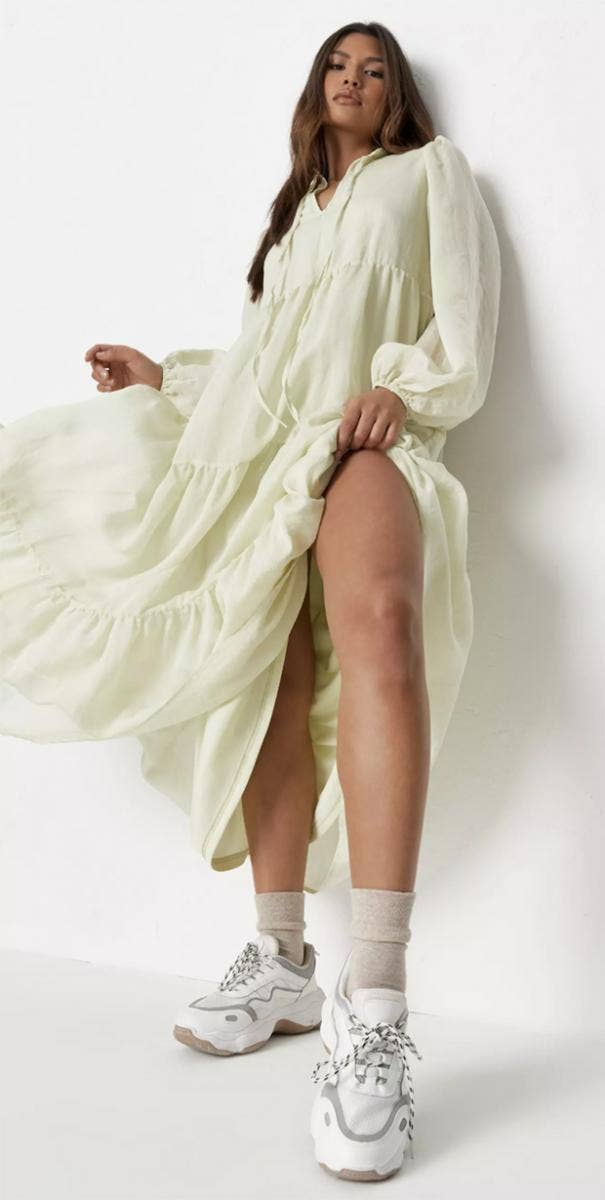 Buy now and receive 10% off when you use promo code RUNDONTWALK: Sage Tie Neck Smock Maxi Dress: $35
Or, pair the black dalmatian print keyhole frill maxi dress with a knitted cardigan and ankle boots, add on a bohemian hat, and you have yourself a laidback apple-picking photoshoot outfit.
12. Sweater Dress
It's the season of sweaters, so a sweater dress is a great fun twist on a classic.
Pair this green shoulder pad sweater dress (also available in grey) with thick tights and knee-high lace-up boots.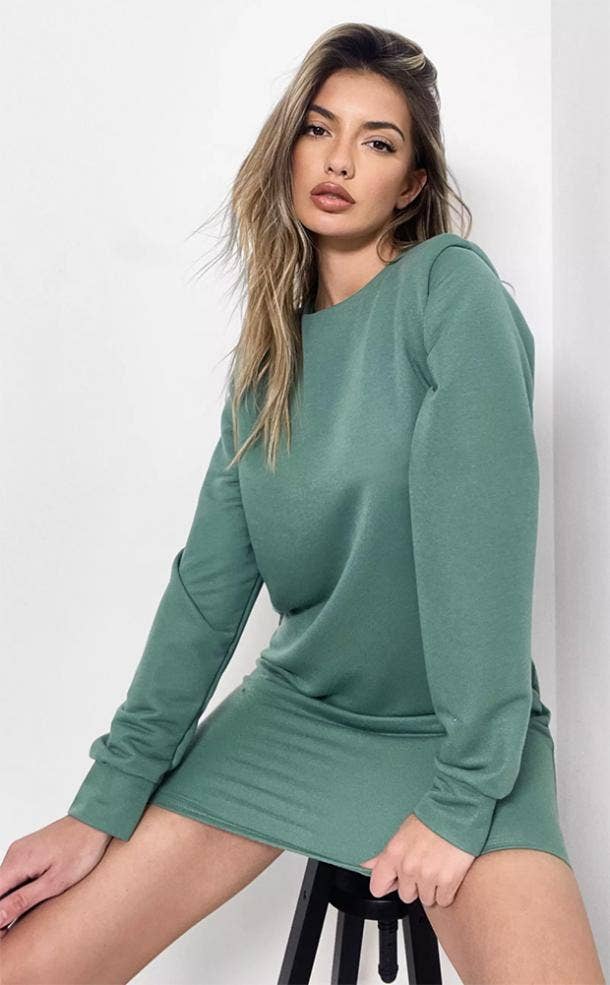 Buy now and receive 10% off when you use promo code RUNDONTWALK: Green Shoulder Pad Sweater Dress: $14
Sweater dresses usually cling to your body, so it will definitely show off your sexy curves. However, there are some sweater dresses that don't hug your curves, like this beige color block oversized sweater dress.
Any way you style them, these fall trends will level up your street style this season!
-Created in partnership with Missguided
More for You on YourTango:
Deauna Nunes is an assistant editor and writer who covers pop culture, lifestyle, and fashion for YourTango. She's been published by Emerson College's literary magazine, Generic. Follow her on Twitter and Instagram.