I'm a millennial. One of my greatest joys is making my Gen Xer boyfriend feel ancient. I love to remind him how I was in high school when he was enjoying Phish concerts. When he mentions his pop culture icons, I revel in saying "who?" as I watch him appear dumbfounded. And oh, you should see his face when I remind him that I have never, not once, seen "The Breakfast Club." Nothing brings me more sadistic delight.
Well, it looks like I'm about to get a heaping serving of humble pie. Karma is real folks, and it got me.
It all started with a viewing of this yo-yo commercial from the '90s.
---
This Yomega yo-yo commercial—with background music reminiscent of "The Fresh Prince of Bel Air" theme and some in-your-face teenage boys sporting Beastie Boys hairdos—was going viral.
The video received a flood of comments remembering the yo-yo craze:
"I went crazy and bought one called the metallic missile. It's the coolest yo yo I swear"
"Ah man, totally remember using baby oil to grease the axle on my fireball."
"Back in elementary school we had a school assembly because a 'yoyo artist' was coming to visit."
As I thought back on my own pride at having accomplished my first "walk the dog" yo-yo trick back in 7th grade, I thought about other trends I've seen recently. Ones that were all too familiar. Butterfly clips. Mini skirts. Velvet. Then I tasted the bittersweet flavor of nostalgia, dread—yes karma—as it slowly dawned on me that…
…the '90s are now retro.
OMG. It's true. Things that appeared not only in my childhood, but in my teenage years, are resurfacing. "Making a comeback," as the headlines say. As I list these out, I feel a newfound sense of empathy for older generations.
Low-rise jeans
Are you kidding me? I only just bought my super high rise mom jeans! How many waistlines can one woman sport? Is it just me, or do fashion styles come and go at a super speed pace nowadays?
I was relieved to see the universally flattering bell bottoms trending once again. But I'm not ready for this. One, I'm not ready to accept that low-rise is considered "vintage." Two, I'm not convinced anyone finds this fit actually comfortable. And three, on a more serious note, many women don't remember this style fondly, for reasons that InStyle made a great article about here. Let's just say, the '90s were a time where hypersexual culture and purity culture came to a head in a weird way.
Fluffy blowouts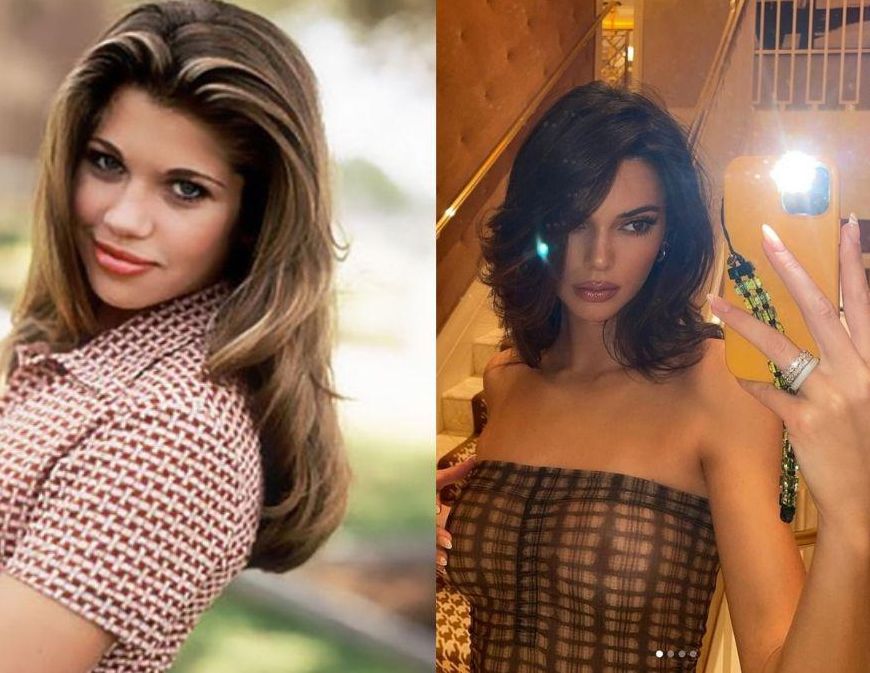 Topanga from 'Boy Meets World' and Kylie Jenner.
Even though Gen Z has dubbed the side part as "old," this voluptuous hairstyle is apparently in and ready to serve some serious Topanga vibes and I'm psyched about it. (Do I have to explain that Topanga is from "Boy Meets World"? Do I have to explain what "Boy Meets World" is?)
Blockbuster
Randall Park to star in @Netflix's workplace comedy 'Blockbuster' set at the last Blockbuster Video in America, @THR reports. pic.twitter.com/eha8R0dlN3

— Pop Crave (@PopCrave) November 17, 2021
Sorry for the mislead, readers. No, Blockbuster is not coming back. And probably never ever ever ever will. But it is making a comeback of sorts. Randall Park will be starring in a comedy series, aptly and simply titled "Blockbuster," that takes place at (you guessed it) the world's last remaining Blockbuster. The ultimate irony? This show will be on Netflix, the company that put Blockbuster out of business. One final twist of the proverbial knife.
Barbed wire: tattoos and more
Hulu recently released its trailer for the new Pamela Anderson and Tommy Lee biopic, starring Lily James and Sebastian Stan. Though I'm not entirely sure why anyone needs this show, the transformation that Lily and Sebastian undergo for the roles is pretty incredible. But that's not the only place where barbed wire is becoming trendy. Arm bands, wristlets and ankle tattoos have been popping up featuring the once hot design. Lets not forget the classic barbed-wire-paired-with-delicate-flowers combination, a classic symbol for "strong, yet vulnerable."
Dua Lipa even got a heart-shaped barbed wire tattoo. And she's in her 20s, so you know it's cool!
'90s are the new '70s?
Gosh, I remember watching episodes of "That '70s Show" thinking how odd and caricatured those teenagers looked. Still hilarious, though. To think that there will be a spin-off set in the '90s puts a whole new perspective on things. My childhood generation is now a potential scene for a period piece? Stop the world, I wanna get off!
Pretty soon we'll be seeing yo-yos trending on TikTok. In a retro, ironic way, might I add. But I suppose that's how the passage of time works. And really, it only stands to make me appreciate some symbols from my younger days. Hopefully we can bring back some wholesome '90s classics, like just going to the mall with friends or going to a concert and just being there, without having to film it.
As I watch my old clothes turn into costumes, and I surrender to the fact that time stops for no one, at least I can take solace in one thing: I'll still always be younger than my Gen X boyfriend.
From Your Site Articles
Related Articles Around the Web
window.REBELMOUSE_LOWEST_TASKS_QUEUE.push(function(){
function hideBodyForSponsoredPost(el, currentSection) { var sponsoredSections = ["walgreens", "capital one", "capital one csr", "clorox powerful bleach", "clorox clean transforms", "dignity health", "ford foundation", "stand together", "stand together against poverty", "featured"]; if (sponsoredSections.includes(currentSection.toLowerCase())) { el.style.display = 'none'; } }
function hideEmpty( parentId, childId) { var parentDivs = document.getElementsByClassName(parentId);
if(parentId != undefined && parentId != null) { for(var i=0; i { if (event.target && event.target.classList.contains('show-more')) { triggerComscorePageView() } });
urlChangeHandler(triggerComscorePageView);
});
window.REBELMOUSE_LOWEST_TASKS_QUEUE.push(function(){
(function() { try{var a={l1:document.location.host.replace(/^www./,""),l2:document.title||"Untitled",l3:"__page__",l4:"-",sa:"",sn:""},b=[],c;for(c in a)b.push(c+"="+encodeURIComponent(a[c]));b=b.join("&");(new Image).src="https://d26n2uyu5tcx3y.cloudfront.net?a=5ac31c1640c74c36900b97047f570f19";var d=document.createElement("script");d.type="text/javascript";d.async=!0;var e=document.getElementsByTagName("script")[0];e.parentNode.insertBefore(d,e);d.src="https://z.moatads.com/upworthy105Vonz37/moatcontent.js#"+b}catch(f){try{var g= "//pixel.moatads.com/pixel.gif?e=24&d=data%3Adata%3Adata%3Adata&i=MOATCONTENTABSNIPPET1&ac=1&k="+encodeURIComponent(f)+"&j="+encodeURIComponent(document.referrer)+"&cs="+(new Date).getTime();(new Image).src=g}catch(h){}}; })();
});
window.REBELMOUSE_LOWEST_TASKS_QUEUE.push(function(){
(function(w,d) { w.kwa || (w.kwa = function()
{ (w.kwa.q = w.kwa.q || []).push(arguments); } ); se = d.createElement('script'), fs = d.scripts[0]; se.src = '//cdn.keywee.co/dist/analytics.min.js'; fs.parentNode.insertBefore(se,fs) }(window, document));
kwa('initialize',603);
});
window.REBELMOUSE_LOWEST_TASKS_QUEUE.push(function(){
var tags = [ 'https://pymx5.com/scripts/ready.js', 'https://pymx5.com/scripts/ims.js', 'https://pymx5.com/scripts/load_tags.js' ]
function l() { if (tags.length) { var tag = tags.pop(); var script = document.createElement('script'); script.setAttribute('src', tag); script.onload = l; document.body.appendChild(script); } else { window.ia = window.ia || function () { (window.ia.q = window.ia.q || []).push(arguments); } ; ia('track', 'PAGE_VIEW');
docReady(function() { ims.startServices(); } ); } }
l();
});
window.REBELMOUSE_LOWEST_TASKS_QUEUE.push(function(){
let asd=false function ChangeListener(selector, callback) { var initializedNodes = new Set([]); function onEachNode(node) { if (!initializedNodes.has(node)) { callback(node); initializedNodes.add(node); } } function onDocumentMutation() { var nodes = document.querySelectorAll(selector); nodes.forEach(onEachNode); } var mutationObserver = new MutationObserver(onDocumentMutation); document.querySelectorAll(selector).forEach(onEachNode); mutationObserver.observe(document.body, { childList: true, subtree: true }); }
if(window.innerWidth > 768){
ChangeListener("[id^=upworthy_incontent_dynamic]", function (item) { item.remove()
}); }
});
window.REBELMOUSE_LOWEST_TASKS_QUEUE.push(function(){
function fbvideoID(frame) { var myRegexp = /2F(d+)%/g; var match = myRegexp.exec(frame); return match[1]; } var fbIframe = document.querySelector('iframe[src^="https://www.facebook.com/plugins/video.php?"]'); if (fbIframe) {fvVidID = fbvideoID(fbIframe.getAttribute('src')); if (fvVidID) { fbIframe.insertAdjacentHTML("beforebegin", '
'); // fbIframe.parentNode.removeChild(fbIframe); } } var videoId = "promoted-video"; var oldFacebookVideo = document.getElementById(videoId); if (!oldFacebookVideo) { return }; var facebookVideoPost = oldFacebookVideo.closest(".widget"); if (!facebookVideoPost) { return };
var facebookVideo = facebookVideoPost.querySelector("#" + videoId); facebookVideo.classList.add("fb-video"); var firstPost = document.querySelector(".widget.post-partial");
function onScriptLoad() { FB.init({ appId: window.REBELMOUSE_BOOTSTRAP_DATA.fbId, version: window.REBELMOUSE_BOOTSTRAP_DATA.fbAppVersion, status: true, cookie: true, }); FB.XFBML.parse(); if(fbIframe){ fbIframe.parentNode.removeChild(fbIframe); } }
function loadFacebookScript() { var existingScript = document.querySelector('script[src="https://connect.facebook.net/en_US/sdk.js"'); if (!existingScript) { var script = document.createElement("script"); script.src = "https://connect.facebook.net/en_US/sdk.js"; document.head.appendChild(script); script.addEventListener("load", onScriptLoad); } }
function intersectorCallback(video_player) { var booted = false; var totalSeconds = 0; var interval = null;
function impressionCounter() { totalSeconds++; console.log("I've been watching for " + totalSeconds + " seconds"); } return function intersector(entries) { var entry = entries[0]; if (entry.isIntersecting) { if (!booted) { booted = true; video_player.mute(); video_player.play(); } interval = setInterval(impressionCounter, 1000); } else { if (interval) { console.log("I've stopped watching at " + totalSeconds + " seconds"); clearInterval(interval); interval = null; } } }; }
function trackVideo(video_player) { var observer = new IntersectionObserver(intersectorCallback(video_player), {}); observer.observe(facebookVideo); }
function onFacebookElementLoaded(msg) { if (msg.type === "video" && msg.id === videoId) { trackVideo(msg.instance); } }
function onFacebookReady() { FB.Event.subscribe("xfbml.ready", onFacebookElementLoaded); if (window.oldFacebookWaiter) window.oldFacebookWaiter(); }
if ("FB" in window) { onFacebookReady(); } else { window.oldFacebookWaiter = window.fbAsyncInit; window.fbAsyncInit = onFacebookReady; loadFacebookScript(); }
});