Cristiano Ronaldo says he feels "betrayed" by Manchester United for trying to force him out of the club and says he has "no respect" for boss Erik ten Hag because he "doesn't show respect for me".
In an interview with Piers Morgan for TalkTV released by The Sun on Sunday night, Ronaldo also claimed there has been "zero progress" at the club since Sir Alex Ferguson retired in the summer of 2013.
When asked if United's hierarchy were trying to force him out of the club, Ronaldo said: "Yes. Not only the coach, but the other two or three guys around the club. I felt betrayed."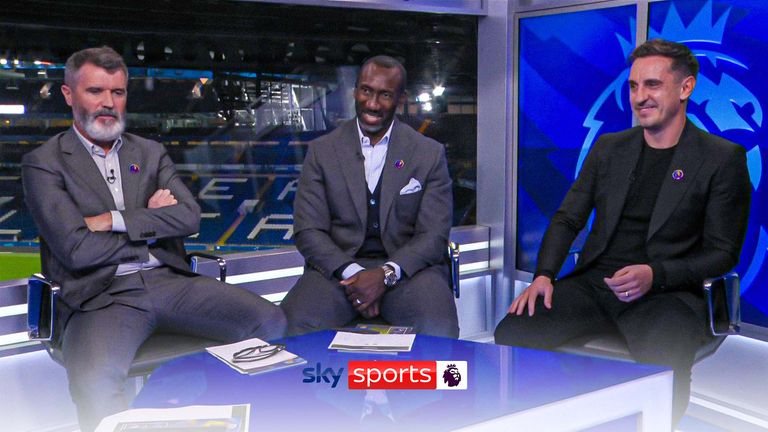 When quizzed again if senior club executives were trying to oust him, the 37-year-old replied: "Honestly, I don't know. I don't care. People should hear the truth. Yes, I feel betrayed. Some people don't want me here not only this year, but last year too.
"I don't know what's going on. Since Sir Alex Ferguson left I have seen not evolution in the club. The progress was zero.
"For example, an interesting point is how a club like Manchester United sacked Ole (Gunnar Solskjaer), they bring in a sporting director Ralf Rangnick which is something nobody understands. This guy is not even a coach! A big club like Manchester United bringing in a sporting director surprised not only me but all the world.
Ronaldo's big flashpoints this season
July 31: Manchester United 1-1 Rayo Vallecano: Ronaldo leaves Old Trafford mid-way through United's pre-season friendly along with other members of the squad. Ten Hag described it as "not acceptable".
October 2: Manchester City 6-3 Manchester United – Ronaldo was left on the bench despite United being 4-0 down at half-time. Ten Hag said he did not bring the 37-year-old on out of "respect" for Ronaldo's career.
October 19: Manchester United 2-0 Tottenham – Ronaldo refuses to come onto the pitch as a substitute and storms down the tunnel before full-time.
October 22: Chelsea 1-1 Manchester United – Ronaldo is suspended by United for disciplinary reasons in the aftermath of the Tottenham match.
November 10: Manchester United 4-2 Aston Villa – After returning for two Premier League games after his suspension, Ronaldo is declared ill by Ten Hag and is not included in the matchday squad for their Carabao Cup win over Aston Villa.
November 13: Fulham 1-2 Manchester United – Ronaldo is still missing from the United matchday squad and later that evening, his shock interview criticising the club is released.
"Nothing changes. Not only the jacuzzi, the pool, even the gym. Even some points of technology, the kitchen, the chefs – who I appreciate, lovely people! They stop in time which surprised me a lot.
"I thought I would see different things, technology, infrastructure. Unfortunately, we see many things I'm used to seeing when I'm 21, 22, 23. It surprised me a lot."
Ronaldo also said of Ten Hag: "I don't have respect for him because he doesn't show respect for me. If you don't have respect for me, I'm never gonna have respect for you."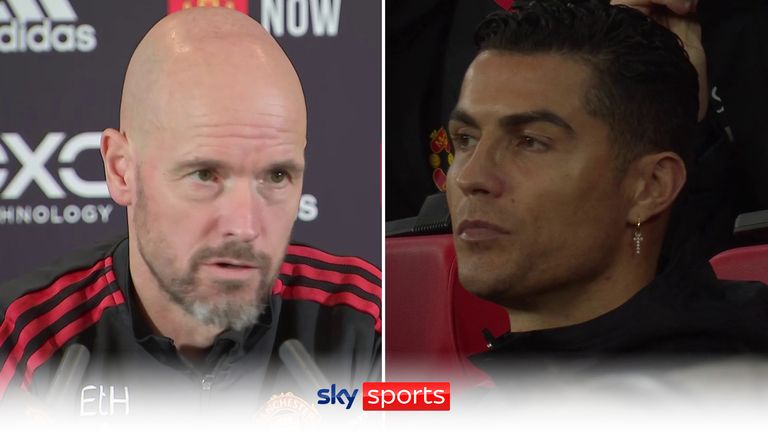 Ronaldo, who re-joined United in August 2021 and finished as their top scorer in all competitions last season with 24 goals, asked to leave the club in the summer.
"I think the fans should know the truth," the Portugal international added. "I want the best for the club. This is why I come to Manchester United.
"But you have some things inside that don't help [us] reach the top level as City, Liverpool and even now Arsenal…a club with this dimension should be top of the tree in my opinion and they are not unfortunately.
"As Picasso said, you have to destroy it to rebuild it (the artist's exact quote was: 'Every act of creation is first an act of destruction') and if they start with me, for me, it's not a problem.
"I love Manchester United, I love the fans, they're always on my side. But if they want to do it different… they have to change many, many things."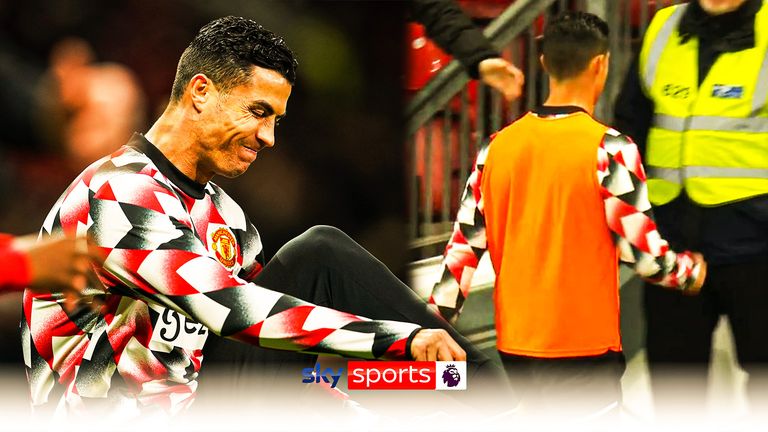 Ronaldo was also critical of former United team-mate Wayne Rooney after the Englishman said he is in danger of becoming an "unwanted distraction" at Old Trafford.
Ronaldo said of Rooney: "I don't know why he criticises me so badly…probably because he finished his career and I'm still playing at a high level.
"I'm not going to say that I'm looking better than him. Which is true…"
Ronaldo, who recently captained United in their 3-1 defeat at Aston Villa, also revealed how former boss Ferguson persuaded him to return to the club last summer.
"I followed my heart," the five-time Ballon d'Or winner said. "He [Sir Alex] said to me, 'It's impossible for you to come to Manchester City', and I said, 'OK, boss'."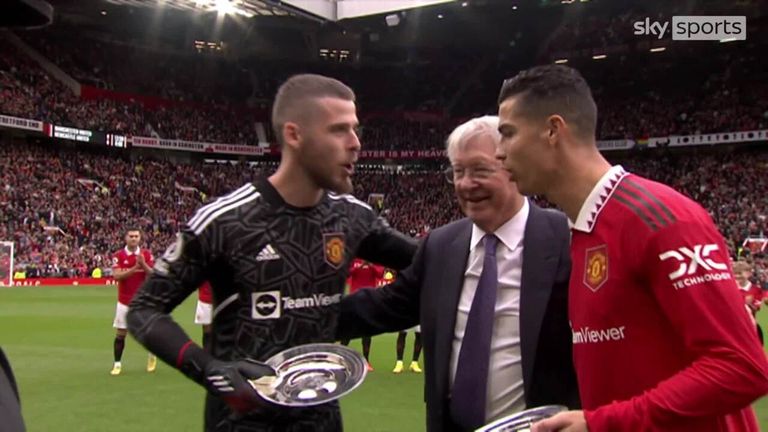 Asked what Ferguson thinks of United's current situation, Ronaldo added: "He knows better than anybody that the club is not on the path they deserve to be.
"He knows. Everyone knows. The people who don't see that… it's because they don't want to see; they are blind."
Ten Hag and Man Utd players 'extremely disappointed'
Sky Sports News understands Ten Hag and the Manchester United players are extremely disappointed with the manner and timing of Ronaldo's interview.
The club only found out about the interview as they were preparing to fly back from London on Sunday evening following their 2-1 win over Fulham and they do not understand why he has said what he has said.
They are hugely disappointed that he would disrespect the club, his manager and team-mates in this way and United are likely to consider all their options now regarding the player.
Ronaldo was told on Thursday that he would not be in the starting XI against Fulham but he would have been in the squad. He told the club he was ill.
No one at United has ever criticised or disrespected Ronaldo – even when he refused to come on as a substitute against Tottenham.
Ten Hag and Ronaldo: what they've said so far
July 31: After missing Manchester United's pre-season tour due to personal reasons, Ronaldo leaves Old Trafford during Manchester United's pre-season friendly against Rayo Vallecano after coming off along with other members of the squad, something Ten Hag described as "unacceptable".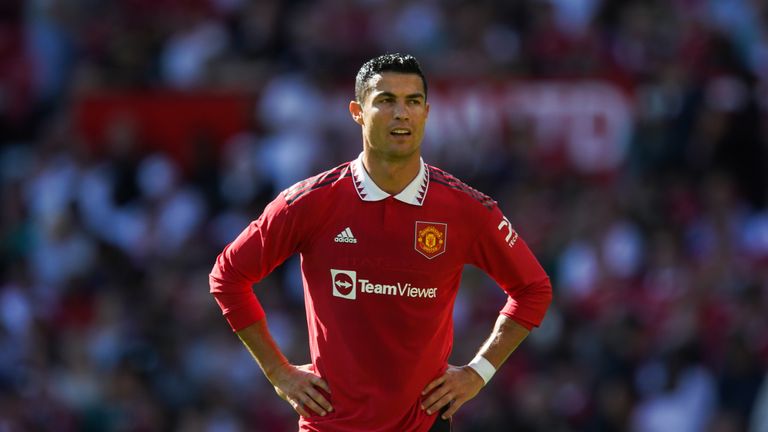 "He was absent (from the pre-season tour) due to personal circumstances. So it's now how he puts it. There were many more who went home. Certainly not [did I condone it]. It's unacceptable, for everybody. I tell them. That it is unacceptable and that we are a team, so a selection. That you have to stay until the end."
August 17: After weeks and months of speculation over his future, Ronaldo announces he will reveal everything in "an interview in a few weeks' time".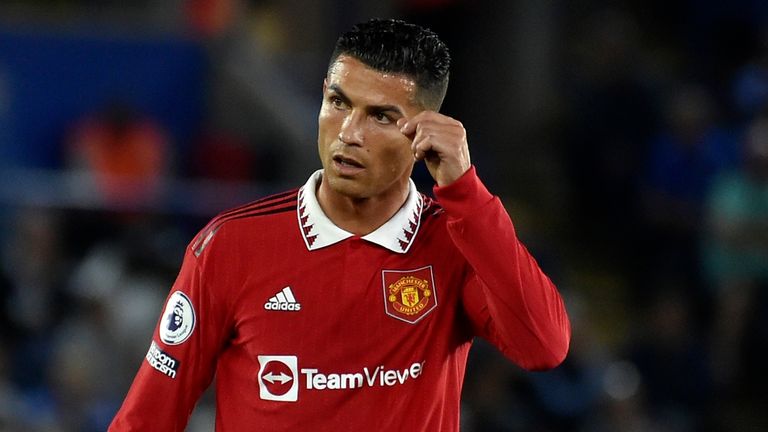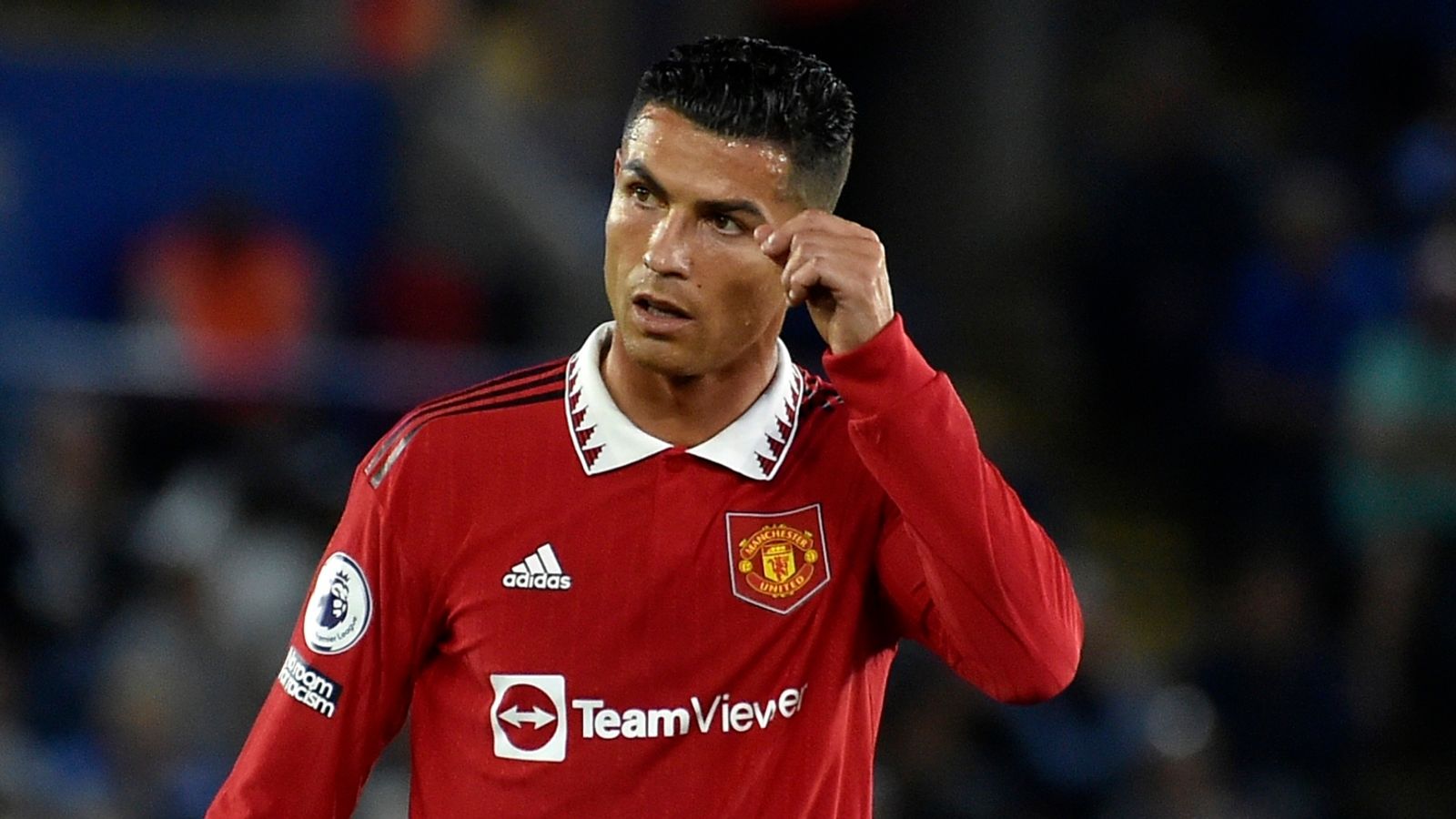 "You'll all know the truth when I do an interview in a few weeks' time. The media only spouts lies, I have a notebook and out of the last 100 news stories that have been written [about me], only five have been accurate. You can imagine the way things are. Bear that figure in mind."
October 4: Erik ten Hag says he did not bring Cristiano Ronaldo off the bench during Manchester United's 6-3 defeat at Manchester City "out of respect".
Asked why Ronaldo did not feature, Ten Hag revealed he did not want to insult the forward by introducing him with United already 4-0 down.
"I didn't bring him on out of respect for his big career," the Dutchman said at his post-match press conference.
"And the other thing, there was then the advantage I could bring Anthony Martial on. He needs the minutes but I don't want to point it out like that."
October 20: Erik ten Hag says he will "deal with" Cristiano Ronaldo after he left Old Trafford before full-time in Manchester United's 2-0 victory over Tottenham. Ronaldo is suspended by United for their trip to Chelsea and the 37-year-old publishes a post on Instagram explaining his actions, but chooses not to apologise.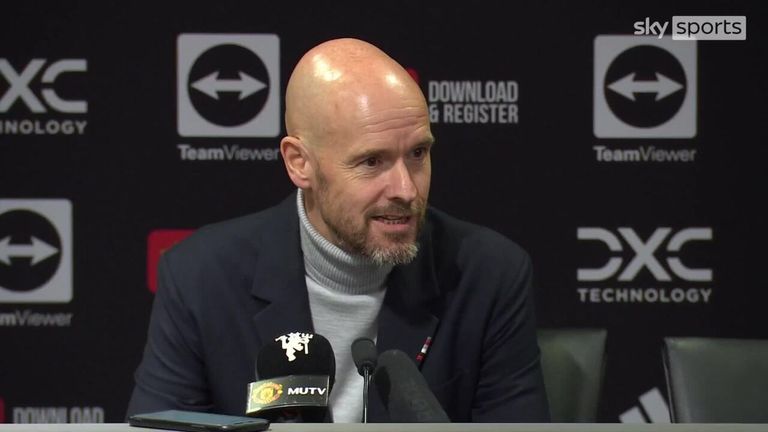 "As I've always done throughout my career, I try to live and play respectfully towards my colleagues, my adversaries and my coaches. That hasn't changed. I haven't changed. I'm the same person and the same professional that I've been for the last 20 years playing elite football, and respect has always played a very important role in my decision-making process.
"I started very young, the older and most experienced players examples were always very important to me. Therefore, later on, I've always tried to set the example myself for the youngsters that grew in all the teams that I've represented. Unfortunately that's not always possible and sometimes the heat of the moment get's the best of us.
"Right now, I just feel that I have to keep working hard in Carrington, support my team-mates and be ready for everything in any given game. Giving in to the pressure is not an option. It never was. This is Manchester United, and united we must stand. Soon we'll be together again."
October 21: Ten Hag addresses Ronaldo's suspension, saying it was important for the "attitude and the mentality" of the group.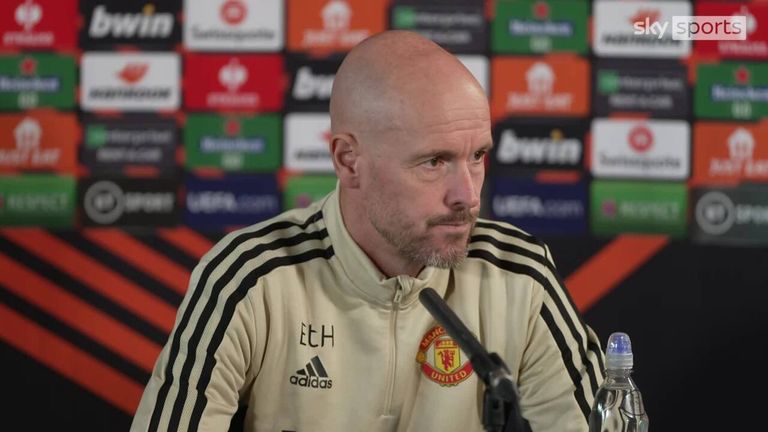 "I am the manager, I'm responsible for the top sport culture here and I have to set standards and values, and I have to control them. We are in a team.
"After Rayo Vallecano I said it's unacceptable but he wasn't the only one. That is for everyone, when it's the second time it will have consequence. That is now what we did. We'll miss him tomorrow, it's a miss for the squad but I think it's important for the attitude, mentality for the group."
October 22: After his club suspension, Ten Hag discusses the need to move on from the saga and says he wants Ronaldo to stay at the club for the rest of the season.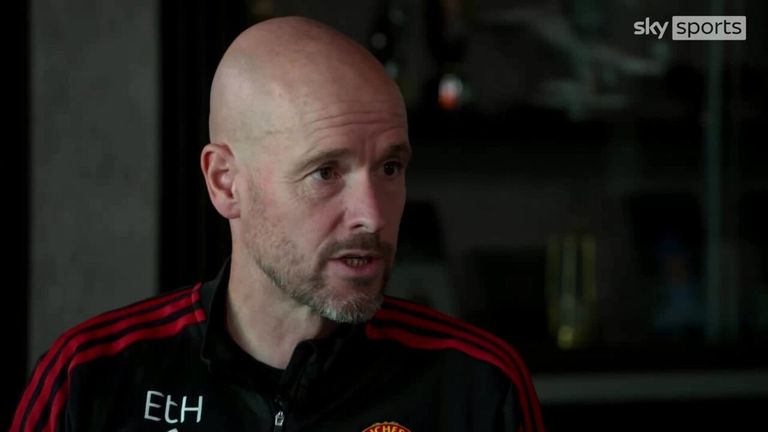 In his pre-match press conference, he was asked whether he thought the 37-year-old would remain at the club for the rest of the season and whether he wanted him to stay.
"Both," he replied. "It [dropping Ronaldo] is for this game and then we continue. It's a strike. As we said in the statement, Cristiano remains an important part of the squad and I count on him for the rest of the season. We want to fulfil our ambitions."
November 11: In an exclusive interview with Sky Sports, Erik Ten Hag discusses the issues of dealing with Ronaldo and how he wants to push him to have an impact.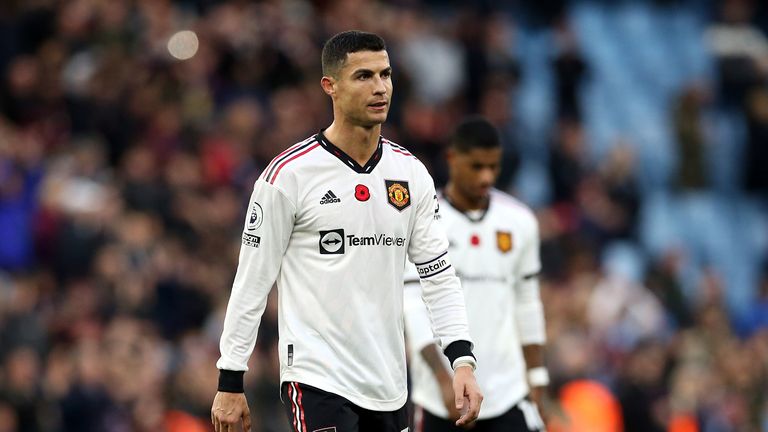 "I have to deal with all the players and obviously Cristiano is always a big issue because he is one of the best ever in the world and he's now performing and it's great to work with him. The players and the team are really happy he is in our dressing room. I have to deal with him but you are not getting the merits for what you did in the past. You are always judged what you are doing in the present.
"He can still do it. He already showed this season he can have an impact. When he is good, he can make a difference. I am hoping to push him to have that impact on the team and have a positive difference for us.
"I am positive about it. We can keep going in this process, keep fighting for good performance to match the standards and match the ambitions."