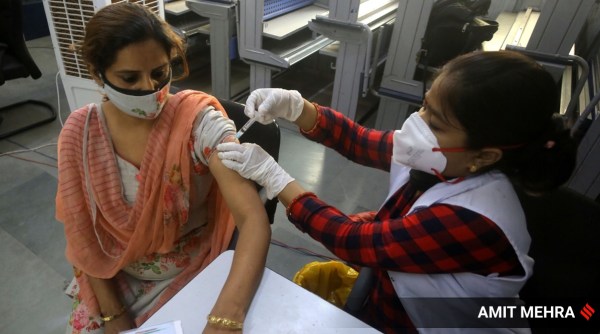 A health worker administers a dose of the Covid-19 vaccine in New Delhi on Wednesday. (Express Photo: Amit Mehra)
The Rajasthan government has cancelled the Class 10 and 12 exams of the Board of Secondary Education Rajasthan "apprehending a third wave of the pandemic". "In view of the apprehensions of the third wave of Covid-19, it has been decided to cancel the Class 10 and Class12 board examinations of Rajasthan Board of Secondary Education (RBSE) in the meeting of Rajasthan Council of Ministers today in the interest of students. A decision regarding the marking scheme will be taken soon," Education Minister Govind Singh Dotasra Dotasara tweeted.
Rajasthan's decision to cancel board exams came a day after the Central Board of Secondary Education's announcement to scrap Class 12 final exams.
Meanwhile, saying that there is a "tearing emergency" to fast-track approvals and "handhold" vaccine manufacturers in the country, the Delhi High Court on Wednesday said some people need to be "charged with manslaughter" for sitting on the "untapped potential" of Covid-19 vaccine manufacturing. "What answer will you give for the loss of lives because of lack of vaccines?" the court asked the Centre in another strong indictment of its vaccine policy.
Underlining that "our Constitution does not envisage courts to be silent spectators when constitutional rights of citizens are infringed by Executive policies", the Supreme Court said Tuesday that the Centre's policy of arranging free Covid-19 vaccine jabs for the 45-plus age category, Health Care Workers (HCW) and Front Line Workers (FLW) while asking the 18-44 age group to pay for the vaccination by state and Union territory governments and private hospitals was "prima facie arbitrary and irrational".
Directing the Centre to "undertake a fresh review of its vaccination policy addressing the concerns raised", the bench of Justices D Y Chandrachud, L Nageswara Rao and S Ravindra Bhat — the order in the suo motu matter of Covid-19 management heard May 31 was uploaded Tuesday — sought detailed information in the form of an affidavit in two weeks.
As more states joined the chorus for free universal vaccination by the Union government, the demand gained political momentum Wednesday with the Kerala Assembly unanimously passing a resolution that the Centre should make vaccines available free of cost to all states in a time-bound manner. The resolution moved by Kerala Health Minister Veena George said the most suitable preventive step against the pandemic was universal vaccination, but asking states to procure vaccines from the open market was "highly objectionable".