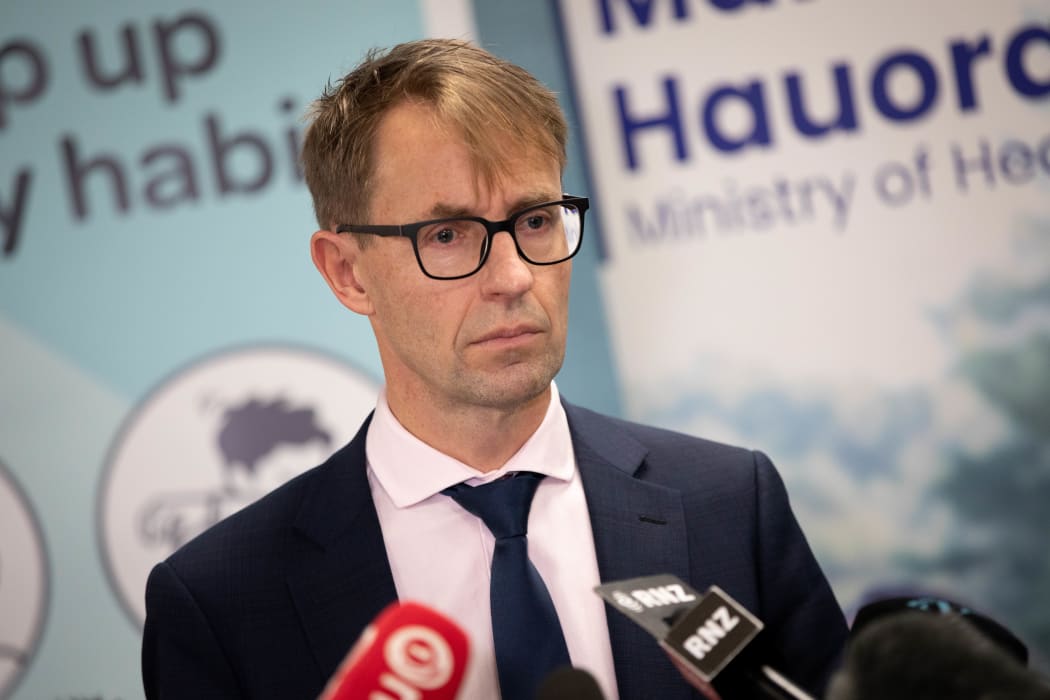 Director-General of Health Dr Ashley Bloomfield has given an update on the response to Covid-19 and winter illnesses.
He was joined by Public Health Agency's Deputy Director-General Andrew Old and Te Whatu Ora Health New Zealand's interim national medical director Dr Pete Watson.
Watch the update here:
During the update, Dr Bloomfield said today there were 8730 new community cases, with 808 people in hospital.
It is the second day of the new approach to reporting Covid-19 deaths as either the underlying cause or a contributing factor. A total 1427 deaths are confirmed as attributable in either category, he said.
The seven-day rolling average of attributable deaths was 17.
Bloomfield said case rates are trending downward across all four main regions in New Zealand. This was supported by wastewater results and test positivity for people being admitted to hospital.
The case rate from reported test results decreased by about 12 percent compared to the previous week.
A similar case rate decline is also seen in over-65s, he said.
Hospitalisation numbers did go up over the weekend but have come back down again.
Weekly hospital occupancy rates in some areas have begun to level off in the northern and central regions in the past week, Bloomfield said, but in the South Island and the midland region they did stay level or increased.
As expected, the BA.5 variant is continuing to become the most dominant. As of 18 July 61 percent of cases were the BA.5 subvariant, and it was expected to become an "almost full takeover", Bloomfield said.
Some international evidence suggests previous Covid-19 infections – particularly previous Omicron infection – provided better-than-expected protection against BA.5 reinfection. This as well as expected vaccine and second booster uptake has been applied to modelling, which suggests that while there is still a chance hospital occupancy could top 1000 beds, we're tracking closer to a peak of 850.
He reminded that hospitalisation peaks tended to track about a week behind case peaks.
"The worst case scenario that our modellers had suggested a couple of weeks ago with up to 1200 beds occupied and over 20,000 cases a day, is now highly unlikely."
He thanked everyone who was taking steps to protect themselves and their family, particularly through logging test results and isolating when sick.
"We are still seeing quite significant numbers of Covid deaths each day and we will continue to see quite high numbers until case rates really decline quite significantly."
He said getting boosted was one of the most important things people could do to prevent the risk of death from the virus.
"Across the population, people not fully vaccinated against Covid-19 – that is they've had less than two doses – are six times more likely to die if they catch Covid-19 compared with someone who's had at least one booster dose. That's once you adjust for all other factors."
He said many people under age 60 who had died had underlying health conditions, and it was particularly important for such people to get vaccinated.
"For those who died who were between 20 and 60 years of age, we've estimated that around half of those deaths … could have been avoided if all those people had been boosted."
He said the daily number of boosters yesterday was about 11,000, compared to about 25,000 people on average who became eligible each day.
Fluoridation
Fluoride will now be added to 14 local authority water supplies, in the first use of a new power by the director-general of health.
Bloomfield said fluoridation was a safe, affordable and effective method of preventing tooth decay that benefited everybody, but particularly children.
"These directions will take the proportion of New Zealanders benefiting from fluoridated water from 51 percent to around 60 percent. I'm very pleased to be able to do this in my last week in the job."
Dr Watson said he wanted to applaud Dr Bloomfield for his leadership during the pandemic.
Speaking from Middlemore Hospital, he said there was clear recognition and awareness in Te Whatu Ora of the significant pressure on our health system at present.
"It's the same across Aotearoa, we've seen high numbers of patients going to GPs and urgent care facilities, fronting up to emergency departments and being admitted to hospital and we all are really struggling with lots of staff absence due to the illnesses."
Although Covid-19 cases were reducing, Watson said the pressure on hospitals and other aspects of the health system was expected to continue for "some months".
Te Whatu Ora and the agency were working together to address these demands with a national plan, and regionally learned initiatives that were locally managed, Watson said.
The system had very much expanded the use of "telehealth" he said, and hospital flow management was being supported to optimise performance, create capacity and facilitate discharges.
Access to antiviral medications was expected to be boosted through legislation coming into effect tomorrow, making them available over the counter from pharmacies. This was expected to also help reduce pressure on the health system.
The criteria have been expanded from about 2 percent of the population to about 10 percent, he said.
"This is about easier and more timely access to Covid-19 medicines that have been proven to reduce hospitalisation for those most at risk of severe disease."
He repeated Bloomfield's previous statements that we were still "not out of the woods yet".
Monkeypox
Old says there were no new reported cases of monkeypox in New Zealand, and both reported cases had recovered, so there were no active cases in Aotearoa.
However, cases globally have continued to increase including over 40 cases now in Australia. There was also a different distribution compared to previous outbreaks, and the World Health Organisation (WHO) has deemed the virus a public health event of international concern – the highest level of alert it can issue. Only two other diseases are under such an alert – Covid-19 and polio.
Old said cases and contact definitions were being reviewed to ensure they were up to date with current scientific evidence as it evolved.
Monkeypox was made a notifiable disease in June, and Old said the agency was in touch with various agencies and continuing to update advice as new evidence emerges.
Work was being done to secure a supply of the vaccine for both monkeypox and smallpox. However, Old said even if we had a vaccine "the mainstay of our response would be based on many of the measures that we already have in place including testing, isolation and contact tracing".
He said monkeypox was not as infectious as Covid-19 but it was important to understand the risk. He said we would almost certainly see more cases at the border and seeding into our communities, so it was important to be vigilant.
Mask use
Old said now the school term had begun the agency was "strongly recommending" that face masks were worn at schools and kura for students in Year 4 and above.
Students were being asked to wear masks in all indoor settings when they could.
"We know correctly wearing an appropriate mask such as surgical and N95 masks can reduce the risk of transmission by up to half."
Old also went "off script" and offered thanks and acknowledgement to Bloomfield, who he noted had also been granted an honorary fellowship of the Royal New Zealand College of GPs.
"In their citation, the college said Ashley had communicated with vulnerability, honesty, compassion and logic, and reinforced public health messaging by being a strong role model."