In what has become a regular fixture of recent weeks, Brazil's president, Jair Bolsonaro, has once more encouraged a rally in the country's capital to back his administration, days after Brazil passed Russia to become the world's No 2 coronavirus hotspot after the US.
Surrounded by security guards wearing masks, but not wearing one himself, Bolsonaro was shown in a livestreaming video on his Facebook page greeting protesters waving Brazilian flags.
The rally came as the US president, Donald Trump – a close ally of the far-right Brazilian leader – considers a ban on travel from Brazil amid the worsening outbreak there.
The pro-Bolsonaro demonstration also follows a brewing political scandal revolving around an accusation by former justice minister Sergio Moro, a popular anti-graft crusader, that Bolsonaro aimed to interfere in police investigations.
Brazil's federal supreme court released a video last week of an April 22 ministerial meeting in which Bolsonaro said he wanted to change security officials, their bosses or even ministers to stop his family and friends from getting "screwed".
Brazil's health ministry announced on Sunday 16,508 new cases were recorded in the past 24 hours, bringing the total above 347,000, while the death toll increased by 965 to 22,013.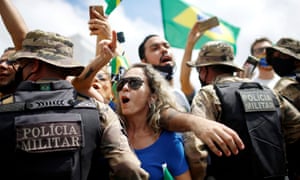 Updated

Austrian president apologises for breaching curfew
Austrian president Alexander Van der Bellen has apologised after staying at a restaurant past the 11 pm closing time mandated by the government as part of its anti-coronavirus measures.
"I went out for the first time since the lockdown with two friends and my wife," Van der Bellen tweeted on Sunday, adding: "We then lost track of time while chatting. I'm sincerely sorry. It was a mistake."
The president linked to an article in the Kurier newspaper according to which a police patrol found the president and his wife on the terrace of an Italian restaurant in central Vienna shortly after midnight on Sunday morning.
Restaurants and cafes were allowed to re-open last week on the condition they adhere to a number of rules, including the 11 pm closing time.
The restaurant's owner told the Krone newspaper that he thought he had followed the rules by stopping service at 11 pm, believing customers were allowed to stay on the terrace past that time.
The restaurant could potentially be fined for a breach of the new restrictions and Van der Bellen says he will "take responsibility" if the restaurant owner suffers any losses as result of the incident.
Updated

South Africa announces further easing of lockdown
South Africa will further relax coronavirus lockdown restrictions from 1 June, President Cyril Ramaphosa has announced, allowing large areas of the economy to fully reopen.
"Cabinet has determined that the alert level for the whole country should be lowered from level four to level three," he said in an address broadcast on television, describing the move as a significant shift in approach to the pandemic.
France has said the number of confirmed coronavirus cases rose to 144,921 from 144,806 on Saturday. The number of people in hospital rose to 17,185 from 17,178, while the number of people in intensive care fell to 1,655 from 1,665.
Updated

Israel's cabinet has curtailed the involvement of its internal security agency, Shin Bet, in the cellphone tracking of people infected by the coronavirus, saying the measure would be a last resort.
The cabinet had circumvented parliament in March and approved emergency regulations to allow the use of the technology, usually deployed for anti-terrorism. Privacy watchdog groups have challenged the practice in court.
In light of falling contagion rates in Israel, phone tracking is now warranted "in specific and special cases only, where location … cannot be completed with epidemiological investigation using other methods". This may be reviewed if infections surge.
Updated

UK prime minister backs chief strategist who broke lockdown rules
The UK prime minister, Boris Johnson, has backed his chief strategist, Dominic Cummings, amid pressure for his resignation after it was revealed he broke lockdown rules on multiple occasions.
Here are some of the key points from the UK briefing for those who missed it.
Johnson described Cummings as having acted "responsibly, legally and with integrity".
He said the adviser had "followed the instincts of every father and every parent" in travelling to find the right kind of childcare at the moment when "both he and his wife were about to be incapacitated" and he does not "mark him down for that".
The PM avoided directly answering whether he was aware at the time that Cummings was travelling to Durham, and if he approved it.
Updated

There were 50 new coronavirus deaths in Italy on Sunday. However, the civil protection authority said the latest figures did not include deaths in the worst-hit Lombardy region due to late reporting.
New cases rose by 531, down from 669 on Saturday. There have been 32, 785 deaths and 140,479 people have recovered.
Gyms and swimming pools will reopen in all regions apart from Lombardy on Monday as part of Italy's phased easing of restrictions.
Updated

South Africa's AngloGold Ashanti said on Sunday it had suspended operations at its Mponeng mine after at least 164 employees tested positive for coronavirus.
This follows the news that 53 employees at the world's deepest mine had tested positive.
AngloGold Ashanti said it had tested 650 workers at the gold mining site in Merafong, Gauteng province, after a first case was detected last week.
"This process has indicated 164 positive cases with only a handful of tests left to process," the company said in a statement, adding that the "vast majority" of cases were asymptomatic.
Operations at Mponeng mine have been "temporarily halted" to complete contact tracing and "sanitise the workplace".
The UK's daily coronavirus briefing has started, led by Boris Johnson. It comes as several Conservative MPs have called for Dominic Cummings to resign following reports that he breached the lockdown on more than one occasion.
My colleague Aaron Walawalkar will steer you through it here: