China's military drills begin – reports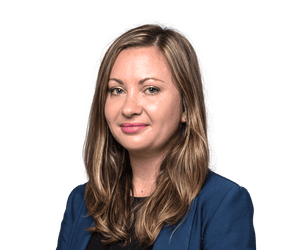 Helen Davidson
The Chinese military drills around Taiwan's main island have started, according to Chinese state media.
At midday local time, state broadcaster CCTV said:
From 12:00 today to 12:00 [04:00 GMT] on the 7th, the People's Liberation Army is conducting an important military training exercise and organised live fire.

During this actual combat exercises, six major areas around the island were selected and during this period all ships and aircraft should not enter the relevant sea areas and airspace."
The six identified zones surround the island, and occasionally overlap with Taiwanese territorial waters. Some are also very close to key ports and Taiwanese authorities have accused the PLA of effectively conducting a blockade – a very serious accusation.
"The Eastern Theatre Command of the Chinese People's Liberation Army on Thursday conducted large-scale military exercises and training activities including live-fire drills around Taiwan island," the broadcaster added.
Taiwan's ministry of defence said its armed forces are "operating as usual" and monitoring surroundings. "We seek no escalation, but we don't stand down when it comes to our security and sovereignty," the ministry said.
Key events
Reuters is carrying some quotes from a Taiwanese official, who it says spoke to them on condition of anonymity due to the sensitivity of the issue. The official describes todays events so far, saying about 10 Chinese navy ships briefly crossed the median line before they were "driven away" by Taiwanese navy boats.
"They sneaked in, and were driven away by us," the Taiwanese source said.
Multiple Chinese air force planes briefly crossed the median line several times on Thursday morning, forcing Taiwan to scramble jets and deploy missile systems to track their movement, the person said.
"They flew in and then flew out, again and again. They continue to harass us and increase our air defence pressure."
Chinese state media outlets are reporting Beijing conducted long-range artillery live-fire shooting drills in the Taiwan Straits, noting that "expected results have been achieved".
"PLA Eastern Theatre Command Army conducted long-range artillery live-fire shooting drills in the Taiwan Straits, striking targets on the eastern side of the Straits and achieving the expected outcome," China's Global Times reported.
"The Eastern Theatre Command of the Chinese People's Liberation Army (PLA) conducted long-range live-fire shooting training in the Taiwan Straits on Thursday at around 1:00 p.m. and carried out precision strikes on specific areas in the eastern part of the Taiwan Straits," state broadcaster CGTN added.
"The PLA Eastern Theatre Command said that expected results had been achieved."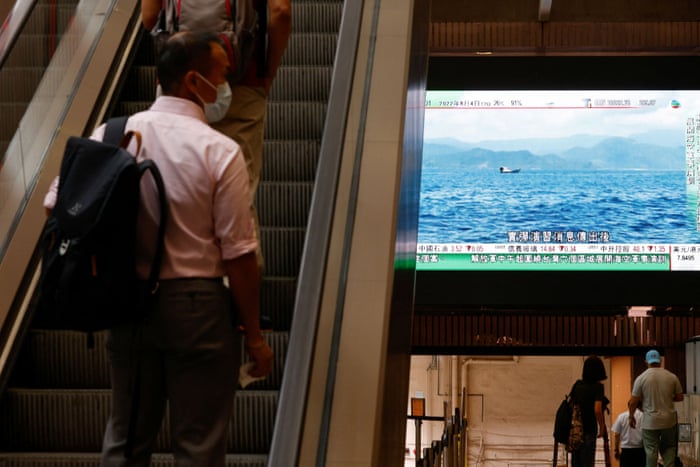 Chinese foreign minister Wang Yi earlier described US house speaker Nancy Pelosi's visit to Taiwan as a "complete farce" at meeting of the Association of Southeast Asian Nations (Asean) in Cambodia.
"The irreversible historical trend of Taiwan's return to the motherland cannot be changed. Those who offend China will surely be punished," he said.
You can watch Wang Yi's remarks in the video below.
China's military drills in the north, east and south areas bisect Taiwan's claimed 12 nautical miles of territorial waters and encircle the island in an "unprecedented formation" a Chinese military professor has said.
Meng Xiangqing, a professor at the National Defence University, told Chinese state television, the locations could provide a snapshot as to how an actual military operation against Taiwan could play out.
"In fact, this has created very good conditions for us when, in the future, we reshape our strategic landscape conducive to our unification," Meng said, according to a Reuters report.
Chinese forces in two areas off the northern coast of Taiwan could potentially seal off Keelung, a major port, while strikes could be launched from an area east of Taiwan targeting the military bases in Hualien and Taidong, he said.
The "doors" to Kaoshiung could also be closed by Chinese military off the southwestern coast, Meng added.
Here are some of the latest images showing Chinese military helicopters flying past China's mainland ahead of military drills off Taiwan this afternoon.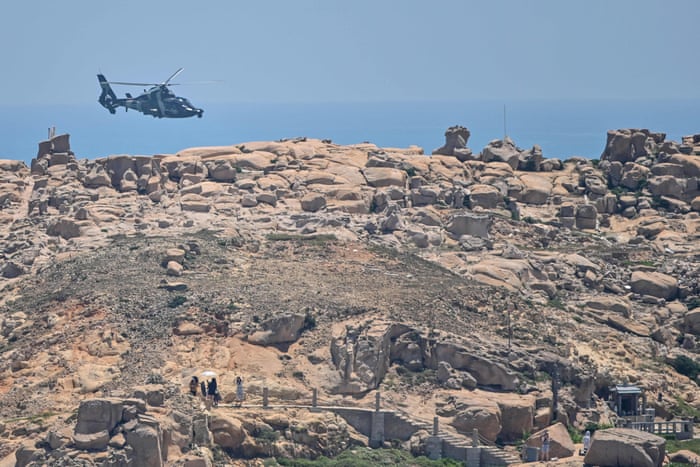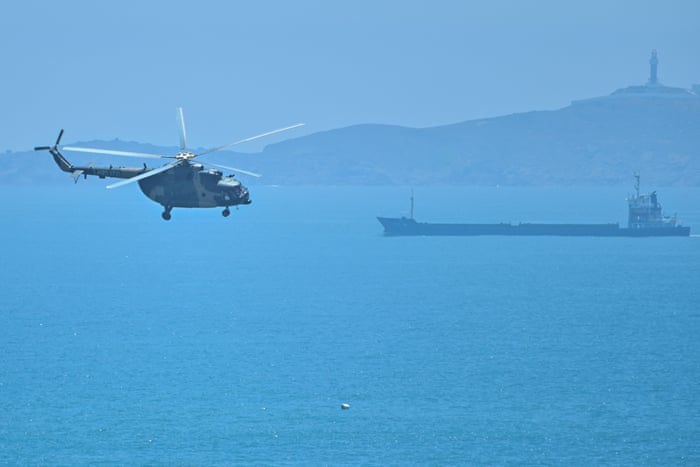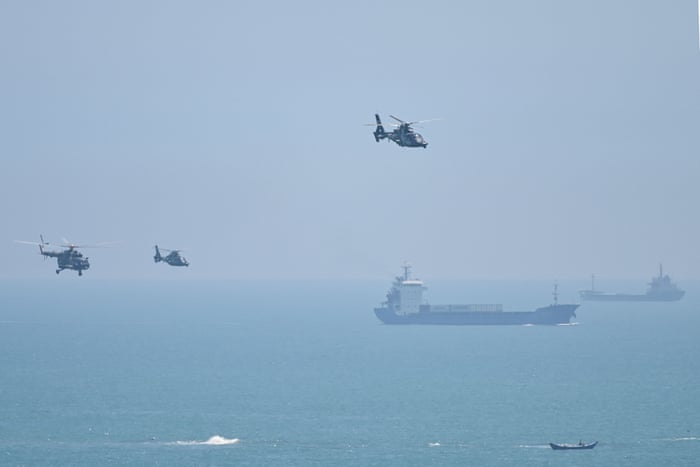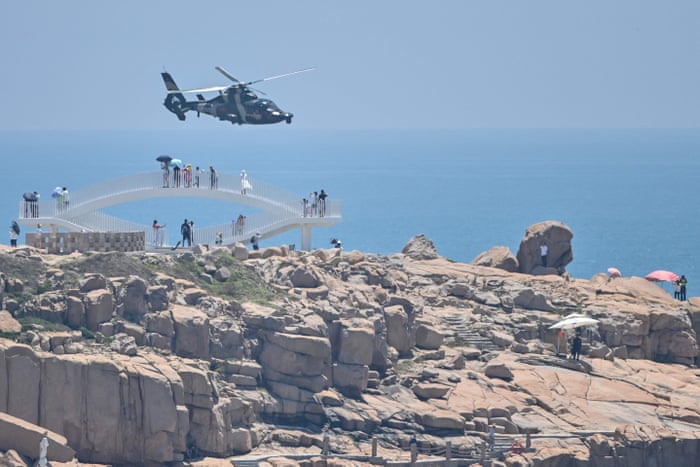 China's foreign minister Wang Yi has called US House Speaker Nancy Pelosi's visit to Taiwan a "manic, irresponsible and highly irrational" action by the United States, state broadcaster CCTV is reporting.
Wang, speaking at the Asean foreign ministers meeting in Phnom Penh, Cambodia, said China has made the "greatest diplomatic efforts" to avert crisis, but will never allow its core interests to be hurt.
China's current and future measures are necessary and timely defensive countermeasures, carefully considered and evaluated, aimed at safeguarding national sovereignty and security, in line with international and domestic law, CCTV cited Wang as saying.
Taiwan's President Tsai Ing-wen has thanked the Group of Seven (G7) nations for supporting regional peace and stability after the group called on China to resolve tensions in the Taiwan Strait in a peaceful manner.
Tsai, in a Twitter post, wrote:
Taiwan is committed to defending the status quo and our hard-earned democracy.

We'll work with like-minded partners to maintain a free & open Indo-Pacific."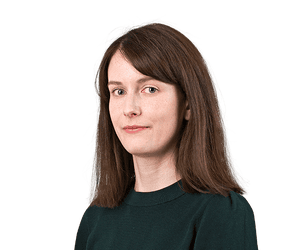 Rebecca Ratcliffe
Our south-east Asia correspondent, Rebecca Ratcliffe, has some more details surrounding comments made by the Association of Southeast Asian Nations as foreign ministers meet in Cambodia today.
Foreign ministers from the 10-member bloc have called for "maximum restraint" regarding the Taiwan Strait, warning the situation could lead to "serious confrontation, open conflicts and unpredictable consequences among major powers."
The bloc, which is currently gathering in Phnom Penh, said in a joint statement that it is "concerned with the international and regional volatility, especially in the recent development in the area adjacent with the Asean region, which could destabilise the region and eventually could lead to miscalculation, serious confrontation, open conflicts and unpredictable consequences among major powers."
"Asean calls for maximum restraint, refrain from provocative action," it added, without mentioning the US or China by name.
Chinese foreign minister Wang Yi and his American counterpart Antony Blinken are both visiting Cambodia for talks with Asean ministers. However, they reportedly have no plans to meet together.
While some Asean members, including host country Cambodia, have close ties to Beijing, others are concerned by China's growing assertiveness, including in the South China Sea.
The world is in dire need of wisdom and responsibility of all leaders to uphold multilateralism and partnership, cooperation, peaceful-coexistence and healthy competition for our shared goals of peace, stability, security and inclusive and sustainable development," the Asean statement said. It also reiterated "Asean member states' support for their respective One-China Policy".
We have a little more detail on how Taiwan is responding to the drills which began just after midday on Thursday.
Ten minutes before the drills were due to begin, Taiwan's department of defence issued a statement accusing the Chinese government of "irrational behaviour" with its live-fire exercises.
The exercises had "the intention of changing the status quo and disrupting regional peace and stability", it said.
"The national army will continue to strengthen its alert, and troops at all levels will conduct daily training."
Meanwhile, the US Navy has said the USS Ronald Reagan aircraft carrier was conducting scheduled operations in the Philippine Sea in the Western Pacific, a 5.7m square kilometre (2.2m square mile) stretch of ocean that includes waters southeast of Taiwan.
"USS Ronald Reagan and her strike group are underway in the Philippine Sea continuing normal, scheduled operations as part of her routine patrol in support of a free and open Indo-Pacific," a US Navy Seventh Fleet spokesperson said, as reported by Reuters news agency.