In a season of fashion 'shows' which saw designers doing the pandemic pivot and creating everything from mini movies, hosting intimate one-on-one presentations and staging a 'traditional' catwalk show, Chanel dropped the mic on Spring / Summer 2021 at the finale of fashion month.
Chanel's epic shows are usually the most exciting to attend, with an audience of thousands of celebrities, couture clients and journalists streaming into Paris's Grand Palais on the last day of fashion month. Exhausted after weeks of non-stop travel to New York, London, Milan and Paris yet buzzing with adrenalin, the pre-show atmosphere is always electric. Except today virtual guests watched the French fashion house live-stream their show on chanel.com from an array of sofas, WFH desks and – in GLAMOUR's case – the kitchen table. Only a handful of IRL attendees were able to see the show up-close – although the video stream offered a sharply detailed alternative.
Inspired by iconic films of the Nouvelle Vague and with a Hollywood-style CHANEL sign dominating the set, this was a meeting of fashion and film. But what about the actual clothes? We spotted the following trends you'll be desperate to bring into to your wardrobe for Spring.
1. Statement jewellery makes an outfit

Virigine Viard, Chanel's Creative Director, has validated what we learned from all those hours spent on Zoom this Summer. Statement jewellery can transform your outfit. From the fashion house that actually invented costume jewellery, we expected a lot. And there was plenty. Layers of chains were dripping with mini Chanel bag charms, gobstopper-sized pearls and diamante-encrusted double C logos. Earrings swung from the model's ears and crystal double cuffs, finished with pink bows, made a chic comeback. If it doesn't jingle when you walk, we don't want to know.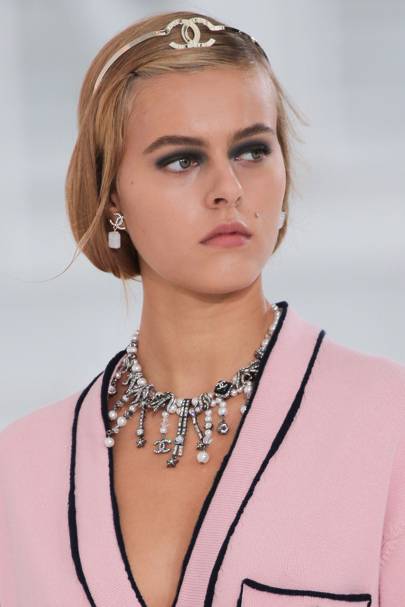 Tuesday Choose Day: Time to vote for (and buy!) your favourite products in this week's edit of our Fashion Editor's favourite picks
2. Hemlines are up! And down!

The whole of this collection felt easy and breezy and part of that came from the play of hemlines which dipped low in the back and raised up at the front on several skirts and dresses. Some added ruffles as well for extra swish. The asymmetry felt fun and fresh and is perfect for those days when you can't quite decide which kind of skirt you want to wear.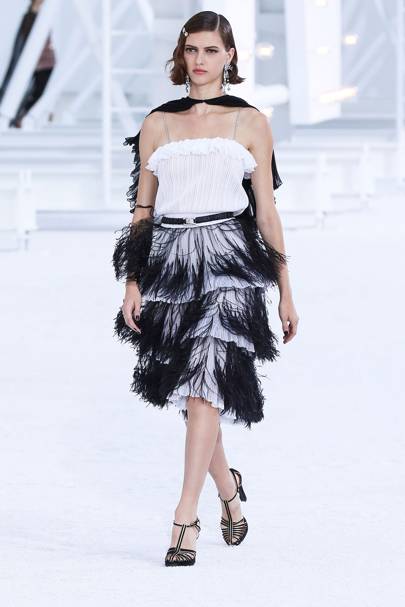 3. The stiletto is dead

The majority of the shoes shown this morning had neat block heels just a few centimetres high. Easy for the models to walk in and perfect for our own IRL expeditions. There were sweet sandals with black and gold straps over the toe and even some practical black loafers (albeit with golden double C logos) which are ideal for the walking we will actually be doing next Spring. When the heel heights did rise, the sandals were held aloft by a slim stack heel and a strappy caged-toe to keep your feet supported when you venture back into actual heels. Not a spindly stiletto in sight.
4. Micro bags are back

In keeping with fashion's current obsession with all that is Y2K, the micro bag (which fits a key, lip-gloss and credit card – if you're lucky) is back. It's also the perfect reflection of all that we need to take with us for popping to the shops. If Summer 2020 saw our handbags languishing in their dustbags (because who needs a bag for wandering from room to room in your own house?) we can't wait to resurrect the handbag and carry one – albeit in miniaturised form – for Spring.
5. Black is still fashion's favourite shade

Coco Chanel was the woman who, in 1926, decreed that black was 'chic' with the reveal of her first little black dress. Before then, the sombre shade had only been worn by servants and those in mourning. After the Spanish Flu pandemic and WW1 deaths, the world was feeling pretty glum and while other designers tried to add ruffles, trims and bright colours, Chanel went the opposite direction and dived into the darkest colour. We're in a similar world-space right now and for Spring / Summer 2021, while there was plenty of pink along with bright white, black still dominated. The sheer chiffons made it feel light and paired with pink it's the ultimate colour combination for navigating the mood of the new normal.