* Press release…
Gov. Pritzker Outlines Spending Reduction Plan For Fiscal Year 2021

Administration Will Negotiate With AFSCME Over Furlough Days and Personnel Cost Adjustments

Governor JB Pritzker announced today more than $700 million in spending reductions for fiscal year 2021. The plan is the result of a months-long and ongoing review of agency spending under the Executive branch. The plan includes a hiring freeze, grant reductions and operational savings.

As part of the administration's ongoing attempt to identify budget efficiencies, Gov. Pritzker also announced the following measures:

• Negotiations with AFSCME and other employee unions to identify $75 million in personnel cost adjustments, which could include furlough days.
• Creation of a Department of Corrections facilities closure work group to identify additional savings due to the lower offender population.

"From the beginning of my term in office, I've worked hard to bring honest solutions to the table, doing the hard things that must be done to put our fiscal house in order – including bringing efficiencies to lower the cost of operating state government, working to reduce the budget pressure of pension liabilities, investing in the expansion of revenue producing industries, and attracting our most promising economic assets — our college bound seniors – to stay in Illinois rather than go to college elsewhere," said Governor JB Pritzker. "I promised to be a governor who balances the budget and begins paying down the bills that my predecessor left behind. I promised to invest in education, job training and job creation. Before COVID hit us, we did that. And despite all the current challenges, I am confident we will continue our ascent to economic strength and fiscal stability.

The Governor previously announced the sale of $2 billion in three-year notes to the Municipal Liquidity Facility to help Illinois bridge the gap due to dramatic revenue losses as a result of the ongoing COVID-19 pandemic. That transaction will be finalized by the end of the calendar year. As every state in the nation faces budget shortfalls due to the ongoing COVID-19 pandemic, the Governor will continue to urge Congress to pass direct funding for state and local governments who have coordinated the pandemic response.
* Click the pic for a larger image…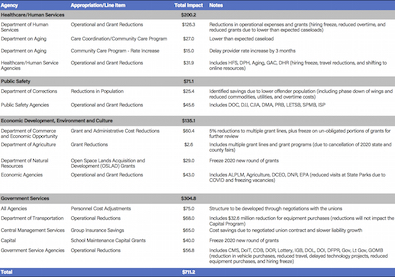 Numbers are in millions.
More in a bit.
…Adding… From his media briefing today…
Today as a first step toward balancing the current year's budget, I'm presenting over $700 million in initial cuts to our executive branch agencies. These are cuts that are under my control to make as governor without help from the General Assembly.

This gets us part of the way toward addressing the budget deficit. For additional and more permanent balancing of our budgets going forward, I will work with the legislature. But make no mistake, legislative action and engagement is required. While short term federal help may yet come, we need to take action to maintain fiscal stability over the long run, and address the problems that plagued Illinois pre-pandemic.
Please pardon all transcription errors.
* More from the governor…
Over the years, state government in Illinois has been notoriously hollowed out. For example, there are approximately 25% fewer state government employees today than there were two decades ago. Also state government spending on education is now among the lowest in the nation. And while there used to be 3000 the Illinois State Police troopers patrolling our 58,000 square miles of Illinois, there are now only 1900.

If anything, our schools and our public safety and health care deserve more investments, not less. So cutting our budget will be by its very nature painful.

The executive branch alone cannot legally address these multi-year deficits unilaterally. So I am continuing this conversation with leaders and members of the General Assembly on both sides of the aisle to identify their best ideas to make up the rest of the deficit and bring long-term stability and balance to our state's fiscal foundation. I have an open door policy. I am more than happy to have a conversation with legislators interested in a substantive effort to get this done.

In the meantime, the cost saving measures I present to you today have already begun to be implemented. In addition, my staff is in conversations with AFSCME to discuss furlough days and personal cost adjustments personnel cost adjustments that will help us reduce spending by $75 million.

By definition, taking employees off the front lines will slow the delivery of services to our residents but this is the place we find ourselves today. It pains me to pursue these actions because these state employees are public servants who dedicate themselves to improving the lives of the people that we all serve. Often, these are the people who are most in need of help.

Many of these same employees, such as our corrections officers who put themselves in harm's way every day before the pandemic now go to work with the additional danger of COVID-19 facing them. They have more than earned our appreciation and our admiration for their dedication and hard work. That's one reason why these cuts are painful.

But like I said, opponents of the fairest long term solution have put us in this situation. And there's only so much on the table to choose from when you have a government as hollowed out as ours is.

Approximately 10% of these reductions come from public safety agencies most significantly from the Department of Corrections. The number of people incarcerated in Illinois has decreased by more than 10,000 individuals since the beginning of 2019. This presents an opportunity for real savings this year and in future years. And it's a critical opportunity to transform our prisons. I will be forming the Illinois Corrections Transformation Advisory Team to determine the best ways to move forward with these efficiencies. I've also previously announced a number of additional criminal justice reform priorities that will further reduce our prison populations as we seek to pursue greater fairness and equity for all Illinoisans as we often see when we move away from expensive ineffective and punitive models. This will likely also open the door for additional long term savings.

Early on in our battle against COVID-19 my administration implemented a freeze on non essential state government hiring and on travel. Those continued today and will continue indefinitely. I have also implemented a significant reduction in vehicle and equipment purchases. And I have asked all departments to maximize the use of technology to reduce in person gathering costs, even once travel is deemed safer.

We're also making adjustments to our Community Care Program and the services that are provided to older Illinoisans, including delaying the planned rate increase initially set for January 1. I admit that this was a challenging decision because of how vital our community care workers are for our seniors. But this must be undertaken as a result of the deficit.

I'm also broadly freezing and reducing grant programs at a number of agencies, including the Department of Natural Resources, the Department of Agriculture and the Department of Commerce and Economic Opportunity. That includes freezing 2020 grants for local governments, parks and open land projects, implementing freezes or partial reductions on most grants at DCEO and pausing issuance of school maintenance grants dependent upon casino gaming revenues.

I want to be clear. Because tax fairness was taken off the table. There will be a real human impact here. And while we've scoured the budget for ways to cause the least pain, I'm sorry to say that we simply cannot prevent these losses from touching the real lives of our residents. We just can't these cuts reflect the first phase of our path forward, doing what is within my powers unilaterally and without the legislature. This is going to be tough. And as my ongoing conversations with General Assembly leaders would indicate, there is a great deal of work the legislature must do when it convenes next month. […]

And while there is no easy path forward, I promise that we will get through this, working together as people of goodwill, with a laser-like focus on doing what's best for the working families of Illinois. I look forward to hearing the Republican proposals for realistic cuts and balancing the budget.
…Adding… He was asked about further cuts…
As to more cuts, or you know anything else to do with our budget deficit, again, this is a first step. I'm waiting on the General Assembly's engagement in this and not just awaiting, I've reached out to the General Assembly in particular to the Republicans because they have a special responsibility here, having worked so hard to defeat the Fair Tax to step up to the plate, tell us how they're going to balance the budget given that we have a $3.9 billion deficit and and you know about half of that has come from structural challenges that the state has. So I hope they will step up to the plate because they defeated the best solution to the structural
* The governor also said he was hopeful that Congress would change course on funding for state and local governments when a new president is sworn in.
*** UPDATE 1 *** Press release…
Illinois Senate Republican Leader-Designate Dan McConchie (R-Hawthorn Woods) released the following statement regarding Governor Pritzker's recent comments on the state's FY22 budget:

"The Governor can blame others all he wants for the state's financial mess, but the fact of the matter is this is a bed of his own making. Voters fundamentally rejected his graduated tax proposal because of their lack of trust in state government, which stems from years of Springfield increasing taxes and ignoring the reforms that Republicans have put on the table time and time again. In fact, during the current budget cycle, instead of taking up spending reforms in anticipation of hard times to follow from COVID-19, Democrats and the Governor increased spending, relying on magic money from the federal government that never materialized. This is the kind of recklessness that voters know all too well and is the real reason they rejected Springfield digging deeper into people's pockets."
*** UPDATE 2 *** Press release…
Statement of Roberta Lynch, Executive Director, AFSCME Council 31

Since the earliest days of this pandemic, tens of thousands of Illinois state employees have been on the front lines, putting their own health and safety at risk to maintain vital services on which so many depend.

Undoubtedly our state faces a severe fiscal crisis and action is urgently needed. However, it is grossly unjust to suggest that frontline state employees who have already sacrificed so much in our current public health crisis should bear an outsized share of the burden of fixing the state's fiscal crisis as well. Moreover, it is counterproductive in the extreme to target these employees at a time when the need for state services and the demands on state government are greater than ever.

State public health and emergency management employees have worked tirelessly to guide us through the challenges the coronavirus daily presents. Child protection workers have continued to go into homes to safeguard at-risk children. Correctional and state police employees have maintained security in our prisons and safety in our communities. Caregivers are on the job round-the-clock to bathe, feed and assist individuals with the most severe developmental disabilities. Nurse aides have remained in service to our aged and ailing veterans despite massive COVID outbreaks in the state's veterans' homes. Human service, environmental protection, transportation employees—and many more—are all on the job to keep Illinois working.

Thousands of these frontline state employees have contracted COVID, hundreds have had to be hospitalized, many are suffering prolonged aftereffects, and, yes, some have died.

The severe budget hole has been made much more severe by the billionaire-funded campaign that defeated the Fair Tax constitutional amendment. Had that amendment been enacted, the state would be on a reasonable path to solid fiscal ground. Instead, rather than asking everyone to pay their fair share, state employees—hard-working middle-income taxpaying Illinoisans—are now being asked to shoulder a bigger share of the budget burden. That is simply not acceptable.

AFSCME is firmly opposed to any demands that unfairly target state employees. We are, however, fully committed to revenue measures needed to keep Illinois working. We supported Governor Pritzker's Fair Tax initiative. And we are now helping to lead the fight in Washington DC for an urgently needed COVID stimulus bill that is being blocked by Mitch McConnell and the Senate Republicans. We have long called for closing corporate tax loopholes in our own state and have recommendations for how to move forward on that front. And our members are prepared, as always, to help in identifying greater efficiencies in state government operations. Ultimately, however, legislative action is needed. It is urgent that the Illinois General Assembly come into session immediately after the holidays to address the state's fiscal crisis in a fair and equitable manner.
*** UPDATE 3 *** Press release…
Illinois House Republican Leader Jim Durkin (R-Western Springs) issued the following statement in response to Governor Pritzker's remarks on his self-inflicted budgetary disaster:

"Governor Pritzker, President Harmon and Mike Madigan were repeatedly warned about the dire shortfalls in the fantasy budget that relied upon the passage of the graduated tax and a 'fingers crossed' hope for a federal bailout. Instead of living within our means, they attempted to trick voters into raising taxes, and were sorely rejected by Democrat, Republican and Independent voters across the state. We hope the Governor uses his authority to call the General Assembly into session so that we can look to move Illinois forward by fixing the problems the Democrats have created."
*** UPDATE 4 *** Press release…
Good afternoon Mr. Miller. Here's a statement on behalf of Senate President Don Harmon. You can attribute it to me (John Patterson, spokesman):

"The voters sent the message that they expect tough decisions to be made. The Senate President will review the governor's actions as we prepare to head into another legislative session and another tough budget year. We look forward to our colleagues across the aisle offering up the Republican cuts for public review.

Hopefully Washington soon will come to its senses and realize that states and cities across this country have been wiped out financially by this virus."
*** UPDATE 5 *** Press release…
The Illinois AFL-CIO, representing tens of thousands of Illinois state employees and their families, today issued the following statement in response to Gov. Pritzker's proposed $700 million in state budget cuts:

"We join AFSCME in opposing state budget cuts that place the burden on the backs of public employees who are on the frontlines of our collective fight against COVID-19.

We were strong supporters of the Fair Tax initiative as a way to provide needed revenue to support the vital state services and programs we all depend on, and that have proven even more important during the pandemic. Our state has suffered for too long with revenue shortfalls, and these now are producing very real and painful choices that will devastate the very hard-working, middle-income families we all depend on.

We stand ready to work with our union partners and our leaders in Springfield on solutions that spare this pain for working families and address the state's revenue shortfall responsibly and fairly."

Tim Drea, President, Illinois AFL-CIO
Pat Devaney, Secretary-Treasurer, Illinois AFL-CIO