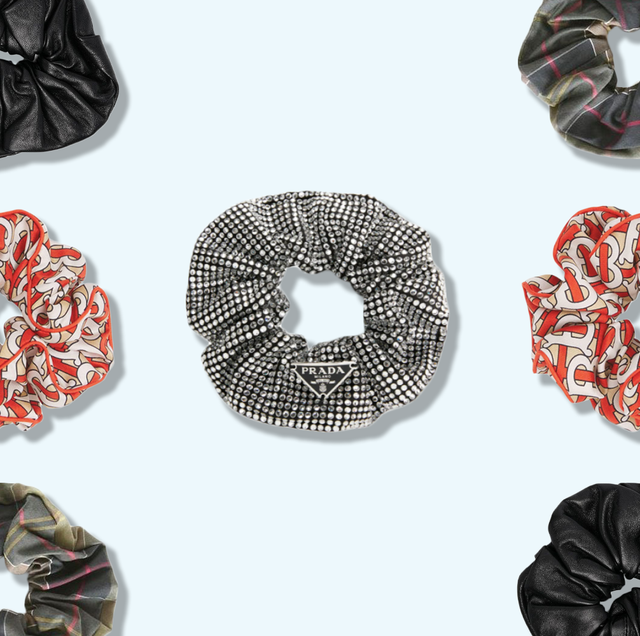 .
There have been a fair few hair accessories whose mere existence have divided popular opinion throughout the decades. Butterfly clips, flower barrettes and headache-inducing hair bands have caused controversy all the way from the playground to the office. The scrunchie, like many of its accessory predecessors, has also faced a bit of a hard time.
From its rise to fame in countless 1980s films, to becoming the accessory of choice worn by the eclectic Phoebe in Friends, only to then experience a scathing takedown from Carrie Bradshaw in Sex and The City, the style ranking of the scrunchie has experienced more market instability than a share in Tesla.
Fast forward to 2021, where a seemingly never-ending carousel of nineties and noughties trends have been experiencing a revival at the hands of Gen Z. One of them? You guessed it. The infamous scrunchie is back baby, and this time she's had a haute makeover at the hands of some of the biggest designers in fashion.
From logo-clad fabric courtesy of Fendi, to sequin showstoppers from Prada, we've rounded up the very best scrunchies to take your hair (or wrist) to the next level. Just try not to lose these ones…
1 of 13
Branded Shell Scrunchie
For those looking for the perfect minimalist hair accessory, we present to you: the Prada scrunchie. 
2 of 13
Pure Silk Hair Scrunchies
Secure your hair without causing any breakage thanks to these silk scrunchies from Slip.
3 of 13
Fendi FF-Print Scrunchie – £185
Logo-mania has entered the hair accessory territory, and these autumnal colour-way scrunchies are the perfect humblebrag investment for the new season.
4 of 13
Sequinned Scrunchie
Party girls unite, this sequin-encrusted rainbow scrunchie is the OTT accessory your hair wants, nay needs.
5 of 13
Leather Hair Scrunchie
Just when you thought the scrunchie couldn't be anymore nineties, along comes this leather number from Jil Sander to allow you to live your best Gwenyth Paltrow (circa the Brad Pitt years) life.
6 of 13
La Doublej Giga Abstract Print Scrunchie – £75
Funk it up with this geometric-print emerald green and orange fabric hair tie.
7 of 13
Manokhi Ruched Leather Hair Scrunchie – £85
If you love limes as much as Dakota Johnson (or not, the jury's still out on that one), this is the neon-toned addition your wardrobe is crying out for.
8 of 13
Check-Print Organic Cotton-Blend Scrunchie
Can you ever have too much check-print in your wardrobe? We think not.
9 of 13
Triangle-Plaque Crystal Satin Scrunchie
If there were ever a scrunchie that could channel Studio 54 energy, it would be this one.
10 of 13
Tartan Scrunchie
On the hunt for an accessory to finish off your countryside attire? Match your wax jacket and wellington boots with this tartan printed scrunchie from Barbour.
11 of 13
Burberry TB Monogram Print Silk Scrunchie – £170
Another strong contender in the monogrammed scrunchie category comes from Burberry with this red and cream silk print. If it's wrong to love a monogrammed hair tie, we don't want to be right.
12 of 13
Satin Pillow Scrunchie
If you find a normal-sized scrunchie doesn't quite do your ponytail justice, opt for the magnum version with this super soft silk fabric that leaves hair frizz and kink-free. 
13 of 13
Miu Miu Faux Fur Logo-Embroidered Scrunchie – £172
Available in pastel pink and baby blue, and made with a soft faux fur fabric, this super cute Miu Miu scrunchie would make Elle Woods jealous.
Advertisement – Continue Reading Below
This content is created and maintained by a third party, and imported onto this page to help users provide their email addresses. You may be able to find more information about this and similar content at piano.io