There's no doubt that Ariana Grande has dominated our ears for over a decade now. Ever since she showed off her singing talents as a teen star on the Nickelodeon show Victorious, and its spin-off Sam & Cat, her effortlessly melodic voice has graced six seminal albums. Her butter-melting voice and Mariah-level whistle tones are also highly coveted, with everyone from Lady Gaga to Justin Bieber wanting her to bless their tracks. As a result, not only is she now the most streamed female artist ever, she's also broken 27 Guinness World Records for music, most of them the result of her acclaimed 2019 album Thank U, Next.
But what we don't talk about nearly enough is her impact on our style. Ariana was a key part of forming our streetwear obsession in the 2010s with her pantless, oversized hoodie ensembles and matching sporty two-pieces. She evolved her cutesy style from children's TV into something that is still sweet and girly but also sexy and mature, pairing cat ears with lacy bralettes and knee-high boots, not to mention the nostalgic references to outfits in beloved y2k movies.
And though Ari has been out of the spotlight the last year or two, she continues to impact our style with her spacey, ethereal beauty collection r.e.m. beauty, the fourth drop of which launches today. To celebrate her big impact on our fashions and our bank accounts, we look back at the evolving fashion of Ms Ariana Grande.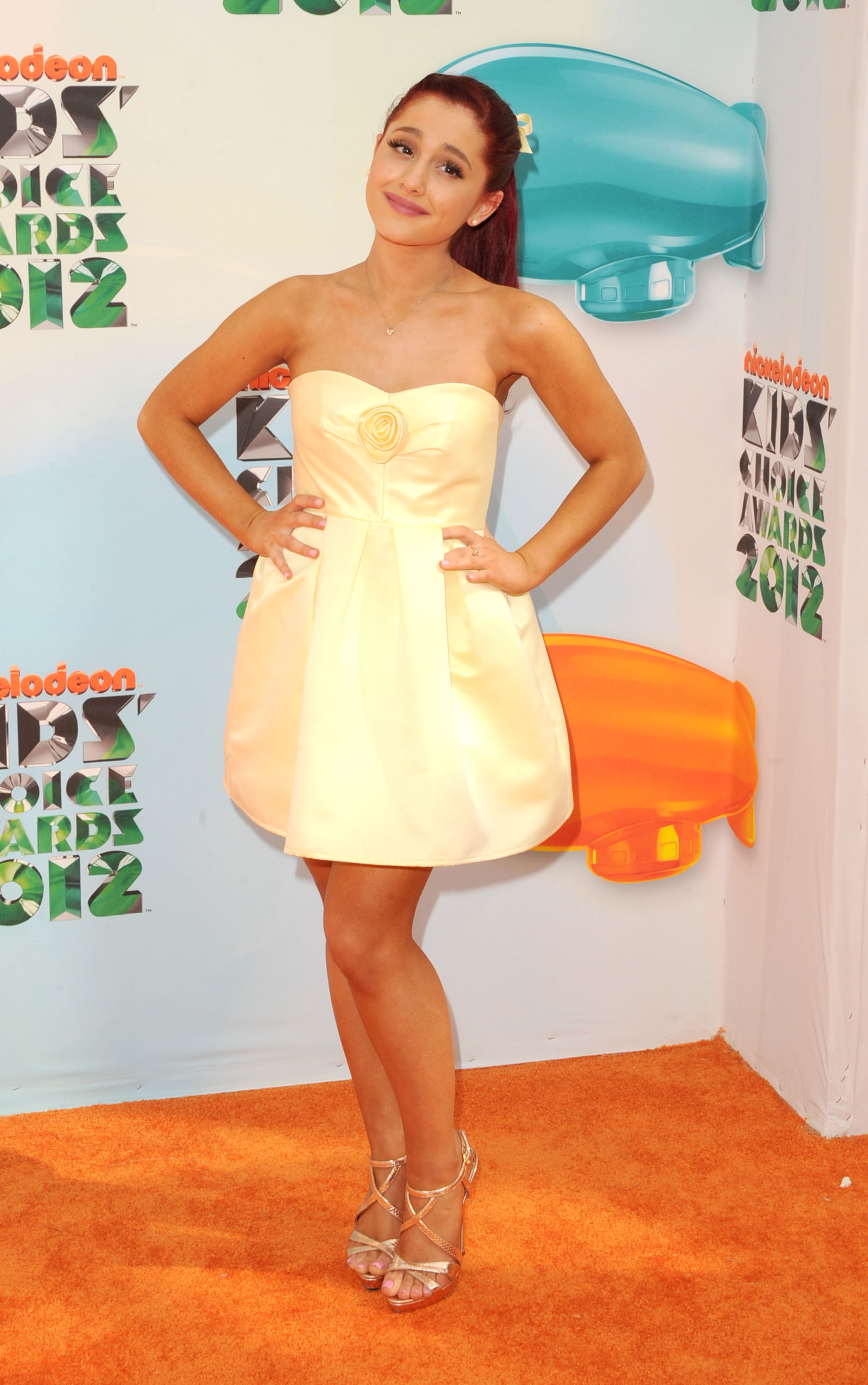 Photo by Jason Merritt/Getty Images
At the Nickelodeon Kids Choice Awards, 2012
Our first introduction to Ariana Grande-Butera was in 2010 as a young star of Victorious, the Nickelodeon TV show about a performing arts high school, and she quickly became the standout star of the series. Having to dye her hair that vibrant burnt red every other week for four years for the role, Ariana began to wear her hair tied back into a high pony — something which would eventually become a signature look for the star. Her off-screen fashions, too, were similar to the energy of her character, with Ariana often appearing at events and premieres in cute pastel mini dresses with girly detailing.
In "The Way" music video, 2013
The first single Ariana recognises as really her, separate from her Children's TV persona, was "The Way" (we don't talk about "Put Your Hearts Up"). The lead single from her 50s-piano-pop-and-r&b-inspired debut album Yours Truly, was the first signposting of Ariana's own style — ditching the red hair for her natural auburn in cute ringlets and picking out a slightly more mature outfit of a black mini dress and knee high black socks. This was the start of Ariana's sweet but sexy style. 
Photo by Neil Mockford/Alex Huckle/GC Images
On the streets of London, 2014
Some may remember 2014 as Ariana's Judy Jettson white gogo boot era that she wore in music videos for "Problem" and "Break Free", but this wasn't the most iconic accessory the singer was sporting in the mid-2010s. That title belongs to the kawaii cat ears. At concerts, in Instagram selfies and walking the streets of London on her way to BBC Radio 1, Ariana often had a pair adorning her head — some were black and fluffy, or sparkly and silver, while others were wired and wrapped with tiny flowers. The Furry aesthetic had never been more chic.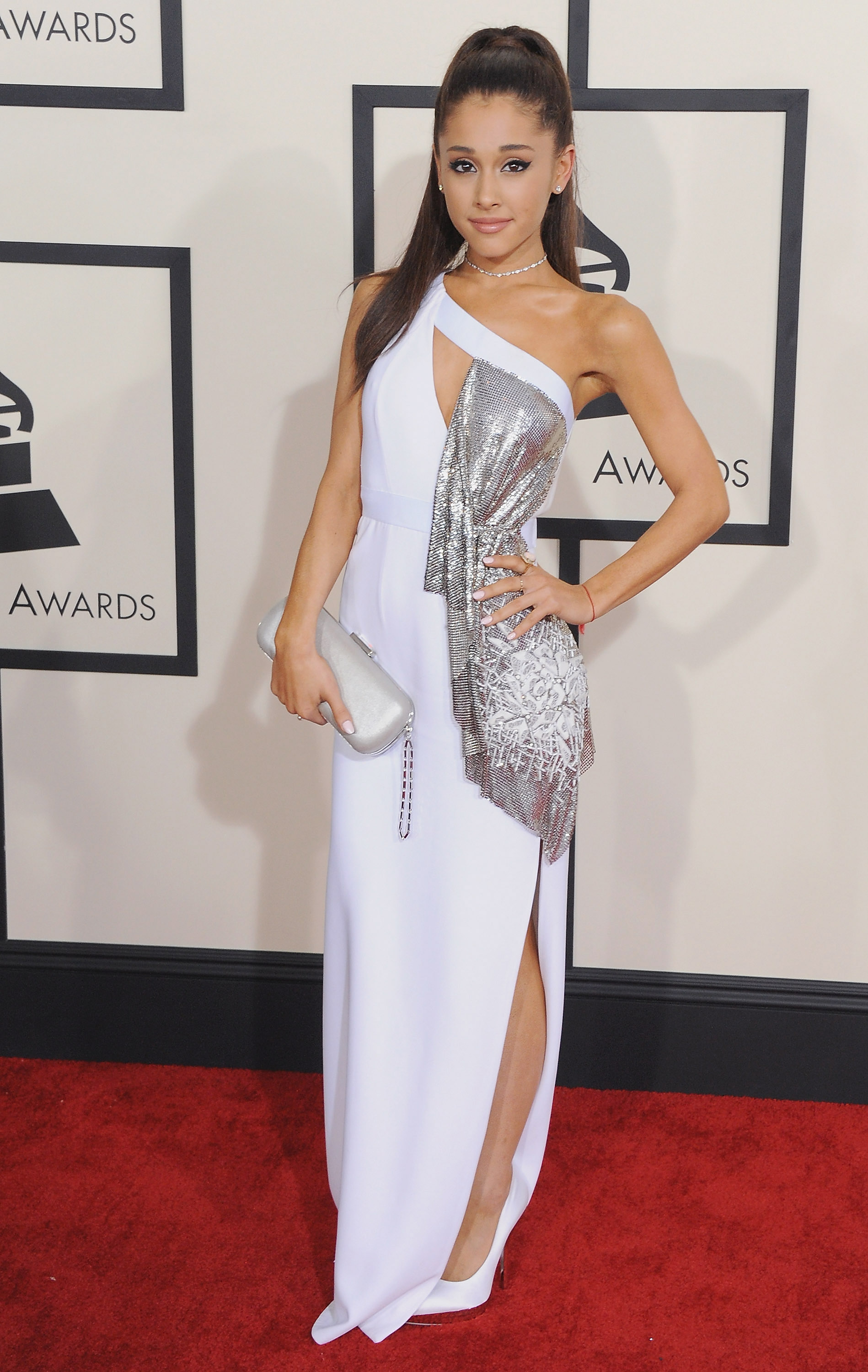 Photo by Jon Kopaloff/FilmMagic
At the Grammy Awards, 2015
What do you wear for your first two Grammy nominations? Versace, of course. Nominated for best pop vocal album with her flawless exploration of a more dance-pop sound on My Everything, and for best pop duo / group performance for "Bang Bang" along with J-J-J-Jessie J and "damn song-monitor" Nicki Minaj; she, unfortunately, didn't win either award but she sparkled in a half-floor-length white gown with a slit down the side, half skimpy embroidered sequin mini dress. She had the best of both worlds — wait, sorry, wrong child star.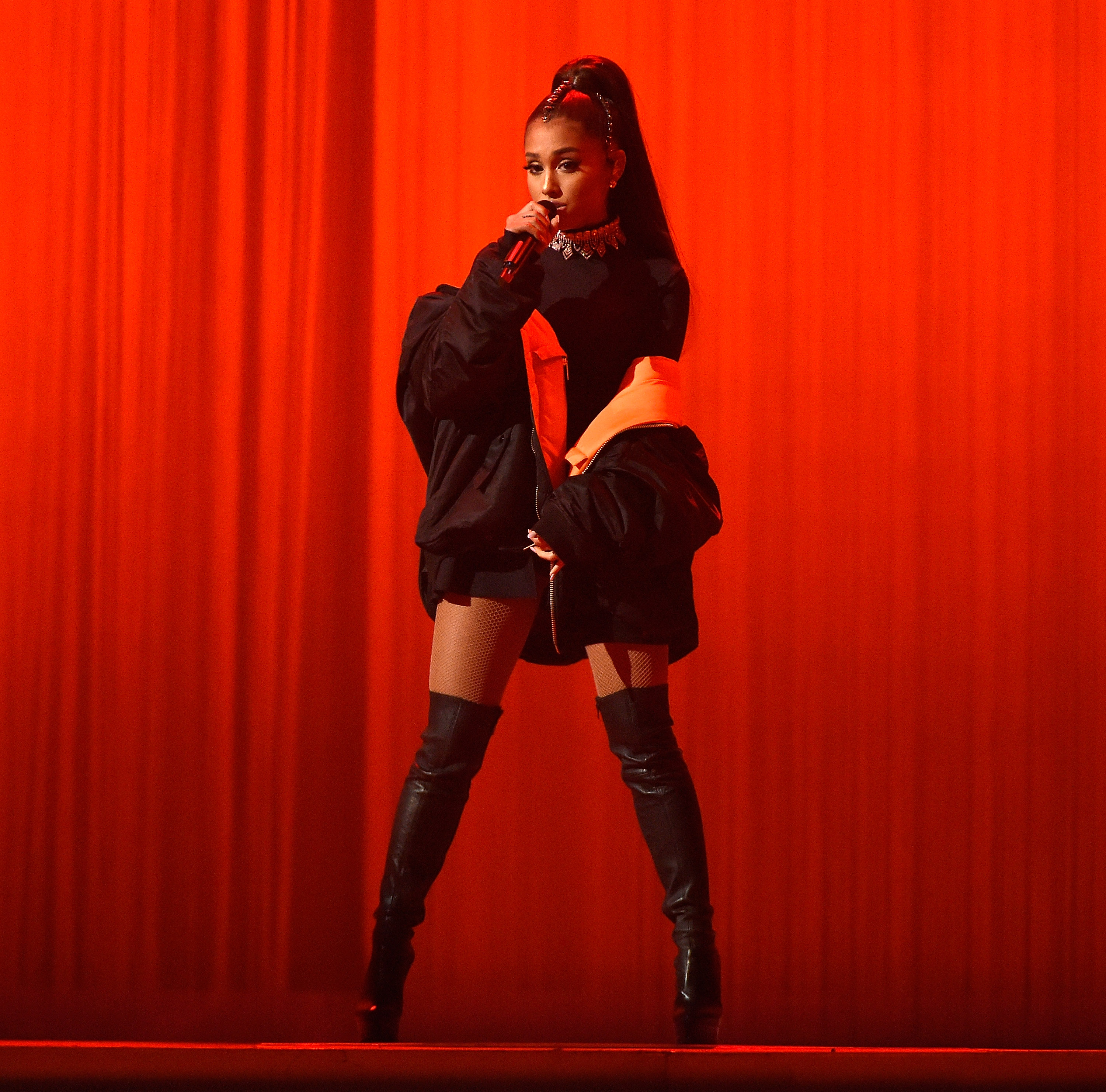 Photo by Kevin Mazur/Getty Images for Republic Records
On the Dangerous Woman Tour, 2017
Ariana's third album, Dangerous Woman, will be remembered as an unapologetically sexually-empowered record — through songs such as ménage à trois anthem "Side to Side", the breathy "Into You", and uber horny "Everyday" — that holds a special place in the hearts of many girls, gays and theys. For the accompanying tour, she had an equally sultry wardrobe with pieces designed by Virgil Abloh and Bryan Hearns. The theme was sexy, modern Audrey Hepburn, with diamante chokers, black mini dresses, knee-high boots, vinyl trench coats, 90s strappy sportswear and oversized puffer jackets hanging off her arms. Classy, but also a little bit slutty; we want it all.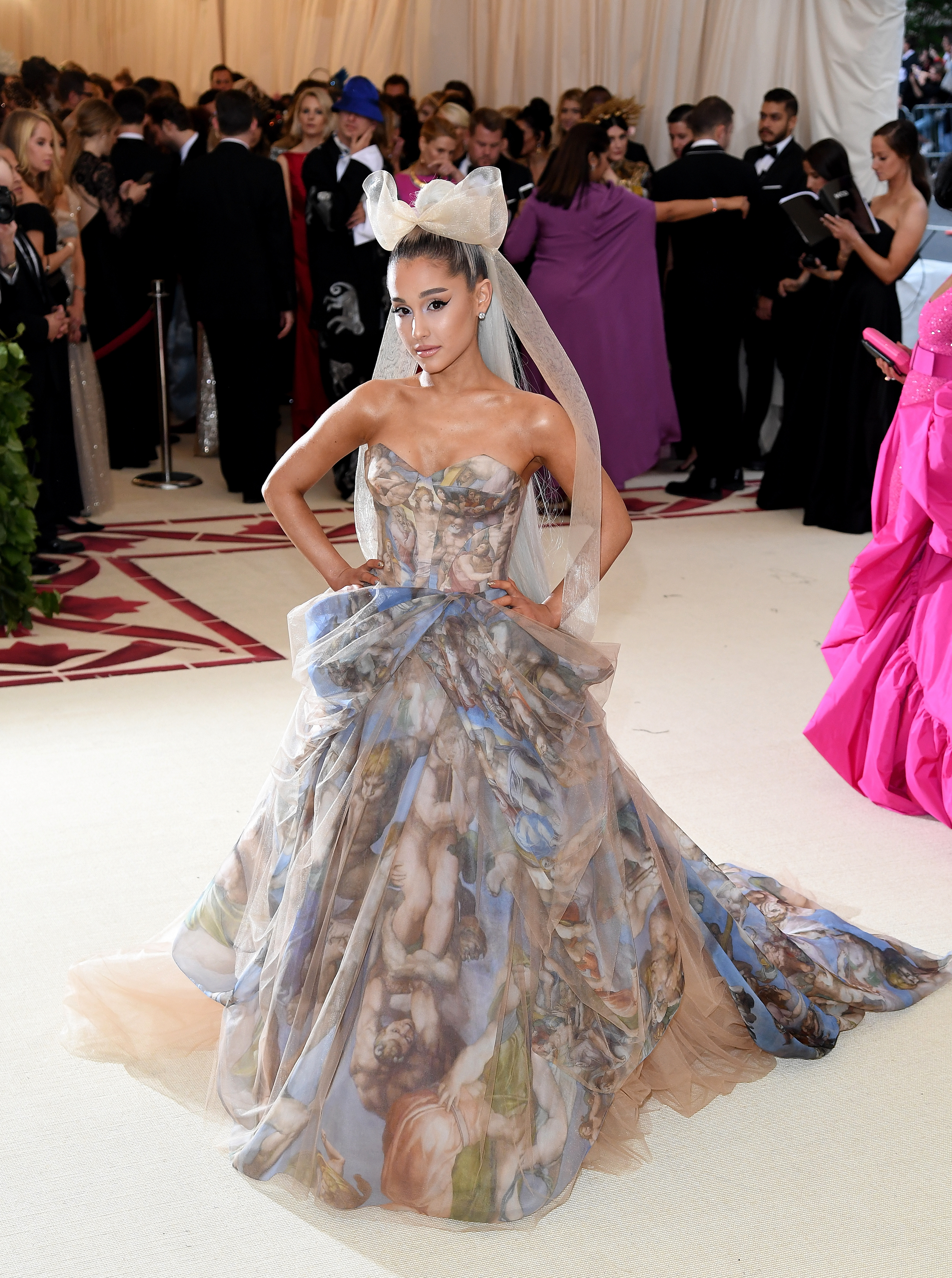 Photo by Karwai Tang/Karwai Tang/Getty Images
At the Met Gala, 2018
After a devastating attack happened at her Dangerous Woman Tour concert in Manchester, Ariana took a few months to process and spend time with loved ones. She returned in the spring of 2018 with blonde hair and the ethereal, hope-filled bop "No Tears Left To Cry", followed by the divine yet controversial "God Is a Woman", that both spoke to the fact that Ariana was moving forward and no attempts to stop her, her message or her fans would be successful. She foreboded the blasphemic visuals of the latter at the Heavenly Bodies Met Gala, wearing a Vera Wang ball gown screenprinted with the stunning Michelangelo-painted ceiling of the holy Sistine Chapel.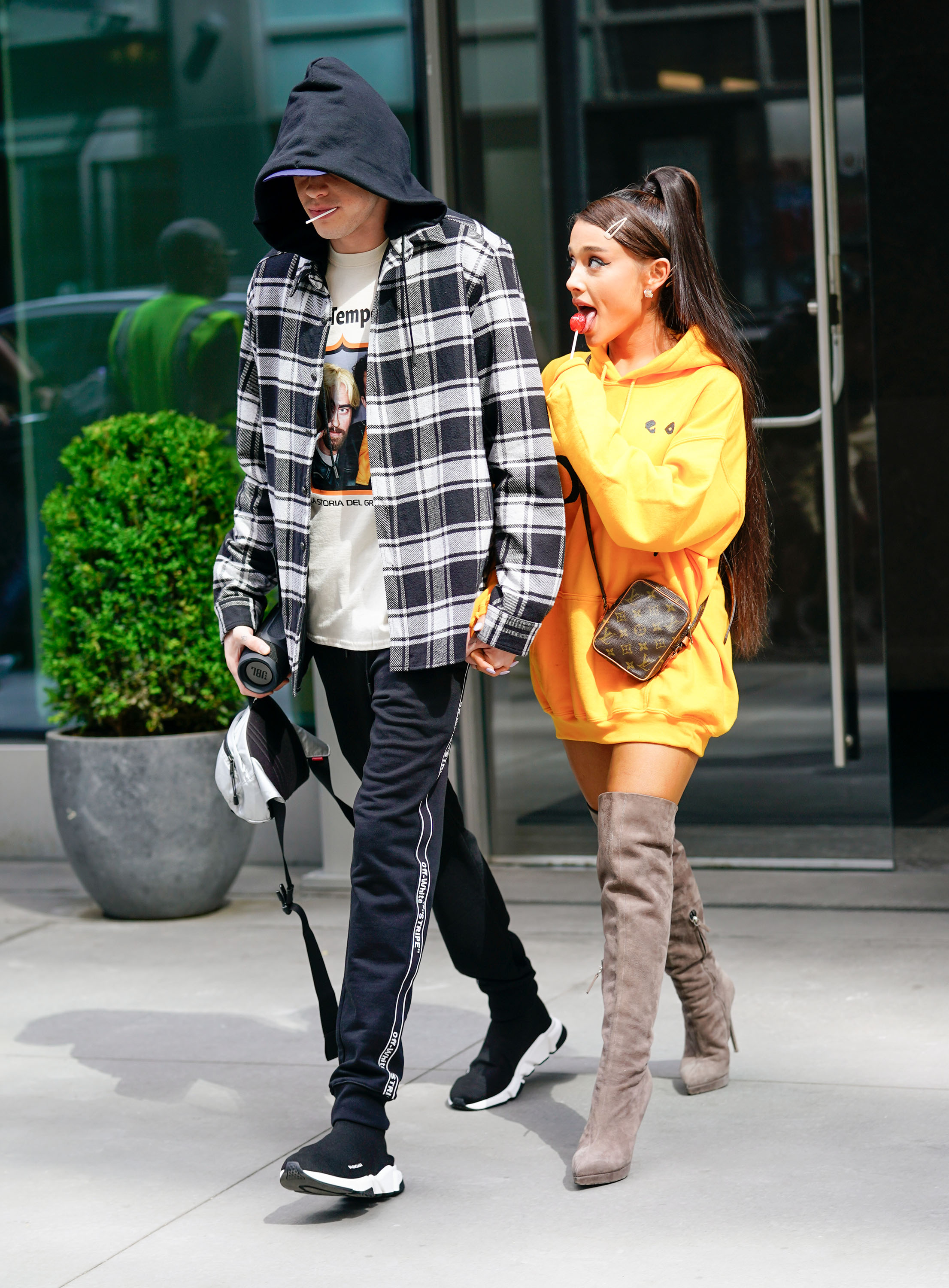 Photo by Gotham/GC Images
On the streets of New York, 2018
If you had to pinpoint one style that Ariana pioneered it would be going pantless. Having only an oversized hoodie or sweatshirt covering your Grandussy and cliff-hanging sleeves became a staple of Ari's wardrobe in the late 2010s and all of ours too! Lyst reported that searches for "oversized hoodies" in her favourite brands such as Vera Wang and Burberry would go up by 130% in 2018. The look has also become a fountain of inspo for memes whether it's this moment with Ari sultry licking a lollipop whilst looking at Pete Davidson (this is all of us when we see a manic pixie dream boy) or the POV Ariana TikToks of teens washing their hands, tying their laces or mashing potatoes with sleeve-covered hands. 
On the Sweetener World Tour, 2019
After releasing back-to-back seminal chart-topping albums Sweetener and Thank U, Next within six months of each other, Ariana was at the top of her game and set out on a colossal North American and European arena tour. For its wardrobe, she brought back many of her past styles: cat ears, armoured bra tops with matching skirts, knee-high boots and oversized off-the-shoulder jackets, Clueless-style two pieces and straps everywhere. This time, though, they were stepped up — with many custom-made Versace and Michael Ngo, the go-to of Lil Nas X and Doja Cat — that showcased how she had quickly become the world's most exciting and in-demand pop artist. This was the new heightened Ariana — It's giving Arianee, it's giving Arianka.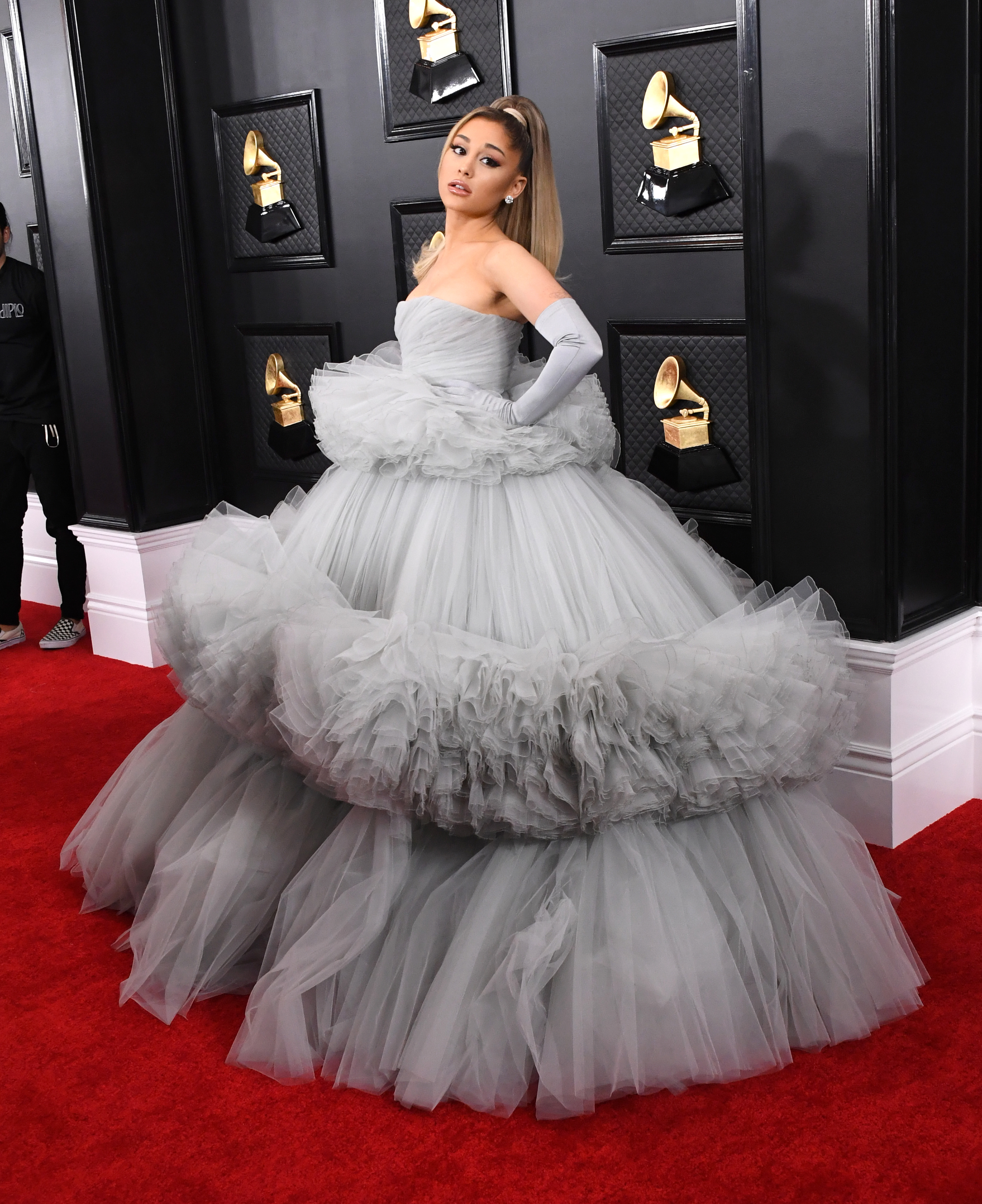 Photo by Jon Kopaloff/FilmMagic
At the Grammy Awards, 2020
By the end of the decade, Ariana was the most streamed female pop star in the world. Spotify's 2010s round-up showed she'd beat out juggernauts Rihanna, Taylor Swift and Beyoncé in terms of streaming figures over the past ten years and was the fourth most streamed artist across all genders. She was next level, and her dress at the 2020 Grammy's only confirmed that she is the moment. The storm cloud-esque Giambattista Valli haute couture gown had all our jaws on the ground with its piles upon piles of tulle paired with opera gloves. She may not have won any of the five awards she was nominated for at the ceremony, but it was okay, because when she stepped out on that red carpet, she had already won the night. 
In the "positions" music video, 2021
The 2020 and 2021 lockdowns was the genesis of all our current slut (non-practicing) lifestyles, but Ariana was like, "soz, can't relate", releasing an entire album about getting dicked down. The aesthetic for this new album cycle was very 60s, from space-age lingerie to housewife cosplay and Jackie Kennedy-inspired garms. To this day, we think about presidential Ariana addressing the nation in "positions". I'd vote for her. 
For r.e.m. beauty, 2022
Ariana has been rather busy of late living out a life-long dream: starring as Glinda in the two-part movie adaptations of the Broadway musical Wicked. This means we haven't seen as much from our fave nearly as much as we would like, but occasionally we get a crumb to keep us fed, usually in the form of a new drop from her beauty brand r.e.m. beauty. In promos for the fourth collection from the brand dropping today, Ari has been trying out new, more spacey and creative eye looks with natural toned lips and heavy blush that accentuates the knife-edge cheekbones that make her look more ethereal and divine than ever before. The rest of us are just mere mortals in comparison.
Follow i-D on Instagram and TikTok for more on Ariana Grande and fashion.