In the first-floor reception area of Liverpool's Kirkby training centre, Alisson Becker is posing for photographs with the club's player of the month award for October.
It says something about the side's recent performances that their goalkeeper is the man collecting the prize. Alisson has been busy. Far busier than he or Liverpool would have liked.
Jurgen Klopp's side head into Sunday's clash with Tottenham in ninth place having lost twice as many Premier League games as in the whole of last season. They are eight points behind fourth-placed Newcastle. Fifteen points behind leaders Arsenal.
If not for Alisson, they would be even worse off.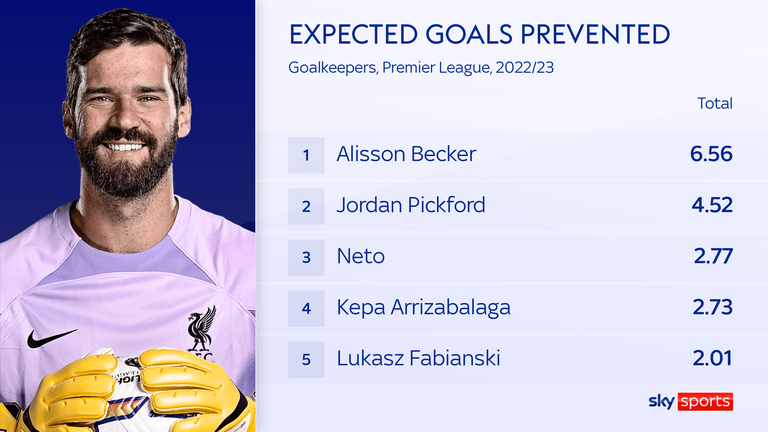 While others have toiled, Alisson has been, to use Klopp's term, exceptional. And that's even by his standards. The underlying data shows he has conceded nearly seven goals fewer than he should have, based on the quality and quantity of shots he has faced.
"When you look at that, it's obviously something positive," Alisson tells Sky Sports. "I don't believe you have to rely on statistics to know if you are performing well or not, but they are a good sign and a good indication of the way you have to follow.
"I don't give myself too much praise because of that, because of having good numbers, but obviously it's something that makes me happy." Alisson pauses, smiling. "The numbers never lie."
Alisson has proved a transformative signing since his £67m arrival from Roma in 2018, lifting "every possible trophy", in his words, as well as a host of individual accolades which includes two Golden Gloves and FIFA's best men's goalkeeper award in 2019.
And yet, even in the context of Liverpool's chaotic season, in which so many of their usually reliable performers are struggling to find form, Alisson looks to be finding new levels.
Does he feel at the top of his game?
"I think so, yes, but I'm not doing anything alone," he says.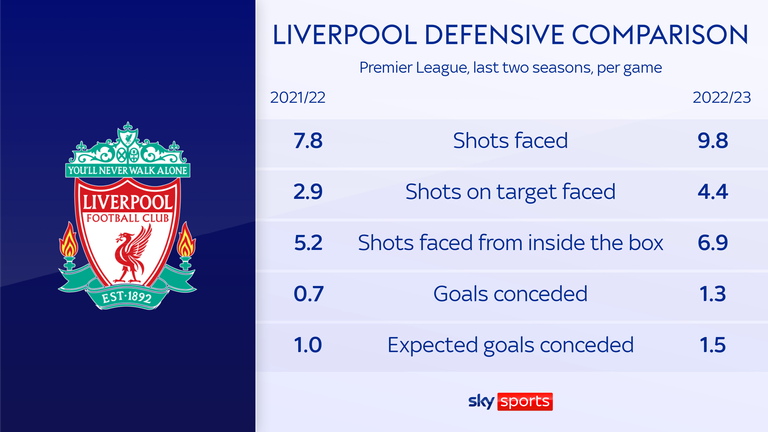 "Even if the team is not performing at the very best, the fact that I'm doing this is because I have help. I cannot do things alone on the pitch. The players are trying, they are fighting together with me.
"I'm happy about my performances, but at the same time I'm hoping that we as a team will go back to the same track that we were on last season because what we did last season was amazing.
"We have that as a target and for myself as well, to be as good as I was in the last season and, if possible, get even better."
'Stick together, keep fighting'
The truth, though, is that Alisson can only do so much.
Liverpool's collective malaise has seen them concede the first goal in eight out of 12 Premier League matches this season, with Saturday's 2-1 loss to Leeds just the latest example. The qualities that turned them into such a force under Klopp – intensity, resilience, ruthlessness – have only appeared sporadically.
It has left onlookers puzzled. How can a side beat Manchester City one week then lose to Nottingham Forest and Leeds, two relegation candidates, the next? Alisson is more interested in solving the problems than what lies behind them.
"As players, we don't have too much time and we try not to spend too much of it thinking about these things," he says. "I think people from outside will always talk more, but we need action.
"We need to train, we need to prepare. We cannot stay only looking at what we did wrong in the games. We have to prepare for the next game and the next opponent.
"We know things change quick in football, so we just have to stick together, keep fighting and keep trying to do good performances."
And, of course, find a way to do it consistently rather than in patches. "That is something we all have in common, something we all agree on, that we have to find our consistency again," he says.
Everybody expects to see us score one, two or three goals in the first 20 minutes. We are doing the opposite
"Everybody is used to seeing it in our team. We, the players, and the people as well. A consistent Liverpool, conceding only a few goals, keeping clean sheets, scoring, winning games.
"Everybody expects to see us score one, two or three goals in the first 20 minutes, but now we are doing the opposite.
"Of course, when you concede first and you win, it's a sign of a strong mentality. That is important as well.
"But we know that, to find consistency, we have to stop conceding first, because, always, it's a knock to the confidence of the team.
"That is one thing we agree on, but we don't focus too much on the problem, because then we are not focused on the right thing. We focus on the solutions. We speak between us, with the manager, and we try to put on the pitch everything we discuss and prepare."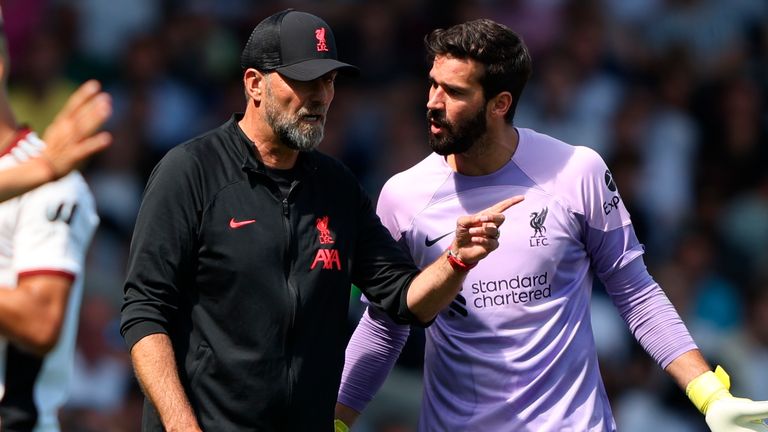 Failure to do that against Spurs on Sunday will see the pressure ramp up further but Alisson shrugs when asked about the possibility of recent scrutiny and criticism continuing to mount.
"It is part of football," he says, smiling again. "It is not something that is easy to deal with. But we have all played football for a while now and I personally understand that this is part of it.
"You are going to have pressure from the outside world, from the supporters, from the media. Only playing for a big club are you going to have this kind of pressure.
"I see it as normal, but we have to fight back, and our response has to be on the pitch with performances. What we can't do is let the criticism affect us and bring us down more."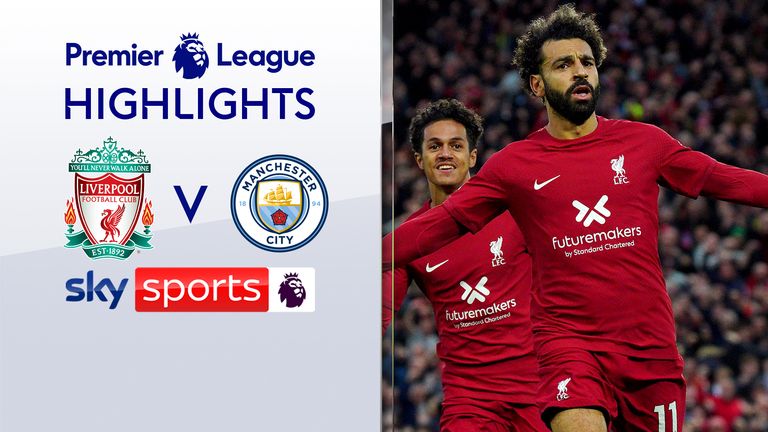 They can't let it dent their belief either. Alisson insists he and his team-mates have no doubt they can get back to where they were. They are helped, he says, by having been through all this before.
"We always have belief," he says. "We have the understanding that things are not going so well for us so far. We have to be realistic. We have to be humble as well, to accept it, to fight more, and to recognise what is going wrong and to change it.
"But that is part of our team, being humble, fighting. We know that sometimes we cannot be the best on the pitch, but we will be the ones who fight the most. This is what we have done so far and it worked out in other seasons for us.
"We can't forget, as well, the season we had before the last one, when we had to fight a lot. We struggled in the competition because of injuries, because of outside circumstances, but we came back.
"So, we have enough experience to deal with these kinds of problems, we just have to do it."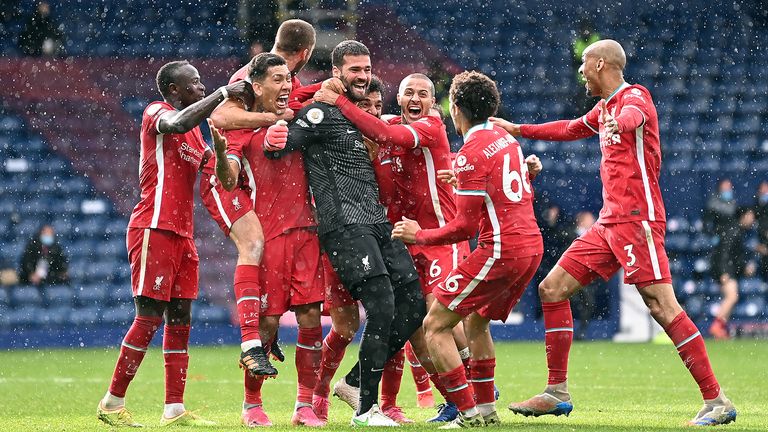 Alisson, of course, played a bigger role than most in Liverpool's recovery that season, his astonishing headed goal in their 2-1 win over West Brom at the Hawthorns helping Klopp's side clinch a Champions League spot.
"People still tag me on Twitter or Instagram on the video of that goal," he says with a chuckle. "It was something incredible, one of the best feelings I've had in my life, scoring that goal, and for all it represented for the team at that moment."
It was an example, too, of how Alisson's influence at Liverpool stretches far beyond his shot-stopping alone.
The Brazilian has made more successful passes than any other goalkeeper since his arrival in the Premier League. There have even been three assists, all for Mohamed Salah, the latest of which came with his stunning long pass deep into Manchester City territory at Anfield three weeks ago.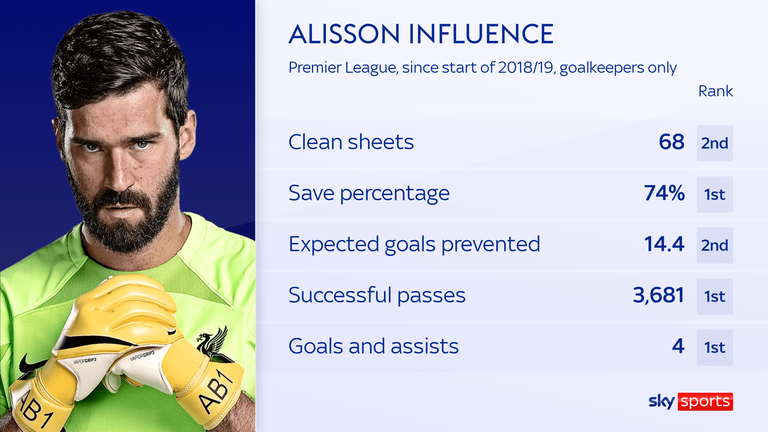 "It's something I work on, but not every day, because kicking long balls like that demands a lot of you physically," he says. "It's more about me knowing Mo and Mo knowing me.
"So, I know where he runs, I know he's fast, I know his qualities, and I have the qualities as well that are needed to put the ball behind the opponent's defensive line.
"I would like to train it more, to be honest, but we don't have enough time. We have too many games, one after the other."
'Taffarel more than a coach'
The time that Alisson does get on the training field is spent with Claudio Taffarel, his idol, close friend and, as of last November, full-time Liverpool goalkeeping coach, close at hand.
Alisson grew up admiring Taffarel, a World Cup-winning Brazil legend who even started his career at Internacional, the same Porto Alegre club as him. He now counts the 56-year-old, the man he calls 'Tafa', as his mentor as well as one of his biggest footballing influences.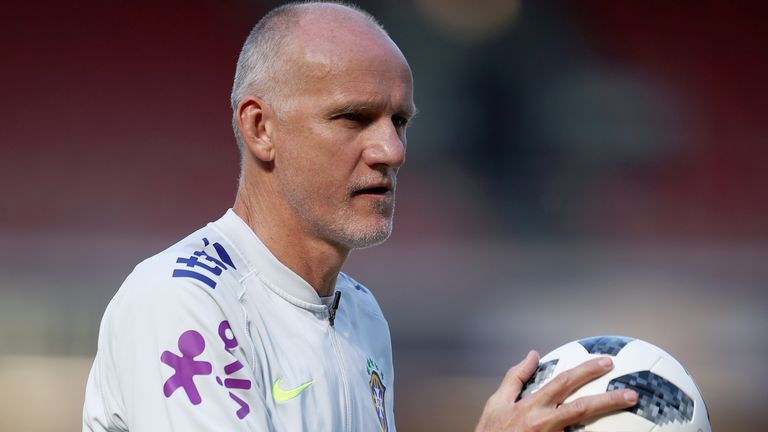 "Tafa is someone that has a big impact on my life and my career before he was even my goalie coach, because of everything that he was as a goalkeeper and for everything he did for the Brazilian national team," says Alisson.
"That was always enough to admire him, but then, in the national team, we started to work together, and I could see that the qualities he had as a goalkeeper, he has as a goalie coach as well.
"I always felt good working on him in the national team, even if it was only for short periods of time, and I always imaged how good it would be to work with him every day."
Me and Tafa, we are now friends as well. I admire him in every way possible. I can see him as a friend, as a goalie coach, as a legend, and as a family man
That opportunity arose last year, when the club expressed a willingness to act on his suggestion of hiring Taffarel to work with existing goalkeeping coaches John Achterberg and Jack Robinson.
"When I signed my new contract with the club last year, I had won the goalkeeper of the year already, and every trophy possible, but I still wanted to improve," explains Alisson, who will head to the World Cup in Qatar later this month as Brazil's No 1.
"That's still the case now. I'm only 30, so I have a long way in front of me, and bringing Tafa, together with John and Jack, has given us a really good mix.
"We have John's experience in English football, the same as Jack. They helped me massively to settle in here and to understand Premier League football, to understand the club, to understand the country. They helped me to improve as well.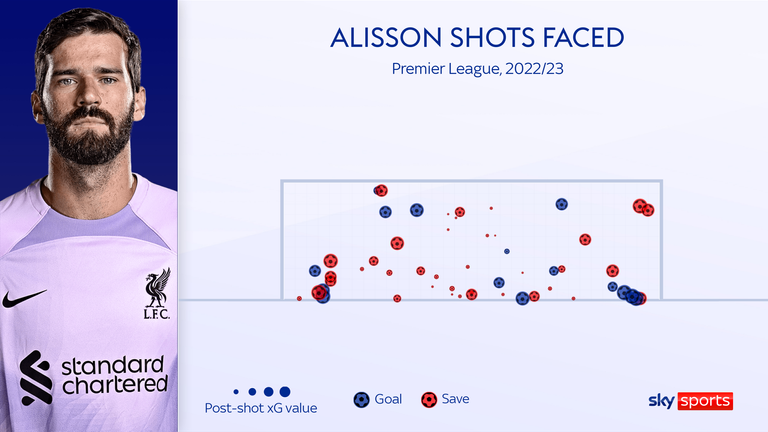 "Now, having them together with Tafa, is something amazing. Then, me and Tafa, we are now friends as well. I admire him in every way possible. I can see him as a friend, as a goalie coach, as a legend, and as a family man."
Taffarel's arrival has transformed Alisson's way of working.
Like Alisson, Taffarel spent much of his playing career in Europe, but his coaching methods are more typical of his native country, with more of a focus, Alisson explains, on technique.
"The main reason I wanted to have him here was because of the methodology of goalkeeper coaching in Brazil. It's something that I grew up with, but it changed when I came to Europe.
"When I went to Italy, it changed from Brazil, and when I came to England, it changed from Italy. There are some similarities, but I always felt that I wanted to have that kind of training back.
"Brazilian goalkeeper technique, I feel, is one of the best in the world and we are good for a reason; because we have really good goalie coaches who work in a way that makes us improve every day, and not only in the technical aspect, but the physical as well.
"It is a really intense kind of work. I'm not someone who spends too much time in the gym. I like to do strength and power on the pitch with the ball. So, the way he works helps me on that as well."
Recent evidence shows beyond all doubt that it is paying off.
This season has brought challenges few expected for Liverpool. Klopp has issues to address. But his goalkeeper is not one of them. Alisson, already brilliant, just keeps getting better.
Watch Tottenham vs Liverpool live on Sky Sports Premier League from 3.30pm on Sunday; kick-off 4.30pm