Oyinkansola's Al Grandé Boutique brand hasn't always been a clothing brand. It started back in high school when she was 16 years old. She was a part of the international group in her school, which meant that she was a student who got above-average grades. So, her group had a class called "The Personal Project," where they had to start a project and document how they started it and what it did for them. For as long as she can remember,  she has always loved the idea of entrepreneurship. She wanted to take pride in knowing she had created a business of her own. Also, she had always dreamt of becoming a well-respected and known fashion designer.
At that time, she had no funding to make my fashion brand, so she had to start small. With a $700 loan from her mother, she opened up a local cosmetics shop, Al Grandé Cosmetics, that sold lipgloss, highlighters, and lashes. Her friends in high school were helpful as they bought cosmetic products from her. In a matter of time,  all of her products went out of stock as she had to restock because of popular demand from customers who were happy with their initial purchase. To fulfill these demands, she had to buy more materials and ingredients. At that point, she had made $500 from selling lip glosses and lashes, so she decided to purchase items needed for the restock, and then BOOM! The pandemic hit.
Since she was a local business and due to the quarantine, she had not been able to deliver orders, which shut down her business. She only had $250 in her bank account, and she just had to do something. She found an excellent new vendor and rebranded her company into Al Grandé Boutique. She started selling clothes, and her first customer was a business friend of hers. They were a part of an Instagram chat group where they were all teen girlies who owned businesses.
After that, she had a lot of sales and started working with influencers like the Brat TV Actress Skyler Aboujaoude and Instagram influencer Luunaby. And she liked the concept of virtual stylists, so she contacted various Instagram virtual stylists like Stylebyarose, Sarah Chaahinee, Stylebyjessy, Styled By Bubble, and more to promote the clothing store.
Beforehand, she had noticed that clothing brands would often approach these Instagram virtual stylists to have their brands promoted on their page. These brands would give the stylists discount codes to share with their audience and only pay them a commission if someone used their affiliate code on the brand's website. These clothing brands were essentially getting free promotion from these virtual stylists because they would get a lot of traffic and sales on their website thanks to the virtual stylists, but there was only a 10% chance those customers would use the commission code. And that just wasn't it for her. So she decided to offer these stylists a monthly payment, which was good for both of them. So she got more traffic to her website and started growing more.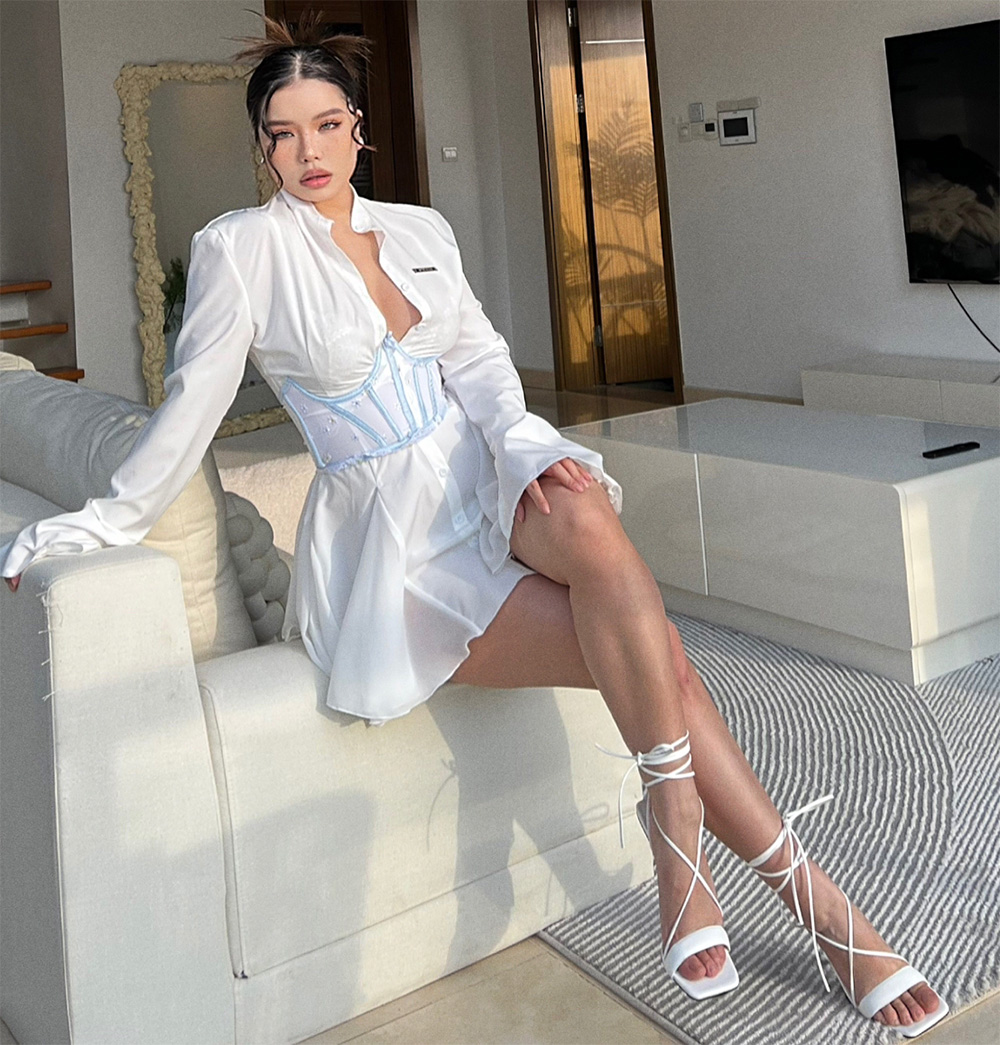 Subsequently, she saw that more people became interested in alternative clothing. Thus, she branched out a sub-brand to sell gothic, alternative, and grunge aesthetics in addition to kawaii, Harajuku, and more that she named Al Grandé Boutique Alt. On her business website, Al Grandé Boutique, she sold normal, dark academia, preppy, y2k, to bruh girl aesthetic outfits.

Following that, she thought of opening a TikTok account for her alternative clothing website algrandealt.shop to promote it more, and the Tiktok account @algrandeboutiquealt gained over 160k followers in three months because of the great content. The brand would also promote small Asian influencers on this TikTok account. One of the brand's TikTok videos is still going viral with a reach of over 7 million views and over 2 million likes. Overall, the brand has a solid social media presence across many platforms like Instagram, Pinterest, and TikTok.
Now, she is focusing on accomplishing the dream of becoming a well-respected fashion designer. She will soon be getting ready to sell originally designed items by her. She can't wait to keep going, keep growing and make history in the fashion industry.
Viral Tiktok video: