New Delhi:
New cases of coronavirus infection in India were recorded over 50,000, taking the total tally of COVID-19 cases to 3,02,33,183 according to the Union Health Ministry data.
The COVID-19 active caseload is 5,86,403 which now comprises 1.97 cent of the total infections.
The recovery rate is 96.72 per cent, the data stated.
A total of 50,040 new infections were registered in a day, while the death count increased to 3,31,895 with 1,258 daily new fatalities, the data updated at 8 am showed.
Meanwhile, the Centre on Saturday told the Supreme Court that it expects to get around 188 crore vaccine doses – from at least five manufacturers – to inoculate the entire adult population by the end of the year. Only about 5.6 per cent of India's adult population has received two doses, according to the government.
"Total population – above 18 years of age – is approximately 93-94 crore. As such, administering two doses to these beneficiaries would require an estimated 186 to 188 crore vaccine doses. Out of this requirement, 51.6 crore doses will be made available for administration by July 31, leaving a requirement of approximately 135 crore vaccine doses for complete vaccination to the eligible population," the Centre said in an affidavit filed by Manohar Agnani, Additional Secretary, Health Ministry.
Here are the updates on coronavirus (COVID-19) cases:
UK reports another 14,876 coronavirus cases
Britain has reported another 14,876 coronavirus cases in the latest 24-hour period, bringing the total number of coronavirus cases in the country to 4,732,434, according to official figures released Sunday.
The country also recorded another 11 coronavirus-related deaths, bringing the total number of coronavirus-related deaths in Britain to 128,100. These figures only include the deaths of people who died within 28 days of their first positive test.
More than 44.3 million people in Britain have received the first jab of COVID-19 vaccine and more than 32.4 million people have received two doses, the latest figures also showed.
Bihar logs 185 fresh COVID cases in last 24 hours
Bihar registered as many as 185 COVID-19 cases in the last 24 hours, Bihar Health Department informed.
Now, the total number of active cases in the state stands at 2,141.
So far, Bihar has seen a total of 7,09,578 recoveries and the recovery rate in the state currently stands at 98.38 per cent.
1,00,021 samples have been tested in the last 24 hours, the health department added.
With 16 cases each, districts of Samastipur and Purnia logged the highest number of cases in the last 24 hours.
Bengal reports 1,836 fresh COVID-19 cases, 29 deaths
West Bengal's COVID-19 tally mounted to 14,94,949 on Sunday as 1,836 more people tested positive for the virus, the health department said in a bulletin.
A total of 29 fresh fatalities pushed the deaths to 17,612, it said.
The state now has 21,884 active cases, while 14,55,453 people have recovered from the disease, including 2,022 since Saturday.
West Bengal has so far tested over 1,40,61,046 samples for COVID-19.
Odisha's lone patient detected with COVID's Delta plus variant recovers in home isolation
Amid concerns over new Delta plus variant of COVID-19, Odisha's first patient, who was detected with the new mutant version, on Sunday said it took him a little over three weeks to defeat the virus. 
The 60-year-old man, who hails from Barkote block of Deogarh district, also said that he strictly followed all advices given by doctors as he underwent home isolation, and that has helped him recover quickly.
"I experienced body ache and flu-like symptoms on April 23 and tested positive for the delta variant of the virus on April 26. I had taken the first dose of Covishield vaccine on March 30. It took me around 20-25 days to defeat the virus. Thankfully, I didn't have to visit hospital," he told a local television channel.
Deogarh Chief District Medical Officer (CDMO) MK Upadhaya noted that as many as 81 people were diagnosed with the disease between April 10 and April 30 in the village, where the 60-year-old man resided.
COVID-19: Punjab records 298 fresh cases, 11 more fatalities
With 298 fresh cases, Punjab's COVID-19 tally climbed to 5,94,883 on Sunday, while 11 more fatalities pushed the deaths due to the viral disease to 15,991, according to a medical bulletin.
The number of active coronavirus cases in the state has dropped to 4,020.
The fresh deaths were reported from several districts, including Amritsar, Gurdaspur and Ferozepur.
Patiala reported 38 fresh cases, followed by Ludhiana (32) and Hoshiarpur (23).
The COVID-19 positivity rate in the state stood at 0.58 per cent.
With 641 recoveries from the infection, the number of cured patients has gone up to 5,74,872, according to the bulletin.
Rajasthan reports 162 COVID-19 cases, 4 deaths
Rajasthan reported 162 COVID-19 cases and four fatalities on Sunday, taking the state's infection tally to 9,52,129 and the deaths to 8,914.
Two deaths were reported in Bikaner, while one fatality each was registered in Sriganganagar and Kota, according to an official report.
Alwar reported the highest number of 63 new cases of the infection, while Jaipur and Sriganganagar saw 20 cases each.
Maharashtra sees 9,974 new COVID-19 cases, 143 deaths, 8,562 recoveries
Maharashtra on Sunday reported 9,974 fresh coronavirus positive cases and 143 fatalities, taking the tally of infections to 60,36,821 and the toll to 1,21,286, the state Health department said. 
A total of 8,562 patients were discharged during the day, taking the count of recoveries in Maharashtra to 57,90,113 so far, leaving the state with 1,22,252 active cases, it said. 
Mumbai reported 739 fresh cases and 13 deaths, raising the cumulative caseload to 7,20,349 and the number of the COVID-19 deceased to 15,396. 
Mumbai division, including the city and satellite towns, added 2,188 new cases to its tally and 25 deaths, which raised the total caseload to 15,89,869 and the fatality count to 31,858, the report said.
COVID-19: Jammu and Kashmir records 415 fresh cases, eight more fatalities
With 415 fresh cases, Jammu and Kashmir's COVID-19 tally climbed to 3,14,731 on Sunday, while the deaths due to the viral disease shot up to 4,304 with eight more people succumbing to it, officials said.
Of the fresh cases, 171 were from the Jammu division and 244 from the Kashmir division of the Union Territory, they added.
Srinagar district recorded the highest number of 78 cases, followed by 63 in Pulwama district, the officials said.
The number of active coronavirus cases has dropped to 5,292 in the Union Territory, while 3,05,135 patients have recovered so far, they added.
Kerala reports 10,905 new COVID-19 cases, 62 deaths in last 24 hours
Kerala reported 10,905 new cases of COVID-19 and 62 deaths in the last 24 hours, the state health department said on Sunday.
Kerala also witnessed 12,351 recoveries in the last 24 hours.
As per the state government data, there are 99,591 active cases in the state while the death toll has mounted to 12,879.
As many 50,040 new COVID-19 cases were reported in India in the last 24 hours, taking the cumulative count of infections to 3,02,33,183, informed the Union Health Ministry on Sunday.
President Ram Nath Kovind appeals to people to get vaccinated, motivate others to follow suit
President Ram Nath Kovind on Sunday stressed the importance of COVID-19 vaccination and appealed to the people to not only get themselves vaccinated but also motivate others to get inoculated.
The President stated that the vaccination drive is going on all over the country, including in Uttar Pradesh.
He said the vaccine is like a shield for protection against the coronavirus. "Therefore, one should not only get vaccinated oneself but also motivate others to get vaccinated."
"The COVID-19 pandemic has caused great disruption in human life," the President said at the Paraunkh village, which is his birthplace, in Kanpur Dehat district of Uttar Pradesh.
"The adverse impact of the epidemic is all pervasive and tragic. Many people have lost their loved ones. To fully eradicate this pandemic, we still need to be extremely cautious. Uttar Pradesh, the most populous state of the country, has taken comprehensive and effective steps for investigation, prevention and vaccination to curb the spread of COVID-19," he said.
Goa reports 215 new COVID-19 cases, seven deaths
Goa's coronavirus caseload went up by 215 on Sunday to reach 1,66,098, while the death of seven patients took its fatality count to 3,039, a health department official said.
A total of 301 patients recuperated from the infection during the day, which pushed the state's recovery count to 1,60,548.
There are 2,511 active COVID-19 cases in the coastal state at present, the official said.
As 3,120 tests were conducted in the last 24 hours, the overall test count has gone up to 9,11,479, he added.
COVID-19: Assam to pay Rs 2.5 lakh to widows
The Assam government on Sunda announced that it will give Rs 2.5 lakh each to all widows, whose husbands died of COVID-19, if their family income is less than Rs 5 lakh.
Under the new "Chief Minister's COVID-19 Widows Support Scheme", the beneficiaries of "Orunodoi" and "Widow Pension" schemes are also eligible for the one-time financial assistance.
"Many precious lives were lost due to #COVID19, leaving a number of families in distress. In our sincere effort to provide some relief to women whose husbands died of the disease, Rs 2.5 lakh will be given to such eligible widows as one time grant," Chief Minister Himanta Biswa Sarma tweeted.
Andhra Pradesh reports 4,250 new Covid-19 cases, 33 deaths
Andhra Pradesh reported 4,250 fresh coronavirus cases, 5,570 recoveries and 33 deaths in 24 hours ending 9 AM on Sunday.
The latest bulletin said the number of active cases has fallen further to 44,773. So far, there have been 18,79,872 Covid-19 positive cases, 18,22,500 recoveries and 12,599 deaths.
East Godavari district saw 890 new cases in a day, Chittoor 673, Prakasam 461, West Godavari 417, Krishna 399 and Guntur 309. The remaining seven districts logged less than 200 fresh cases each.
COVID-19: 45 more deaths, 222 new cases in Uttar Pradesh
The COVID-19 deaths in Uttar Pradesh rose to 22,518 on Sunday with 45 more fatalities, while 222 new cases pushed the infection tally to 17,05,596, according to an official statement issued.
Of the fresh fatalities, six deaths each were reported from Lucknow and Allahabad, followed by five in Kanpur, the statement said.
Of the new cases, 23 were reported from Lucknow followed by 17 from Kanpur, 15 from Varanasi and 14 from Gonda, it said.
In the past 24 hours, 169 people recovered from the disease, taking the overall recoveries so far to 16,79,913, the statement said.
Availability Of Covid Vaccine For Children Will Pave Way For School Reopening: AIIMS Chief
Making COVID-19 vaccine available for children will be a milestone achievement and pave the way for reopening of schools and resumption of outdoor activities for them, AIIMS Chief Dr Randeep Guleria has said.
He said the data of phase two and three trial of Bharat Biotech's Covaxin on two to 18 years age group is expected by September. The vaccine can be available for children in India around that time following approval from the drug regulator, he said.
"If the Pfizer vaccine gets approval before that, then it can also be an option for children," Dr Guleria told PTI on Saturday.
According to a senior government official, pharmaceutical major Zydus Cadila is also likely to soon apply to the Drugs Controller General of India for emergency use authorisation for its COVID-19 vaccine ZyCoV-D, which it claims can be given to both adults and children.
"So, if the Zydus vaccine gets approval, it will be another option," Dr Guleria said.
Delhi registers 89 fresh COVID-19 cases; positivity rate 0.12 per cent
The national capital reported 89 cases of COVID-19 and four deaths on Sunday as the positivity rate dipped to 0.12 per cent, according to data shared by the health department. 
Delhi has so far recorded 14,33,934 coronavirus cases. Of this, over 14.07 lakh patients have recovered while the death toll stands at 24,965.
On Saturday, the city reported 85 COVID-19 cases, the lowest daily count this year, with a positivity rate of 0.12 per cent and nine deaths.
COVID-19: Tamil Nadu logs nine cases of Delta Plus variant, one death
As the COVID-19 pandemic continues to prevail across the country, Tamil Nadu Health Minister Ma Subramanian on Saturday informed that the state has reported nine cases of the Delta Plus variant.
While addressing the press conference, Subramanian (in Tamil) said, "A patient who died on April 21 was infected with Delta Plus variant of coronavirus. A total of 9 cases of Delta Plus variant have been reported in Tamil Nadu so far."
Tamil Nadu reported 5,415 new COVID cases, 7,661 recoveries, and 148 deaths in the last 24 hours, according to the health bulletin issued by the state health department yesterday. The total count of active cases in the state now stands at 44,924. As per the state government data, 23,83,624 people have recovered from the disease so far, while the deaths have mounted to 32,199.
Jharkhand records three more COVID-19 fatalities, 98 new cases
Jharkhand recorded three more COVID-19 deaths and 98 new cases in the last 24 hours, a health department bulletin said on Sunday.
The deaths which were reported from East Singhbhum, Bokaro and Khunti district pushed the COVID-19 deaths to 5,110.
The 98 new COVID-19 cases took the tally to 3,45,259. Ranchi district reported 18 new cases followed by Simdega (12) and Latehar (9), the bulletin said.
Jharkhand now has 1,113 active COVID-19 cases while 3,39,036 patients have recovered from the infection, including 166 in the last 24 hours, it said.
Arunachal Pradesh Reports 287 New COVID-19 Cases, 2 More Deaths
Arunachal Pradesh reported 287 fresh COVID-19 cases, pushing the tally to 34,767 on Sunday. The COVID-19 death count in the state rose to 167, as two more persons including a woman, succumbed to the infection in the past two days.
Ladakh Records 21 New COVID-19 Cases; More Restrictions Eased In Leh
Ladakh recorded 21 fresh COVID-19 cases, taking the overall tally to 19,941, while active cases dropped to 281 after 33 more patients recovered from the disease on Sunday. Leh announced further easing of COVID-19 restrictions, allowing shops, gymnasiums and spas to open with 50 per cent occupancy from 5 am to 8 pm besides vehicular movement, including passenger transport, with 50 per cent seating capacity from 7 am to 8 pm, on all days of the week.
Mizoram Reports 233 New COVID-19 Cases, 2 Related Fatalities
Mizoram's COVID-19 tally rose to 19,324 on Sunday as 233 more people, including 62 children, tested positive for the infection, while two fresh fatalities pushed the state's coronavirus death count to 91.
Over 31.51 Crore COVID-19 Vaccines Provided To States, UTs: Centre
The Centre has provided 31,51,43,490 COVID-19 vaccine doses to States/Union Territories so far, Union Ministry of Health and Family Welfare said on Sunday. This number includes vaccine procurement from both the free-of-cost channel and the direct state procurement category. The Ministry also apprised that more than 1,15,46,024 vaccine balance and unutilised Covid vaccine doses are still available with the States/UTs.
231 Fresh COVID-19 Cases, 3 Deaths Recorded In Puducherry
Puducherry added 231 fresh COVID-19 cases on Sunday which took the tally to 1,16,645, while three more fatalities pushed the death count to 1,744. Recoveries outnumbered fresh cases with 331 people being discharged from hospitals. Active cases stood 2,672.
Few devotees attend Sunday prayers at a church in Kottayam due to COVID-19 restrictions.
Public gathering up to 15 allowed in temples, mosques, and churches at a given time as per the new template for the unlock process.
Just In| India reports 50,040 new cases in last 24 hours, 2% higher than yesterday
Coronavirus LIVE Updates: 432 new COVID-19 cases in Thane, 18 more deaths
With the addition of 432 new cases of coronavirus, the infection count in Maharashtra's Thane district has gone up to 5,30,720, an official said on Sunday.
Besides these new cases reported on Saturday, the virus also claimed the lives of 18 more people, raising the death toll in the district to 10,629.
The COVID-19 mortality rate in Thane is two per cent, he added.
Details of recovered and under-treatment patients were not provided by the district administration.
In neighbouring Palghar district, the COVID-19 case count has gone up to 1,16,033, while the death toll has reached 2,537, another official said. 
Police check vehicular movement as weekend lockdown imposed in Thiruvananthapuram; only essential services allowed.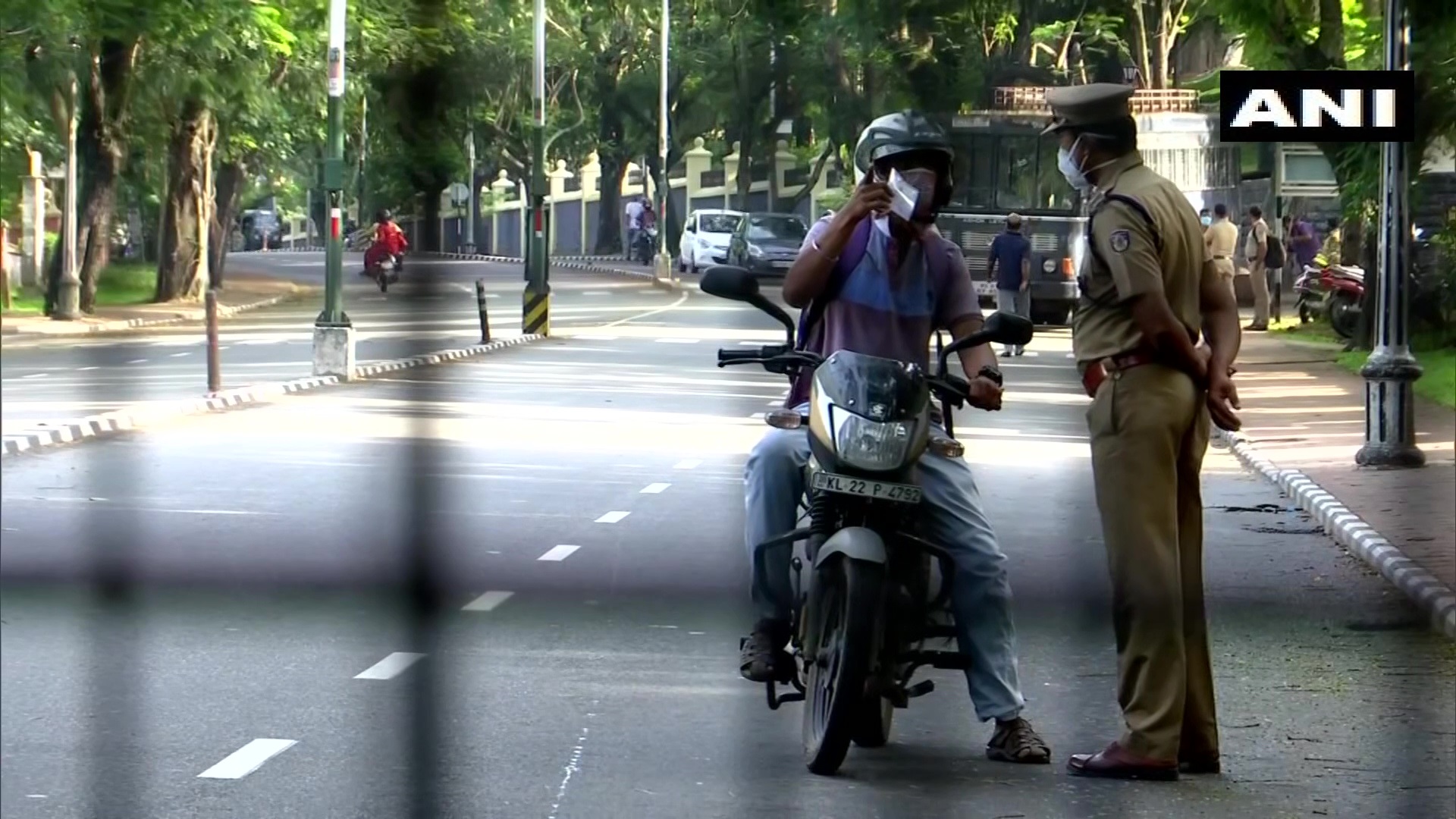 Jharkhand preparing to fight against next COVID-19 wave: Hemant Soren
The third COVID-19 wave is anticipated but the government is preparing to fight against the next wave, said Jharkhand Chief Minister Hemant Soren.
"Our government will not leave any stone unturned to create the best possible health infrastructure for our people and children. The third wave is anticipated but the government is preparing itself in advance to fight against the new wave. The second wave was a lesson for us; it helped us find the loopholes in our health facilities. But, this time we are preparing ourselves in advance," Mr Soren said.
All districts are working on a war footing and ICUs are being developed in all the Sadar Hospitals and few CHCs across the state. The child wards across government hospitals are also being equipped with modern medical facilities
Indore district administration has set up special centres to vaccinate women
"These centres are receiving very good response and will continue to function. In addition, we're planning to launch vaccination vans," CMHO Dr BS Saitya said yesterday.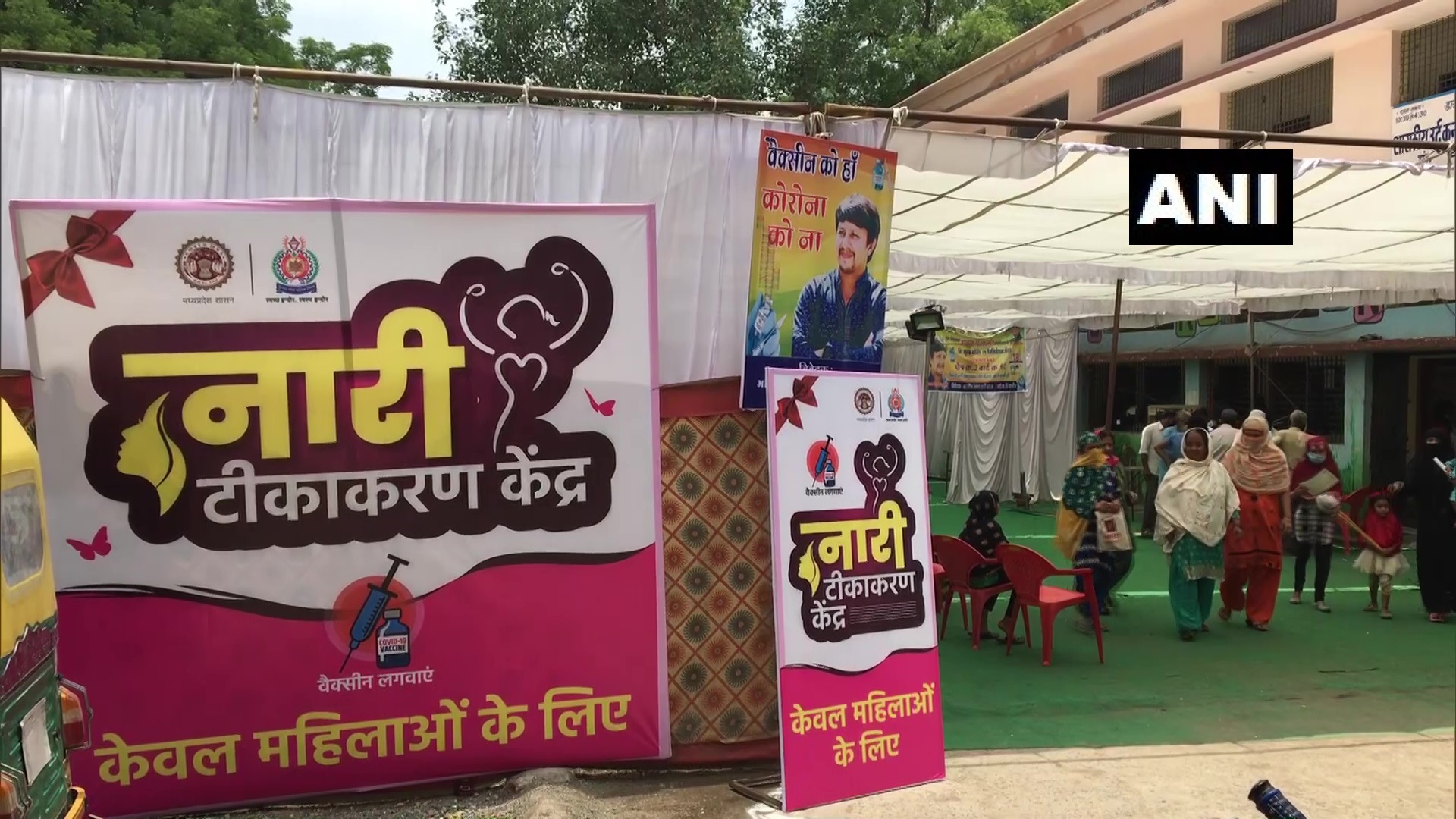 Update| Mizoram's COVID-19 case tally rises to 19,324 with 233 new infections reported in the last 24 hours; positivity rate at 6.51%
COVID-19: Delhi Gyms To Reopen From Monday, Weddings Can Have 50 Guests
Gyms and yoga centres have been allowed to reopen in Delhi from Monday at 50 per cent capacity, an official government order said.
Banquet halls, marriage halls, and hotels have also been permitted to host weddings, but the number of guests has been capped at 50, the order said.
The national capital, which recorded 85 new infections in 24 hours – its lowest daily rise in Covid cases since May 1, 2020, has been easing pandemic restrictions over the last few days. Last week, Delhi allowed shops to remain open through the week and markets to open with partial workforce as daily cases showed a downward trend.
COVID-19: Zydus Cadila Shot For 12-18 Soon, Centre Informs Supreme Court
A new coronavirus vaccine developed by Indian pharmaceutical company Zydus Cadila will be available soon for those between 12-18 years of age, the central government said in an affidavit to the Supreme Court on Saturday.
Filed in response to the Supreme Court's pointed questions about the vaccination drive that followed a dramatic overhaul in its policy earlier this month, the centre also briefed the court about its plans to vaccinate all adults in the country by the end of the year.
It said that 186.6 crore doses are needed to vaccinate people above 18 years who number 93-94 crore.