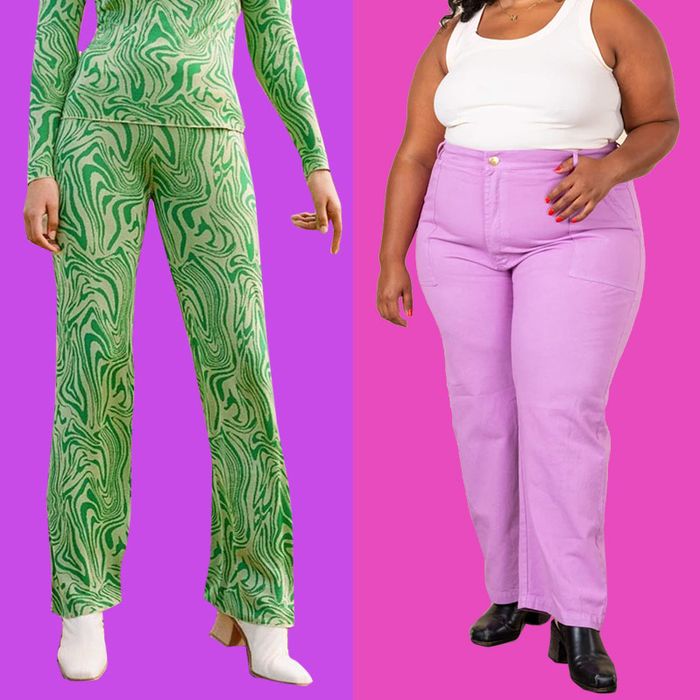 Photo-Illustration: retailers
During the winter of 2020, it seemed like women's-pant trends were slowly veering away from the high-waisted crop to the early-aughts low-rider. But then, of course, came spring 2020 to summer 2021 — 18 months of pretty much only sweatpants. While in lockdown, for the first time in our adult lives, we had the chance to dress solely for ourselves. For more than a year, standing in front of our closets no longer involved calculating who we would see that day, how far we might be walking, and whether or not we planned on eating pasta.
Now, with (some) schools and offices reopening, we're in the midst of something of a pants paralysis. What style to buy? And which pairs are actually worth it? To that end, we asked 60 well-dressed women which pants they're wearing right now and what they've seen (and especially liked) out in the world that they plan on wearing soon. Their answers confirmed our suspicions: The landscape has changed right along with our priorities. Of course, not everyone we talked to agreed on every point. Illustrator Annie Reeds never stopped wearing jeans in quarantine. "I like a proper waistband. That tactile structure has always been a big part of helping me feel internally upright, like I can participate in the day," she says. But there were a few themes that kept coming up in conversation.
From everything we heard, we pieced together a pants-picking guide focusing on what is actually popular right now — namely, jeans that feel good to sit in, loud-patterned pants, and sexy pants with cutouts — or, you know, a built-in faux thong.
These flared color-block pants from STAUD are on makeup artist Risa Miyamoto's want-list now that she is back to working on set. They're a dressier, and more playful, version of what she's been wearing throughout the pandemic. "I can wear these to work on a shoot where I have to bend my knees a lot and then out to dinner with friends," she says.
"I've spent so long dressing for a top-up view, I want to let my legs have a little fun," says Strategist UK senior editor Ailbhe Malone. To satisfy that urge, she's been eyeing this bold pair of pants from Polka Pants, a brand that designs specifically for female chefs.
Photo: retailer
House of Sunny is extremely popular on Tiktok, mostly for its knit dresses, but Reilly also mentioned seeing its bold-print pants on women all over social media. The marble print on these place them trendwise alongside the Paloma Wool pants below, and they also have ankle slits, a highly desirable detail we heard about several times over.
Writer Emma Orlow says her post-pandemic first-date style is to wear her loudest pants. Though she doesn't own them personally, she says she has seen these bright, squiggly pants from Paloma Wool all over Instagram. Laura Reilly, InStyle e-commerce editor and creator of the shopping newsletter Magasin, has been spotting them too and predicts this marbley pattern is poised to take the place of the omnipresent checkerboard print.
Photo: retailer
Sophia Cosmadopoulos, co-founder of Summertime Gallery, spent the pandemic committed to her routine of "dressing to impress," even if no one on Zoom saw her bottom half. "Days would go by without me leaving my apartment, but I would still put on a lip and a pair of real pants. It honestly helped me maintain a sense of normalcy and levity," she says. These high-waisted gingham pants from Billabong are her current favorites because they're affordable but look like they could be high fashion.
"Post lockdown, I didn't have a clue what to wear. Which is why I've been drawn to statement pants," says model Christel Langué. "People think I've worked so hard to put a look together, but it's just the pants." Her favorites are a pair of lime-green sequined pants from Cinq a Sept — but since they're no longer available, she recommends this similar style in burgundy.
Photo: retailer
Former Curbed editor Mercedes Kraus says more is more these days. "I'd like to start dressing like I never have before. What I'm seeing and what I'm drawn to here in L.A. is psychedelic and unexpected, something with a lot of pattern and color and volume. I am so ready to get weird," she says. Which is why she likes these trousers — which are black spot-dyed with orange, green, and white.
Artist and model Jo Rosenthal loves wearing clothes from Collina Strada because she never sees anyone else wearing the same thing. She has a version of these illustrated pants that has different houses on it. "It's like little-kid drawings of houses," she says.
Reilly recommends the brand Gimaguas for anyone looking to buy a pair of loud and flattering pants. This psychedelic pair will satisfy the urge to make a statement without spending too much money.
"Barely pants are going to be big, especially through the end of summer, when people want to be as exposed as possible, on both a comfort and a hotness level," says Reilly. She's been coveting these silk Tigra x Tigra side-tie pants that, according to her, probably won't ever go on sale. "But if they do, I'll grab them in a heartbeat," she says.
As with all things Y2K, pants that make it look like you're wearing a highly visible thong have popped up as a major trend this year. These Subsurface pants get the job done — but if a full-on whale tail is too much for you, Reilly says there are a bunch of slightly more subtle iterations of the trend with a single side strap or crossover front straps from Aya Muse, Musier, and Miaou.
Audrey Woodward, graphic designer for shoe brand ILYSM, says these I Am Gia lace-up pants (and other designers' riffs on them) are super-comfy and sexy. "I think things that look eye-catching on TikTok will be popular, like cut-outs and unexpected details," she says.
"V-cut waist pants are a trend right now," says Jourdan Ash, founder of True To Us. "I like Miaou's version in leather — because even as my body has changed throughout quarantine, it looks amazing in leather. They're flattering whether you're plus-size or not."
"My go-to disco pants are essentially the black pants Sandy wears in the end scene of Grease. I like them because they are a subtle showstopper," says Lily Carothers, owner of a vintage clothing store in Louisville, Kentucky, of these alluring but not-too-revealing pants from American Apparel.
Photo: Courtesy of the Retailer
This past year, Strategist senior editor Simone Kitchens sold a lot of her tight and not very comfortable vintage Levi's on Depop and replaced them with baggier pants with cinched waists. Like many of the other women we talked to, she has no desire to go back to wearing tight pants that hurt in the crotch, and with so many cool brands making bigger, baggier pants, she has a lot to choose from, like this pair from British brand Studio Nicholson she's been wanting to buy. "They do baggy pants, but they do them a little more structurally," she says.
Photo: Courtesy of the Retailer
Two people mentioned this pair of flowy pleated khakis by the Row as the platonic ideal of the current big-pants trend. Emilia Petrarca, senior writer at the Cut, says Haim, Kendall Jenner, and Elsa Hosk all own a pair — and Langué believes the silhouette is what is going to be most popular this fall.
Photo: Courtesy of the Retailer
While in quarantine, public-relations executive Mimi Chang invested in fancy lounge pants and even bought a pair of cashmere sweatpants for the first time. But as she's transitioning out of loungewear, her go-to pants have been these wide-leg low-rise trousers, because, she says, they're both sexy and comfortable. "They're the closest thing to real pants I can get myself to wear. They flatter my body and I love the sliver of skin they reveal," says Chang.
Photo: retailer
Petrarca is fond of this playful origami-esque pair from Caron Callahan. "I love that these pants are simultaneously relaxed — easy, soft fabric — and refined, with an unusual pleat down the front that opens up when you move to make a big pair of pants even bigger. The cinched high waist and ankles are really flattering, and then it's a party in the middle," she says.
According to Sunhee Evans, wide-leg pants like these are very easy to dress up or down and have a timeless style. "In sum, they're pretty hard to mess up," she says.
Malone calls these Carrier Co. pants "flappy trousers" and says she is totally consumed by them right now.
Photo: Courtesy of the Retailer
Denim wasn't on everyone's list— we heard from several petite women who mentioned having trouble finding flattering wide-leg jeans—but for the most part, those who are wearing jeans want something baggier, more comfortable, and less cropped. Strategist writer Jenna Milliner-Waddel prefers these wide-leg Levi's. "They are super high-waisted, like almost to my boobs, so they are really flattering and they don't make me look any bigger than I actually am," she says, noting that she won't even have to get them hemmed if she wears them with heels. Woodward, who says she grew up with skinny jeans and harbors a lot of resentment toward them, says of her baggy Levi's, "They're so nice when it's hot outside because of how loose they are. And they border on low-rise when they stretch out, which I think is unexpected and fun to work into outfits."
Sheena Sood, founder and designer of Brooklyn-based fashion brand Abacaxi, is thrilled to see wide-leg and baggy pants trending again. For baggy jeans with unique details, she goes to reworked denim brand Samaria Leah. "They're one of the first brands I noticed doing this lacing trend. There's something kind of '90s about it."
Photo: Courtesy of the Retailer
House Of founder Christina Tung has been loving all the oversize pants options — and has been on the hunt for baggy white denim, in particular, inspired by a belted and baggy Julie Pelipas street-style look. Though they're not the exact pants Pelipas wore, she says these 100 percent-cotton high-waist jeans from Russian brand Monochrome are what she'll probably end up buying.
GQ writer Gabriella Paiella has mostly been wearing black jeans from Warp & Weft, but she also told us she's looking for "a nice pair of wide-legged high-waisted trousers." Based on Evans's Aritzia recommendation, we found a pair of 100 percent-organic-cotton paper-bag jeans, which we think might be a perfect combination of her current favorites and the wide-leg pants of her dreams.
Kelsey Keith, a former editor-in-chief of Curbed who has spent most of COVID on maternity leave, is looking for pants that combine comfort and style. "I love B-Sides Plein jeans, which I wear (at present) all the time. The shape of the legs is important to me. I like, if not quite a balloon, something that is wider in the legs," she says.
Strategist deals writer Leah Muncy wears these Levi's dad jeans with sneakers and a baby tee. She says, "They've got a highish rise but a loose waist so they're really flattering with crop tops. Plus the inseam is 28 inches, so they're the perfect baggy jeans if you're short."
The pandemic has made stylist Ansley Morgan more inclined to wear lounge pants in public. She — and several other women we spoke to — particularly likes this Big Bud Press pair; they look like a pair of vintage carpenter pants, but have an elastic section built into the back of the waistband. Orlow is also a fan, saying, "They're super-comfy, come in every color of the rainbow, prioritize inclusive sizing, and have long pockets that fit an iPhone well."
Photo: retailer
Tung is partial to these bright-red joggers from Paradis Perdus — she has, she says, "been inspired by all the colors and prints I've been seeing recently."
Three people told us they were either wearing or dreaming of Issey Miyake Pleats Please pants. "I wear my Pleats Please pants a lot. They're comfortable, retain their shape, and they make me feel semi-cool," says Sunny Kang. Reilly says they're something that always come to mind in summer. And New York Magazine newsletters editor Kelsi Trinidad calls the pants "my aspirational vibe as of late."
Ribbed knits have been trendy for some time (Eckhaus Latta and Simon Miller were early proponents), but have become especially so since the pandemic. Woodward says, "The slimmer-fitting flare shape of these lengthens your legs more than traditional bell-bottoms."
These stretchy green Simon Miller ribbed pants that Trinidad has been eyeing give you the flexibility of a sweatpant with a more dressed-up look.
Photo: retailer
"Before COVID, I was like, I can sit and be uncomfortable in these pants because it's all about the look, but now I refuse to suffer," says Ash. She recently picked up two pairs of these ribbed kick-flare pants from Urban Outfitters, which she says are very popular right now.
Stylist and designer Michele Janezic has been dreaming of knit pants too, specifically from sustainable brands Babaa and Misha & Puff. These wide-leg knit pants come in several cheerful colors and can be paired with a matching top.
Photo: Courtesy of the Retailer
To bridge the gap between loungewear and real pants this fall, plus-size fashion blogger Alysse Dalessandro will be wearing these '90s-inspired snap track pants from Fabletics. "They give me total Sporty Spice vibes," she says.
Many of the women we spoke to have of late discovered that wearing pajama pants (or sets) to work is acceptable, especially since printed matching sets have become so popular in the last year. Morgan likes this fruit-print lounge set in particular.
We also heard from a lot of people on the hunt to buy the perfect high-waisted linen pull-on pants. This pair from H&M feels "breezy but put together," says Strategist beauty writer Tembe Denton-Hurst.
"I feel like my style has gone from being very fashion-y to just comfortable," says Rosenthal. "And that includes wearing pajamas with a cuter pair of shoes." She bought this set after seeing — and admiring — a friend out and about in boxer shorts.
The Strategist is designed to surface the most useful, expert recommendations for things to buy across the vast e-commerce landscape. Some of our latest conquests include the best acne treatments, rolling luggage, pillows for side sleepers, natural anxiety remedies, and bath towels. We update links when possible, but note that deals can expire and all prices are subject to change.