Reaching 5 decades of life is spectacular but it can also be pretty scary and depressing for a person. To help him remember and cherish all the good things that happened in the past years, pick a happy 50th birthday meme from this list and show your appreciation and love.
See Also: Happy Birthday Quotes, Messages, Pictures, Sms & Images
Happy Age Advancement Day I Suppose Congratulations Are In Order?
Happy Birthday I Was Going To Drink Anyway
Happy Birthday You Sexy Beast
Have A Happy Happy Happy Birthday
Have The Time Of Your Life Happy 50th Birthday
Hmm, I Do Say Happy Birthday
Happy Birthday Hope It's Pretty Pretty Pretty Pretty Good
How Does Facebook Know It's My Birthday?
I Don't Feel Over 49 Years And 364 Days!
I Wish You Happy Birthday In Chinese "Yung No Mo"
It's Nice To Be Young Healthy And Full Of Energy Do You Remember What That Used To Feel Like
Keep It Classy… No Wine From A Box
Looking Fifty Is Great If You're Sixty
One Does Not Simply Have A 50th Birthday Without A Birthday Meme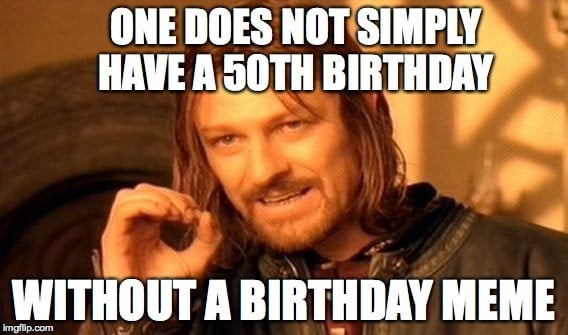 Remember Age Gets Better With Wine
Say Happy 50th Birthday One More Time…
The Whole Thing Is A Scam Birthdays Were Created By Hallmark To Sell Cards
To The Nations Best Kept Secret Your True Age
You Know You're Old When
Your Face When They Tell You The Correct Number Of Candles On Their Birthday Cake
Don't forget to share your favorite happy 50th birthday meme with your loved one!