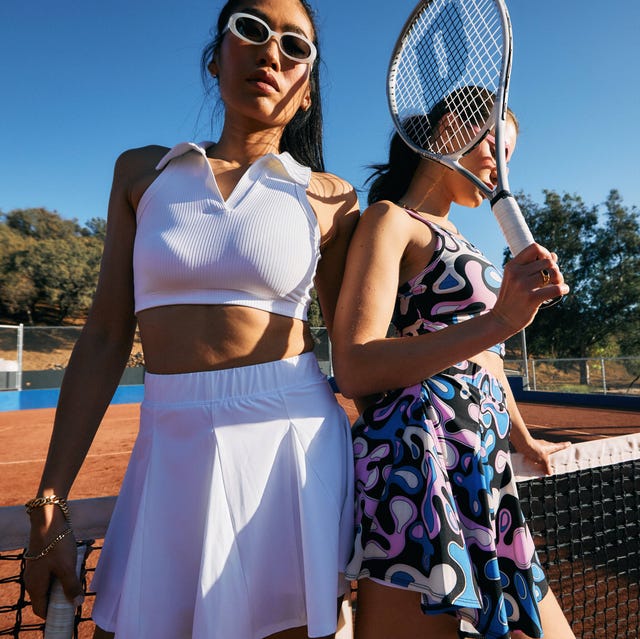 SCOTT LEON
There is one trend that has risen above the rest and seems like it has completely taken over 2021, and it is tennis skirts. Yes. The style has made its way into a ton of TikTok videos and so many brands have introduced the design in this past year. The tennis skirt is more versatile than you think though because it can look preppy, sporty, or flirty depending on how you style it. It's a logical transition from leggings and other athleisure, since most have stretch fabric that's comfortable, but you still feel like you're dressing up a bit when you wear it. Given that sporty-chic styles aren't going anywhere in the near (or far) future, we rounded up a bunch of cute tennis skirts that'll give you some outfit ideas. Besides, summer might be coming to a close but we still have a good month ahead of us to prance around in mini skirts, and that time shall NOT be wasted.
You can wear them with anything from sports bras to chic blazers, and you don't have to even play the sport to get in on the trend, FYI. Keep scrolling for 18 tennis skirt outfit ideas that'll have you serving looks either on or off the court.
Advertisement – Continue Reading Below
1
with a crop top and baguette
Wrap Pleated Mini Skirt in White
Collusion
us.asos.com
$26.25
A sky-blue top and coordinating baguette purse will look so good with a bight white style. 
2
with chunky shoes and a sweater
Varsity Tennis Skirt – Pink Lavender
Alo Yoga
aloyoga.com
$68.00
Give this pink one an edgy vibe by pairing it with black sneakers, a cutout bra, and a sweater. Add a chain choker and you're ready to impress. 
3
with a matching jacket
Printed Pleated-Hem Tennis Skirt
Tory Burch's tennis skirts have some of the cutest patterns, like this green floral one. Wear a jacket in the same print to go all out. 
4
with a graphic sweatshirt
Snail Solid Tennis Skirt
A white skirt, cozy crewneck, high socks, and white sneakers is an outfit combo that will never fail you. Add a button-down underneath the sweater to complete this preppy 'fit. 
5
with a matching sports bra and hat
Danzy Tennis Skirt
Danzy
bandier.com
$150.00
Matching your whole look from top to bottom, whether in color or in brand, is becoming a popular fashion statement. Danzy has created a whole LOOK to go with its logo tennis skirt: A sports bra, hoodie, and hat can all be worn together to create this killer ensemble. 
6
with a ribbed crop top
High Waisted Pleated Skirts for Women Girls Skater Tennis Skorts with Shorts Pockets Cute Mini A-Line Skirt (Black-1, Large, l)
Get in on the 90's vibes by pairing a baby tee with a black tennis skirt. Braid your hair and pile on the gold jewelry to finish it off. 
7
with a blazer and bralette
Recycled Mini Pleated Tennis Skirt Black
Gotta love a minimal look. Pick your favorite bralette, and wear it underneath an oversized blazer. Throw on a chunky loafer and you'll look like the most stylish person on the block. 
8
with a sheer long-sleeve and sneakers
Pleated textured stretch-jersey tennis skirt
L'ETOILE SPORT
net-a-porter.com
$165.00
Don't want the same exact white tennis skirt everyone seems to have? Opt for this textured version to add a slight twist. This whole neutral look takes the crown when it comes to an effortlessly sporty outfit. (Add a reusable water bottle to make sure you stay hydrated, too!) 
9
with a racerback tank
Naomi Pleated Skirt in White
Recreational Habits
$95.00
Try out a style from this emerging brand, which looks like its country-club approved.  Pair this classic pleated tennis skirt with a simple white logo tank. Oh, and can we call a tennis racket an accessory? Maybe not, but it does somehow complete the outfit, don't you think?
10
with an oversize striped shirt
High Waisted Plain Pleated Skirt
Yuemengxuan
amazon.com
$15.98
You can never go wrong with a high waisted skirt and striped long-sleeve. It's simple yet chic, and takes, like, no effort to put together. Add your favorite crossbody bag and accessorize with a few pieces of minimal jewelry, and you're set for the day.
11
with a collared tank top
Club Skort
YEAR OF OURS
revolve.com
$123.00
Year of Ours is a brand that has no shortage of cute tennis skirts. This black one has a soft ribbed fabric, a slide slit, built-in shorts, and happens to look cute with the matching polo tank top. 
12
with a zip-up and sneakers
The Exercise 3″ Skort
Outdoor Voices
outdoorvoices.com
$68.00
If you're actually going to play a game of tennis, you definitely want a style with built-in shorts. This style is both practical and stylish, especially when you wear it with a white half-zip and striped ankle socks. 
13
with a cropped blazer and heels
SOPHIE BLACK SKIRT
Lionne
lionneclothing.com
$178.00
This slit skirt and blazer situation is a definite showstopper. While high socks and sneakers are comfy and cute with skirts, throwing on your favorite strappy heels will instantly elevate an outfit.
14
with a polo and high-tops
Blake Tennis Skort
Splits59
saksfifthavenue.com
$128.00
Polo shirts are also happening, so combine the two trends together with a blue collared shirt and white tennis skirt. 
15
with a sling bag and tank
Pleated Stripe-Hem Skirt
adidas
farfetch.com
$114.00
Drape a waist bag over your shoulders and slip into your favorite black sneakers to recreate this cool ensemble. Loving the striped see-through panels on the hem, too. 
16
with a matching sports bra
Printed Tennis Skirt With Built In Shortie
Eleven by Venus Williams
carbon38.com
$88.00
Venus Williams knows a thing or two about tennis, so you def want to shop her line. The styles are practical if you're playing the sport, but they don't compromise on style, like this pink-and-blue dyed set. 
17
with a scalloped v-neck
Sport Venus scalloped recycled-fibre skirt
Marysia
farfetch.comm
$270.00
Marysia is known for its scalloped trim, so if you want an extra detail that differentiates your 'fit from the rest, try out this set. You'll look ready for the tennis court—and a brunch date after.
18
with a coordinating bandeau
Pleated Mini Velour Matching Skirt
Go velour and go bold! This orange skirt and bandeau set is like a more fashion-forward version of a tracksuit. Wear it with sneakers or with lace-up sandals if you're not running around a court. 
This content is created and maintained by a third party, and imported onto this page to help users provide their email addresses. You may be able to find more information about this and similar content at piano.io
Advertisement – Continue Reading Below