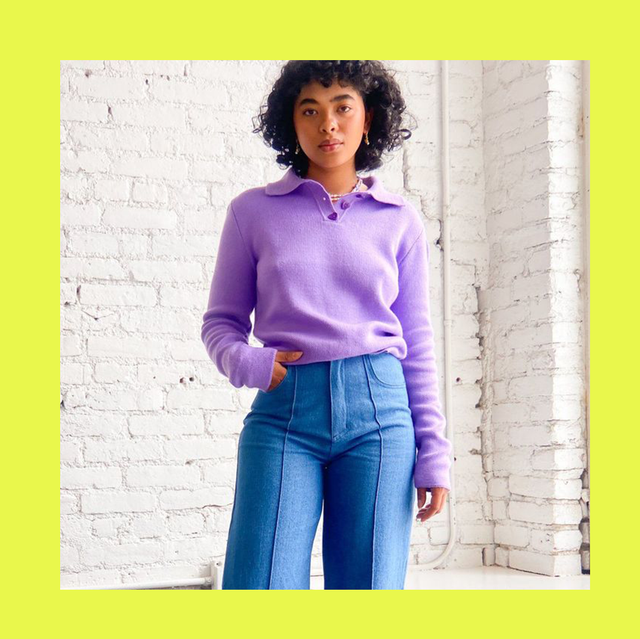 courtesy / katie buckleitner
As a 26-year-old millennial woman, I had to Google exactly what a "soft girl" and "soft girl aesthetic" was before I sat down to write this very article. Yes, there were certain styles that reigned in my day, like the emo era (TBT to those very swooped bangs listening to My Chemical Romance) and the Y2K period of low-rise jeans and Razr phones, but there are so many new aesthetics that have emerged since then: You have VSCO girls, e-girls, and now soft girls.
The conclusion from my research (and by research, I mean I watched a ton of TikToks on the subject), is that the latter group is known for radiating an all-around dreamy and romantic vibe. Their outfits often feature pastel tones of pinks, purples, blues, and yellows, but they sometimes mix in slightly more edgy or contrasting items like chunky boots, statement eyewear, or a black baguette bag. But the most important things are the accessories and makeup. I'm talking piling on necklaces, colorful hair clips, and scrunchies as well as applying lots of blush, bold eyeshadow, and even drawing little freckle-like hearts on your face. Why not?!
Below are just some outfits that have a soft girl aesthetic to give you an idea of the look, and they're pretty cute if I do say so myself. Whether you're well versed in the vibe and you want more clothes to fit your aesthetic, or you just want to dip your toe into the trend, keep scrolling below for all the ~soft~ ensembles.
Advertisement – Continue Reading Below
1
this pink tie-dye look
Tie Dye Collection Sweatshirt
DANZY
revolve.com
$175.00
A pink sweatshirt and matching bike shorts make for a sweet outfit that you can accessorize with gold hoops and white sneaks. 
2
this denim and ribbed polo look
Jordan Pink Top
Dana Scott
shopdanascott.com
$72.00
Raw-hemmed jeans with a pastel ribbed top and sneakers make a simple yet cute ensemble. Add some barrettes in your hair and play up your eye makeup to really lean into the aesthetic. 
3
this gingham set
Gingham Skirt
Playa Lucila
shopbop.com
$72.08
Love a matching set! This pink gingham skirt and crop top looks great with white sneakers (which seem like they're a "soft girl" staple at this point). 
4
this rainbow knit dress
Debbie Knit Halter Dress
Frankies Bikinis
frankiesbikinis.com
$225.00
A rainbow ombré knit halter dress with an open back will be the envy of all your friends. Pull your hair up in a bold scrunchy to make the look even ~softer~. 
5
this cardi and flared sitch
The Button Party Cardi
Lovefool
coedition.com
$2,020.00
A lavender top with eclectic buttons worn with flared pants and sandals is a perfect outfit formula. Add a striking baguette bag into the equation, and you'll get so many compliments. 
6
this bb tee and high-waisted jeans
Angels Crop T-Shirt White
Fiorucci
fiorucci.com
$85.00
A cropped T-shirt with lil angels on it coupled with high-waisted light-wash jeans and Converse will make all your soft girl dreams come true. You can always add more pinks and purples in there with any hair clips and other accessories. 
7
this ruched floral number
Zinna Mini Dress
For Love & Lemons
forloveandlemons.com
$35.00
Balance out a floral dress with delicate tie details at the bust and sleeves with sneakers or lean into the romantic vibes and wear some strappy sandals instead. 
8
this sweatshirt and short combo
Toggle Sweatshirt
Nubyen
revolve.com
$85.00
A sporty look featuring a white sweatshirt with a toggle hem and black cutoffs strikes the perfect balance of soft and edgy. 
9
this polo sweater with jeans
Paisley Polo Long Sleeve – Purple
Lisa Says Gah!
lisasaysgah.com
$2,021.00
Opt for a pretty purple sweater with heart-shaped buttons worn with jeans and white loafers to fit the vibe. 
10
this pleated skirt and cropped sweater
Pleated Tennis Skirt in Gray Check
Pull&Bear
us.asos.com
$38.00
Pleated mini skirts are really having a moment! Wear yours with with a cropped cardi, matching tank, and black lace-up shoes to complete your look.  
11
This cropped tee with sweats
Crop T-shirt in Pink
A cute pink tee is the key to making your sweatpants look a lil more special. Accessorize with a hat or with colorful hair clips for extra oomph.
12
this plaid sweater and skirt
Grids Mixed Print Cropped Cardigan
A preppy mixed plaid sweater combined with a lace-trimmed mini skirt and thick-soled boots is the very definition of soft girl aesthetic. 
13
this tie dress with black boots
Tie Front Smock Dress in Pink Check
Another Reason
us.asos.com
$24.45
Contrast the romantic details of a pink tie dress with black boots and colored shades. 
14
this puff-sleeve mini
The Athena Nap Dress
Hill House Home
hillhousehome.com
$100.00
Hill House Home's popular "nap dress," with its puff sleeves, smocking, and fun prints, definitely channel the aesthetic. 
15
this check top and plaid shorts
Ilana Top – Parrot Check
Soft girls love to mix prints, so they'll also love this check top and plaid short situation here. 
16
this lacy co-ord
Lace Bardot Co-ord Set
Le Beau Monde
shoplebeaumonde.com
$26.99
A sheer and frilly set with ruched tie details on the shorts and top is probably the cutest outfit you'll have in your closet. Wear it with cherry earrings and red sandals, why don't you? 
17
this smocked tank and skirt
Pink Floral Skirt
A pleated floral skirt with a coordinating smocked tank will give off those soft girl vibes and just makes an all-around festive spring outfit. 
This content is created and maintained by a third party, and imported onto this page to help users provide their email addresses. You may be able to find more information about this and similar content at piano.io
Advertisement – Continue Reading Below