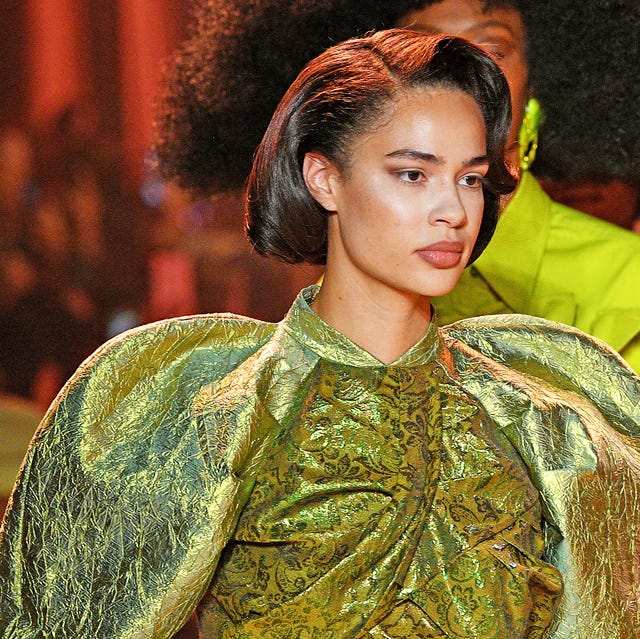 Dia Dipasupil
While it's still August and pretty much hotter than ever, fall is almost upon us, and, honestly, winter will come around just as fast. Not to fast forward time or anything, but I personally can't wait for cozy sweater and hot chocolate szn. From fuzzy coats to cute boots, what's not to love about winter fashion?
If you're looking for winter fashion trends for 2020 and 2021, browse these are the ones that dominated the runways during fashion week. (Yeah, remember fashion week? Me neither.) If you want to start getting your wardrobe together for the snowy days that will inevitably happen in a couple of months, these are the styles to keep in mind when shopping so you can be in the ~know.~ From fun patchwork pieces to classic textured cardigans, you'll be all bundled up for winter in no time. So keep on scrolling for 10 stylish winter fashion trends that are bound to be B-I-G this season.
Advertisement – Continue Reading Below
1
Patchwork
Lots of seams here, but, wow, are you going to stand out.
Tom Ford
2
Patchwork
Patch Skirt Flagstone
Staud
staud.clothing
$56.25
Pair this patchwork skirt with the matching boots, and you are fully ready for fall and winter. 
3
Patchwork
Patchwork Printed Silk-Blend Satin Maxi Dress
GANNI
net-a-porter.com
$151.50
The best part about a slip dress? You can layer it and voilà, it's perfect for a chilly November day (with a coat obvi). 
4
Extra-long fringe
It'll be hard to resist twirling all day long with this trend.
Palm Angels
5
Extra-long fringe
Tye Dye Fringe Mesh Dress
Theophilio
theophilio.com
$190.00
Consider your next date night (whenever that may be) covered. With every step you take you'll be turning heads. 
6
Extra-long fringe
Blanka
KENDRA DUPLANTIER
kendraduplantier.com
$695.00
This fringe dress has some unique details like a silky top and asymmetrical sleeves, so it's def a keeper. 
7
Fuzzy cardigan
It's a cardi partyyyyyy. Wear yours off the shoulder or all buttoned up.
GCDS
8
Fuzzy cardigan
Gray Marl Oversized Button Knitted Cardigan
Topshop
topshop.com
$55.00
We're calling it: This one will be your staple piece from October to February. 
9
Fuzzy cardigan
Green Ty Fuzzy Plaid Cardigan Top
shoppellucid
etsy.com
$48.00
Want something with more color? Opt for this plaid fuzzy design that works as a standalone top too. 
10
Dramatic puff sleeves
They're here to stay this winter… and they're bigger than ever.
Christopher John Rogers
11
Dramatic puff sleeves
Daima
Between the buttoned sleeves, square neckline, and strappy back, this is the puffy sleeve top of my dreams!!
12
Dramatic puff sleeves
Denim Puff Sleeve Top
Eloquii
eloquii.com
$74.95
An acid-washed top in this shape will add some edge to a romantic silhouette. 
13
Quilted texture
Jackets, tops, skirts, bags, shoes! You name it, and there's prob a quilted version of it available for winter 2020.
Philosophy di Lorenzo Serafini
14
Quilted
Quilted Cupro Mini Skirt
Lake Studio
modaoperandi.com
$160.00
It might not necessarily keep you warm, but you can't deny how cute this mini skirt is! (Even better when it's with the matching jacket, imo.)
Vivian
vivianus.co
$400.00
This long coat is made with a heat-tech fabric, so you'll be extra extra warm on those freezing, dreary days. 
16
Bold checks
Plaid always comes around each fall, but to switch it up a bit go for colorful square checks instead.
Miu Miu
17
Bold checks
Welfed Pant
Fe Noel
fenoel.com
$368.00
Pair these gorge green pants with the matching crop top or with a classic tank. 
18
Bold checks
Georgette Pleated Skirt
Proenza Schouler White Label
shopbop.com
$127.50
A pleated midi and turtleneck in this hue will brighten up even the coldest day. 
19
Butter yellow
This color is just soooo dreamy. And it's making me crave toast.
Jonathan Simkhai
20
Butter yellow
Nadya Shirt Yellow
Kai Collective
kaicollective.com
£50.00
Go for a full yellow-on-yellow moment, or tone it down by swapping the top or bottom for something more neutral. 
21
Butter yellow
Malinda Slipdress
BARDOT
nordstrom.com
$77.40
This dress is perfect for a summer wedding, or for layering with a long sleeve underneath when the temps start to drop. 
22
Bright faux-fur coats
Cold? Never heard of it. You'll feel all cozy and happy inside with a bright outwear moment.
Marc Jacobs
23
Bright faux-fur coats
Snow Lynx Animal-Print Faux Fur Coat
Faz Not Fur
net-a-porter.com
$396.00
If you're over leopard print like I am, this lynx-patterned faux-fur coat will be right up your alley. 
24
Bright faux-fur coats
Manon
Apparis
apparis.com
$295.00
Lilac for winter? Truly groundbreaking. Bundle up in this short but colorful style. 
25
Statement cutouts
It's not just a Summer Thing! Show off some skin this winter (but maybe throw on a coat over it?) with this eye-catching trend.
Off-White
26
Statement cutouts
Cutout Merino Wool Turtleneck Sweater
Dion Lee
net-a-porter.com
$147.00
Your basic turtleneck just got an upgrade with these symmetrical cutouts. 
27
Statement cutouts
Bexley Sweater in Ivory
Camila Coelho
revolve.com
$148.00
Wear a cold shoulder sweater paired with cropped jeans and sandals—or boots when winter comes—and you're ready for the night!
28
Shearling trim
You'll be warm and cozy all winter long with this textured collar lining on all your coats.
Tod's
29
Shearling trim
Faux Shearling Jacket
FRAME
nordstrom.com
$695.00
This black-and-white biker jacket will go with any winter outfit. 
30
Shearling trim
Spirit Bomber Jacket With Shearling Collar
Understated Leather
revolve.com
$495.00
Going for an edgier vibe? Try this charcoal gray design. 
This content is created and maintained by a third party, and imported onto this page to help users provide their email addresses. You may be able to find more information about this and similar content at piano.io
Advertisement – Continue Reading Below