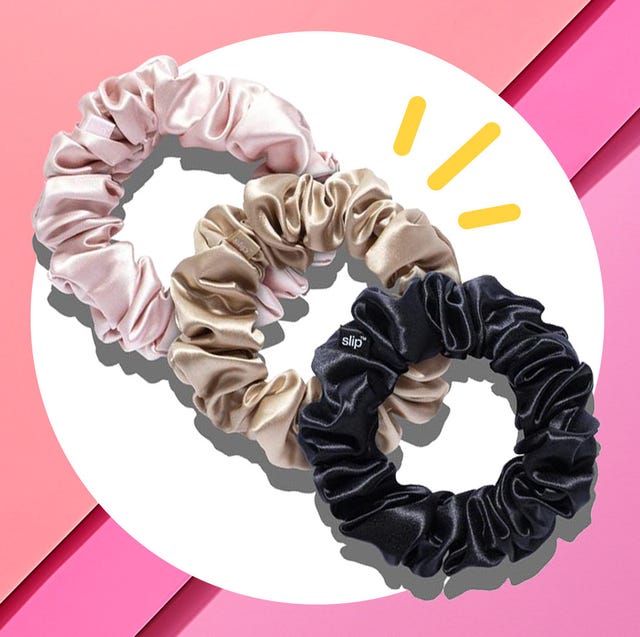 Christine Giordano
The easiest (and comfiest) addition to any outfit or hairstyle, scrunchies in every size, style, and material have found their way back into beauty routines. The accessory reclaimed its trending status with multiple red carpet appearances (Lizzo, we see you and your bedazzled scrunchie) and endless styling possibilities.
"They've helped people and it feels fun and exciting to play with them again," said Siobhan Quinlan, attributing feelings of nostalgia, fun, and even hair health benefits for scrunchies resurgence. Quinlan, the creative director at Art + Autonomy Salon, says she personally has a ton of scrunchies and wears one every night while she sleeps to prevent dents in her hair.
With materials such as silk, velvet, and quick-drying elastane (aka what's used in workout clothes) the modern scrunchie is equally as beneficial as it is fashionable. The typical makeup of the product is gentler on your hair than the common elastic hair tie that can harm hair, tugging on it and causing damage or breakage to strands. Scrunchies, Quinlan describes, are looser, especially when made with softer, higher-cost fabrics, "so [your hair] is not breaking when rubbing against it so much." The growing variations in scrunchies allow you to pull back your hair stylishly while showing it some TLC. The popularity of this resurrected '80s trend combined with hair health revelations act as proof: the scrunchie trend is back and better than ever.
With unique designs, textures, and advantages to consider (not to mention the wide price range), the scrunchie market can seem overwhelming. That's where an expert comes in, offering advice to make your scrunchie search as easy as 1-2-3. I present to you the modern, must-haves of the scrunchie revival:
Advertisement – Continue Reading Below
1
Skinny
Skinny Scrunchies
Get a subtler look for your mellower moods with a skinny scrunchie. A thin strip of color is the perfect way to keep your hair strong, sturdy, and stylish. No occasion is too casual or too formal for a slight pop. Try these instead of the mundane black or brown elastic ties for healthier, happier (and creaseless!) hair.
2
Oversized
Satin Oversized Scrunchies
Large and in charge. When wearing a scrunchie of this size, you can pretty much assume all eyes will be on you. This accessory transforms an ordinary ponytail into a bold updo, making the colorful, textured scrunchie the centerpiece of any outfit. Not to mention, a statement bracelet when worn on your wrist.
Pro tip: Quinlan recommends tightly positioning your hair with an elastic prior to applying the scrunchie if focusing solely on the scrunchie decor. Create an easy fashion statement with just a litttle bit of extra help. Ever thought about adding some pizzazz to your topknot?
3
Silk
Pure Silk 3-Pack Hair Ties
Silk has major smoothing benefits for your hair, making it the perfect scrunchie material. These dreamy, elegant scrunchies are 100% silk in an effort to be as gentle as possible. This colorful three pack is entirely free of elastic leaving your hair free from creases and pulling.
4
Elastane
Light Locks Scrunchie
Scrunchies can be secure, too! This lightweight elastane and polyester scrunchie is perfect for athletes. Designed to keep hair in place and out of your face while you train, this scrunchie can handle movement and sweat. Lululemon has 10 vibrant patterns and colors to choose from all lined with a reflective border so you can stand out for those after dark runs. For styling ideas, check out the best workout hairstyles.
5
Dangling
Scrunchie + Scarf Set
The long, hanging addition to this scrunchie combines the skinny scrunchie look with the elegance of a patterned ribbon. Why only dress up the hair band when you can have a decorative, extending strand, too? This look is the perfect splash of color or pattern for the simple outfit and will add excitement to any hairstyle. Quinlan likes to braid the hanging scarf into her hair, adding pattern and texture variation to a simple hairdo.
6
Beaded
Beaded Elastic Hair Ties (3 Pack)
An elegant touch to a low pony or ballerina bun, a beaded scrunchie will catch the light of any room you walk into. This accessory will dress up your hair to match whatever fabulous night-out or brunch outfit you have planned. Try these easy updos with a beaded scrunchie at your next outing to shine like a celeb.
If focusing on the hair health benefit, try a low pony with a looser look to it to compliment the product's looser functionality.
What's better than a vibrant scrunchie? Literally nothing, IMO. Brighten up your entire day (and everyone else's!!!) with this literal work of art. Tie up your loose ends or create the perfect high bun with this gorg scrunchie. It's also the perfect bracelet, in case you forgot to accessorize.
8
Bow
Bow Hair Scrunchies
All wrapped up with a bow, these inexpensive scrunchies will transform your bun or pony into the cutest hairstyle for a first date or festive lunch. Subtler than the oversized and dangling scrunchies, the bow is a common scrunchie style that many brands have put their own spin on.
It's giving Dorothy from the Wizard of Oz and also a summertime picnic in a park and you know what? I'm here for it. Add some flavor in this gingham-patterned scrunchie to any outfit. It's even lined with lace, adding a *cute* factor and you'll never have to wear your hair down again.
10
Leather
Leather Scrunchies
For the more formal occasions, leather scrunchies provide a sleek, pulled-back look destined to make you scream 'put together' even at your most frazzled. Quinlan loves her leather scrunchies and has them in all different colors!
11
Environmentally-Friendly
Kantha Scrunchie
This zero-waste scrunchie is adorable and good for the earth. Made from upcycled materials, the neutral colors will allow you to wear this scrunchie with many, many outfits, and it'll level up any look you might be wearing, whether it's sitting pretty on your wrist or tying up your low pony.
12
Textured Scrunchies
Textured Scrunchies
A pro-move to any hairstyle is adding in a different texture. Not too big and not too small, these textured scrunchies will add spice to any 'do. Five scrunchies in different colors, patterns, and textures, this set is sure to compliment your shiny, healthy locks at any occasion.
13
Fluorescent
Fluorescent Hologram Scrunchie
This ain't no regular scrunchie roundup—we're adding a little sparkle, and what better to do that with than a fluorescent scrunchie? If you didn't know these existed, you do now, and get this: they're even prettier IRL than they are in the photos online.
14
Velvet
Velvet Scrunchie Set
Dress up any cool-weather look with these colorful scrunchies. A more affordable option than silk, the soft and lightweight velvet material will hold your hair without creasing it, adding a fun pop of flavor to even the most simple of ponys or messy buns. Find some inspo for the perfect messy bun here.
15
Mesh
Oversize Mesh Scrunchie
It's no secret that mesh is all the rage right now. Pick up this scrunchie and be the trendsetter of your friend group! It's perfect for adding a pop of color into your outfit and making Elle Woods proud.
This content is created and maintained by a third party, and imported onto this page to help users provide their email addresses. You may be able to find more information about this and similar content at piano.io
Advertisement – Continue Reading Below